Monolith By Monoprice Belt-Drive Turntable Review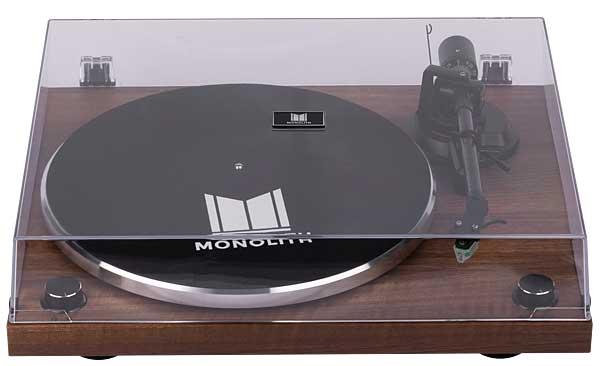 PRICE
$250
AT A GLANCE
Plus
Quality turntable at a budget price
Excellent pre-mounted cartridge
Versatile hook up options
Minus
Setup is a bit fussy
Inaccurate speed as shipped
No analog cable included
No leveling feet
THE VERDICT
While it is possible to spend less, the Monolith turntable marks a perfect entry point for a turntable that sounds good, offers a host of hookup options, and has a clear upgrade path.
As someone who works with turntables almost every day, one question I get pretty frequently is, "How much do I need to spend to get a real taste of what the buzz with vinyl is all about?" Defining the entry level for record players can be tricky. Spend too little and you're probably going to be disappointed and lose interest pretty quickly. Spend too much and you're likely to dismiss playing records as just another overpriced fad. With the great surge of interest in vinyl records over the last few years, there has also been a huge boom in the equipment needed to play them—from $50 suitcase players that appeal mostly to kids all the way up to rigs that can cost as much as a house.
For me, an entry level turntable has to be able to play records safely without damaging them and must sound good out of the box, while also offering some sort of an upgrade path. What I tend to think of as "real" turntables start at around $200, and include an adjustable tonearm and a replaceable phono cartridge. This allows you to dip your toe in the vinyl waters for minimal outlay and then improve things a step or two at a time if decide you like what you hear and want more. The Monolith by Monoprice Belt Drive Turntable slots right into that market position.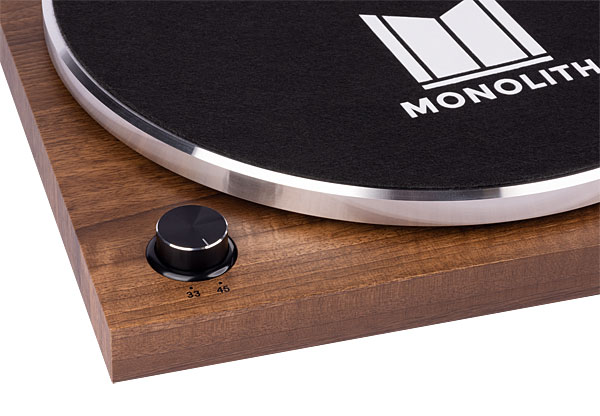 The turntable comes in two versions. The basic $200 model is equipped with the ever-popular Audio-Technica AT-3600L moving-magnet phono cartridge. While this serviceable cartridge is a big step up over the cheap heavy tracking ceramic cartridges they stick in those suitcase players, it's not exactly going to get an audiophile's juices flowing. But when you move up to the $250 Monolith under review, you get the Audio-Technica AT-VM95E phono cartridge, perhaps the best cartridge you can buy today for less than $100 and one that provides an easy upgrade path.
That $50 price difference pretty much correlates with the difference in cost between the two cartridges, so it's money well spent. Besides the cartridge upgrade, the only difference between the two models is that the $250 version is offered in a walnut vinyl (Monoprice model 600046) or gloss-black finish (600047), while the $200 version is available only in gloss black (600045).
There was a time when all turntables would output a low-level signal (directly from the phono cartridge) to feed the phono input on an amp or receiver. But these days a lot of people want to connect their turntable to something other than an old-school amp or receiver, so newer budget turntables tend to provide several connection options. The Monolith is no exception. A Phono/Line switch on the back of the turntable lets you select a low-level phono output or switch in the turntable's onboard phono preamp, which outputs a line-level signal (both delivered via standard RCA jacks). The latter option is the way to go if you're connecting to a set of powered speakers or a soundbar.
You can also use the turntable's built-in Bluetooth to connect wirelessly to powered speakers or headphones—a convenient option for sure but why anyone would want to cram a beautiful pure analog signal into a compressed digital wireless connection is beyond me. Finally, there is a USB output, allowing you to connect the turntable to a computer, so you can make a digital copy of your record; Monoprice recommends using the popular free recording app Audacity to do this.
Setup
Out of the box the Monolith turntable comes partially set up, with the fiddly tasks of mounting and aligning the cartridge already completed. Curiously, I noticed that the cartridge wasn't sitting parallel to the sides of the headshell that supports it, but a check with my alignment protractor showed that both the angle and the overhang were set accurately. (I suspect the built-in offset angle of the detachable headshell Monoprice is using was originally designed with a longer tonearm in mind, requiring a little more offset for proper alignment in the shorter arm.) This isn't really a problem as long as the alignment accounts for this difference (it does), but could prove confusing for someone trying to align a replacement cartridge using the two-point paper protractor Monoprice supplies. The good news is you can upgrade the AT-VM95E cartridge with a simple stylus swap, so there will be no need to change to a different cartridge in most cases.