Mo-Fi Review: The Quirky and Wonderful First-Ever Headphones from Blue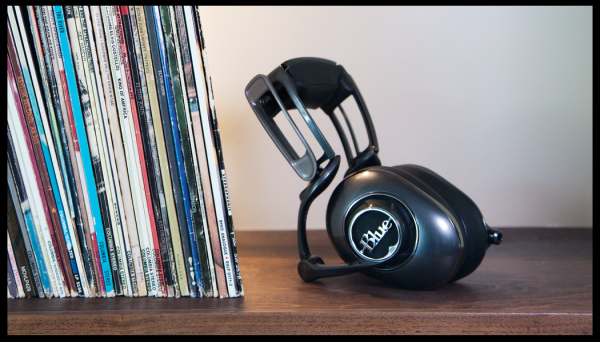 Blue may be the last major microphone company to take the plunge into the headphone business, but they'll tell you this was a conscious choice. Known for solid mic products with funky designs, Blue says they didn't want to release just standard-issue headphones. One glance at the design of Mo-Fi, and you'll see that in the quest for individuality they succeeded.
Mo-Fi
are simultaneously retro and modern looking with a unique hinged headband and adjustable tension knob. They also feature a built-in 240mW amp that the folks at Blue say is specifically matched to the drivers. For folks like me, who just can't bear the idea of having to carry around one more thing, not needing a separate headphone amp is a welcome addition. Sounds great on paper. But how successful are Mo-Fi in practice?First, let's talk about the build. The knobby-knee-looking headband allows for a surprisingly customizable and comfortable fit. The tension knob on top of the headband helps to alleviate that overbearing clamping pressure that can occur in some headphones when worn on larger head sizes. Cushy foam under the top of the headband does a good job of both adding to the comfort and distributing the weight. I mention weight because the Mo-Fi are relatively heavy. This is partly because of the metal chassis and partly because of the built-in amp. To give you an idea, Mo-Fi weigh ~200g more than the NAD Hp50 and ~150g more than the PSB M4U1. If you've never worn either of those headphones, the Mo-Fi also weigh just a bit more than an iPad mini. For folks who are generally accustomed to wearing electrostatic headphones, this kind of heft won't be unusual or a bother. But for those used to sitting at a desk all day wearing earbuds, the added grams could become uncomfortable. That said, I did a marathon listening session of several hours, and didn't have any issues. The other concern when addressing the size is that the Mo-Fi are not tiny "shove in your bag and forget them" headphones. Their carrying case is the size and shape of a lunch bag, and when filled with the Mo-Fi and cables, it looks like you're having a feast come break time. While that's not a big deal if you're keeping the Mo-Fi in a desk drawer, they might not be your first choice if you're flying and are dealing with limited carry-on space. These don't fit in a purse, and they'll take up a good chunk of your backpack. While this isn't unexpected news when it comes to over-ear or studio headphones, it's worth taking into account if these will be your only listening equipment. Weight aside, those who don't mind slightly large headphones are in for a real treat. Because the Mo-Fi sound fantastic. The high impedance 50mm drivers in passive mode are obviously quieter, but still get decently loud and sound dexterous and rich with a broad soundstage. The highs are clear without being heavy handed in the mix or fatiguing. The mids are mildly dipped and the lows are present and a little padded (even in passive) but pleasantly so. The earpads do a really great job of isolating external noise, too, so you don't need to crank them to compete with moderate situational sounds. The amp has two settings, On and On+. Powered in on mode, they lose a little of that passive soundstage, but gain a lot of power. On+ adds a few dB to around 60Hz and, according to Blue, only in songs that don't already have a pumped-up bass. Switch to On+ while listening to hip-hop and you likely won't notice a difference. But with the Beatles and jazz, you definitely do. To be honest, On+ isn't my cup of tea. It can feel a bit muddy. But, there's the beauty of Mo-Fi. I don't need to switch to On+ to enjoy them. They're not completely neutral, but the tweaks to the sound profile are small and well chosen enough to make the Mo-Fi my new personal favorite headphones in this price range. Overall, they're zippy while avoiding the tinny and sibilant territory, and rich in the bass without verging into the boomy, muddy, muffled, of thumpy. They're a lot of fun. And while I prefer the passive mode the best, it's also nice to have the amp to turn to when out with my iPhone. Speaking of phones, the Mo-Fi include two cables, one with iPhone enabled controls. Also included is a mini-to USB cable to charge the amp. As for charging, the amp in Mo-Fi has a claimed active use time of 12 hours. Active is the key word here, as when the headphones are not on your head and the earcups close together, the amp automatically shuts off. So no need to stress if you forget to switch them into passive mode when you're done listening for the day. There's a subtle LED light behind the mesh on the sides of the earcups that lets you know they're charging, or in active mode. Overall, Blue has succeeded in making headphones that are a perfect representation of their brand: sturdy build, solid performance, and delightfully quirky. If that sounds like something you're drawn to, then the Blue Mo-Fi are a great fit. Mo-Fi are currently available through
Blue's site
, as well as Amazon, for $350.