Mitsubishi HC5000 Three-chip LCD projector
CEDIA 2006 was something of a riches to rags story. We saw many three-chip 1080p DLP projectors announced at prices that were ridiculous and embarrassing, stretching into the many tens of thousands of dollars. And they were introduced with straight faces. Granted, these are high light output designs that can drive enormous screens. But I didn't find these many of these designs particularly interesting. Too many recently announced projectors appear to be aimed at the ultra-wealthy sliver of the market, and don't back up their high prices by offering technical innovation that can't be found in more reasonably priced models. About the only things these announcements did was to make the $15-20K single-chip DLPs seem like they aren't quite as hideously over priced!
No, the compelling story of CEDIA 2006 in front projection was the growing number of three-chip LCD and LCoS 1080p projectors that were well south of $10K. Standing out tall among these was Mitsubishi's HC5000, not only because it was one of the least expensive 1080p projectors at $4,500, but also because I'd reviewed and been so enamored of Mitsubishi's HC3000. That projector is still one of the best deals going, and the HC5000 is certainly no less impressive on paper.
The HC5000 is a full-on, three-chip 1080p LCD front projector that's loaded with features that matter, not the least of which is video processing courtesy of the Silicon Optix REON chip set. It uses a dynamic iris for improved blacks and contrast, and it accepts 1080p/24 and displays these signals at 48Hz, a direct multiple of 24, which (given a source capable of supplying 1080p/24) removes the potential for temporal artifacts that the typical 3/2 pulldown conversion to 60Hz involves. Let's take a closer look and see if this projector delivers on its promises.
Form and Function Compared with the board-roomish HC3000, the HC5000 is all curves and high style. It's compact, and fitted with a heavy-duty lens cover. It outputs a lot of heat to the side and rear, so give it room to breathe. But it's also very quiet and unobtrusive.
Although there is only a single HDMI input, this is augmented with a DVI/HDCP input, which is compatible with HDMI video via a simple breakout cable. There is a single component input. Zoom, focus and lens shift, which operates vertically and horizontally, are all motorized and can be adjusted from the remote. Motorized focus is especially nice as you can adjust while looking at the pixels right up at the screen.
What of this Silicon Optix REON processor? How does it fall in line with the vaunted REALTA solution? According to SO, the REON is the much the same in the core technologies and abilities its deinterlacing and processing abilities, but unlike its bigger, badder brother isn't built on FPGAs (Field Programmable Gate Arrays), which limits its flexibility in programming for specific applications. More of a one-size fits all solution, which makes it cost less and therefore makes it feasible for lower priced products. As evidence, at CES '07 we saw two sub-$1K next-gen disc players introduced that incorporate the REON.
The lamp can be set to Low or Standard output, and I got plenty of light output and punch on my 80" wide, white 1.3-gain Stewart StudioTek 130 with the former setting. Mitsubishi claims a 5,000 life span on the lamp at Low, but that's overall life, not time to half-brightness or anything more definitive.
The HC5000's aspect ratio adjustment is not available when 720p, 1080i, or 1080p are input. This is an old school manner I don't appreciate. My DVD players look best when outputting the higher resolutions, which makes this a pain.
There are three AV Memory settings for each source input that can be saved and recalled with a button push on the remote, and each allows a custom User Color Temp setting that can be saved and recalled as well. That's excellent flexibility. Full cut and gain options are available for calibrating the grayscale, but they're called "Brightness" and "Contrast" here, with the former adjusting the low end of the brightness range, and the latter the high end.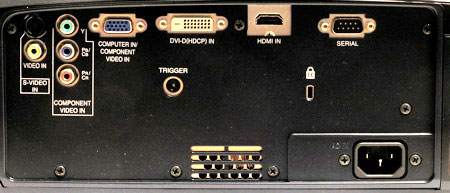 The menus are straightforward and uncluttered, with just a few adjustments that might not be entirely familiar. There are three preset Gamma curves (Sports, Video and Cinema) that can be chosen, and you can select Auto to let the projector make the determination for you based on program material. An admitted video control freak, I shunned this last option and used Cinema more often than not as I'm primarily a movie watcher. There are also User settings that allow gamma adjustment of red, green, and blue for the low, middle and high ends of the brightness range. I experimented with these only briefly in trying to achieve better grayscale tracking (and failing, see "Measurements") and don't recommend meddling here without instruments.
In the Advanced Menu you'll find the adjustments for the dynamic iris, called Auto Iris. It has four settings- Auto Iris 1-3 and Open, which turns the Auto Iris off. There are also various noise reduction features that can be engaged with component signals, but I used HDMI most of the time and didn't fiddle with these.