Mike Rutherford Opens Up About Genesis' R-KIVE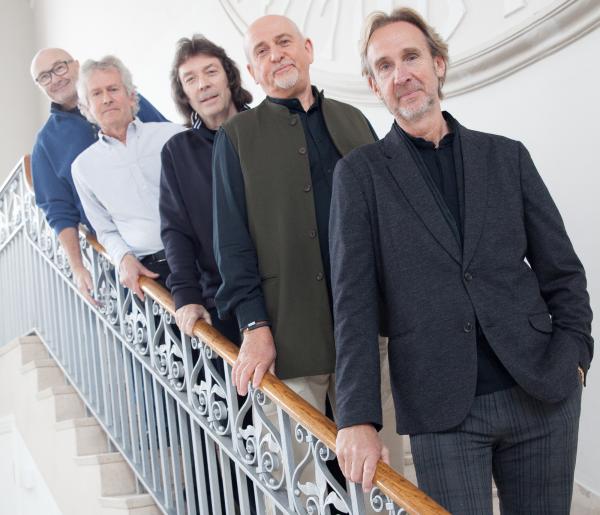 And then there were… five? The above photo is no trick of the tale, for you're indeed seeing the five key members of Genesis — from the top of the stairs down, Phil Collins, Tony Banks, Steve Hackett, Peter Gabriel, and Mike Rutherford — together again for the first time in many years. No, they're not reforming, but rather have come together to celebrate the career-spanning documentary
Genesis: Sum of the Parts
airing on Showtime October 10 (and expected to see home release sometime in November), as well commemorate the September 30 release of
R-KIVE
(Rhino), a 37-track, three-CD box spanning 42 years of both band and solo material. "I know, who'd have thought there'd be all of this activity at my age?" laughs Mike Rutherford, a mainstay of the band through all of its incarnations. "But when you see all these songs side by side, like 'Turn It on Again' with [Collins'] 'In the Air Tonight,' [Gabriel's] 'Biko,' and [Mike + The Mechanics'] 'The Living Years' — you go, 'Wow, that's a great body of songwriting.' "
Full-bodied, you might even say. Recently, Rutherford, 63, and I talked about the band's impetus for sound quality, why tracks like "Supper's Ready" still endure, and what might come next. Oh wise and great Musical Box, play me my song.
Mike Mettler: Let's talk about the R-KIVE project first. Obviously you had to have a number of votes to sort it all out. How did you decide on three discs and the amount of songs?
Mike Rutherford: It's important to understand that this wouldn't have happened if there hadn't been the Showtime documentary. The documentary justified doing the CDs; there wasn't any opposition to it. And in a way, it wasn't hard; it made sense to do it chronologically. Once you decide that, the tracks kind of choose themselves. It fits on three CDs quite well, I think. That's quite enough.
But one reason behind all this is that people don't quite get the whole picture, do you know what I mean? On the one hand, we're this art school band, and then Gabriel had his own career and Collins had his own career, and then there's Genesis. People actually say to me, "You mean you're the Mike from Mike + The Mechanics? And you were in Genesis too?" They don't tie these things in. I think the documentary and the accompanying CDs are a nice story, really. And we've always sounded good on record, but it's also about the songwriting.
Mettler: Is there a favorite era of the Genesis sound for you, the one where you felt you guys were in your prime in terms of the sound quality you were after?
Rutherford: After having done these projects, I've been listening to our stuff more than normal of late. Some of the early stuff — well, "Supper's Ready" continues to stand up as a very strong piece. But what happened once we started working with [producer] Hugh Padgham [who came aboard with Abacab, in 1981] was that he made us sound like we would sound in a room together. He got the bigger sound. It was always there in the first place, but Hugh really got it. The recording techniques before that album definitely brought things down and took the "size" away. Hugh understood about capturing the atmosphere.
Mettler: Is there a particular song on which you feel he got all of those elements right?
Rutherford: "Abacab" is the one, yeah. I love how it sounds. It was a new era for us. No big chords for a change, and I think that was just a great-sounding track.
Mettler: Did you have to deal with level-matching some of the earlier-era, more "primitive" recordings with the bigger-production tracks?
Rutherford: Yeah, very much so. Most of it had been remastered, but Nick Davis [who remastered the entire studio and live Genesis collection in stereo and surround sound for the five "cube" box sets] had to go in and level-match so it all made sense together. And I trusted Nick to get everything how we all wanted it.
Mettler: Live, Genesis was able to stretch its studio material in a number of different ways, and figured out how to balance the longer songs with the "chart songs," if we can call them that. How were you able to decide on that kind of balance?
Rutherford: We were always very good at making a set work. Put a song in the wrong place, and it'll just die. You always have to balance it. The long songs that went on for 15-20 minutes were quite intense on the audience, and they need a bit of a coming down moment to relax a bit with some of the less intense bits.
Mettler: It's the ebb and flow. And sequencing may be a lost art to people, certainly in terms of making records.
Rutherford: I so agree. Getting the right order live and on records is very important, I think. That's why I kind of feel albums that are 18 songs long are too long; you can't stay with it.
Mettler: An unfortunate result of the CD age.
Rutherford: I quite like the limitations of [album] sides. It started of where you could have a journey, and then a crescendo, and it was a nice way of doing a body of work. I quite miss that.
Mettler: What Genesis albums do you feel from that classic era have the right balance?
Rutherford: I think Foxtrot [1972] is good. Not too bad at all. And Lamb [i.e., The Lamb Lies Down on Broadway, 1974] is extraordinary as a concept album. It matters, that order, right up to the finale.
Mettler: Earlier, you mentioned "Supper's Ready," which I'm glad is on Disc 1 of R-KIVE. It's a track that still takes the listener on such an incredible journey.
Rutherford: Yeah, it's one of our best pieces. It really works. It's one of our first pieces that goes through such huge changes, especially in the last third with the long instrumental solo and the huge landing. And at the end of it, Peter is singing his soul out, you know? It's great.
Mettler: That's an emotional touchstone, especially on the surround mix, which really puts you in the middle of it all.
Rutherford: Absolutely.
Mettler: The last Genesis tour was in 2007, which I saw in New Jersey [at Giants Stadium on September 27, 2007]. How did you feel about how that tour went?
Rutherford: It was nice to do after all that time thinking we might never do it again. We did a lot of stadiums then, but now it seems tours like that are moving back indoors, like what The Rolling Stones have been doing sometimes, which I quite like. The last show we did in Rome [at Circo Massimo on June 14, 2007], was fine, because it was a special setting that justified the big moments. It was great fun. I really enjoyed it. Phil sang great. And for the first time on that tour, we lowered some of the keys of the songs. I got one of my guitars tuned down a tone, and it made a huge difference to Phil; it really did.
Mettler: On which songs?
Rutherford: "Tonight Tonight Tonight" is toned down, and so is "I Can't Dance." And both parts of "Home by the Sea" too.
Mettler: Is there a chance Genesis will tour again?
Rutherford: There are no plans. There never are, really. Phil has talked about getting back into music again, though I'm not sure about drumming, since he's had some issues with his wrists. But I think early retirement, if we can call it that, has been great for him, really. We'll see. But there are no plans. [Collins released an official statement on September 23, saying he "has no plans to return to the concert stage at this time, contrary to recent news items."]
Mettler: So where are your infamous Taurus pedals? Would you take them on the road with Mike + The Mechanics when you guys go on your North American tour in 2015?
Rutherford: No, they're not suitable anymore. I've got about eight sets of Taurus pedals, and barely one of them works. For touring, I can get away without it.
Mettler: What particular tracks have the definitive use of that pedal? I have my choices, but I want to hear yours.
Rutherford: With Genesis, probably "Dance on the Volcano" or the end of "Los Endos," And a couple of Mechanics songs too. The thing is, "Silent Running" always disappointed me live. It was always pedal-based, the entire song. But I decided to switch it to bass guitar, which Anthony [Drennan, Mechanics guitarist] plays, and it really gives the song a lot more life.
Mettler: Now let's talk about your autobiography that's coming out over here next year, the one that's already been out in the U.K. [The Living Years: The First Genesis Memoir, slated for U.S. release in February 2015].
Rutherford: The story behind the book is I didn't want to write it all about me. I found my father [Crawford Rutherford]'s unpublished memoirs, about his time in the Royal Navy. And what fascinated me is how the book is about that generational change in the U.K. in the '60s, which was huge. Until then, men at age 21 became their father. That was the rule. England was stuck in the old regime and old rules. And then, because there had been two World Wars and our parents had become shocked and tired and numb, and the rest of the world had moved on — suddenly, along come The Beatles and a bit of other pop music, and drugs, and that huge left turn happened. The book is pretty much about the changes from that era to my era. I used some of his passages in my book, in italics. So it's a father and son story, though mostly about the early stuff and finishes around 1987, when he dies. And it also includes a bit of humor and some stories about the band in those days.
Mettler: When you had the discussion with your father about "I'm going to art school and I'm also making music," how did that go over?
Rutherford: In many ways, he had no idea what I was doing. He was very supportive, but I think also upset and worried because he had no idea. Our vocabulary was different, and we didn't talk very much — it was very difficult to talk in those days to your parents. By that point, it was an open society. We shared things, we shared music. But I shared almost nothing with my father. He was an older parent. It was a different era.
Mettler: It was an interesting shift. My father and I went to rock shows together, and we still enjoy rock music together. It's more accepted to like the same music your parents did.
Rutherford: In that time period, things changed a lot. It was going to happen at some stage, and I happened to capture it and be a part of that moment of change. I'm 63, almost 64, so that's a big jump. Nowadays, my kids and my grandkids, we have a different level of communication.
Mettler: Speaking of new generations discovering Genesis music, Mechanics music, and maybe even Acting Very Strange [Rutherford's 1982 solo album] —
Rutherford: Oh, I won't subject them to that.
Mettler: (laughs) Well, don't sell yourself too short. Fifty years from now, I think this music will endure. People will still be listening to Foxtrot, Nursery Cryme, and Selling England by the Pound.
Rutherford: I wouldn't have thought that awhile back, but it's been 40-plus years now, and we're still talking about it. That's interesting, I think.
Mettler: Right, I see it as like the modern jazz age, as in the '60s became the new '20s.
Rutherford: Yes, I think you could be right on that one.
Mettler: In a sense, every generation gets the Genesis it came up on, and now you've threaded them all together on R-KIVE.
Rutherford: Absolutely! And every generation has their first one as their favorite, since that's the one they grew up on, which is quite a natural thing.
Mettler: You'll be touring with Mike + The Mechanics in early 2015. Will there be a full new album after that tour?
Rutherford: I don't know if we'll do an album. Maybe an EP is better, I don't know. There's a lot of work that goes into an album, so it's hard to justify for someone in my position, I think. I'll write some new songs and see what they tell me. I'll write four good new songs, and we'll see what happens.
A longer version of this interview appears on Mike Mettler's own site, soundbard.com.