Midweek Update: Getting Into the Naxos High-Resolution Releases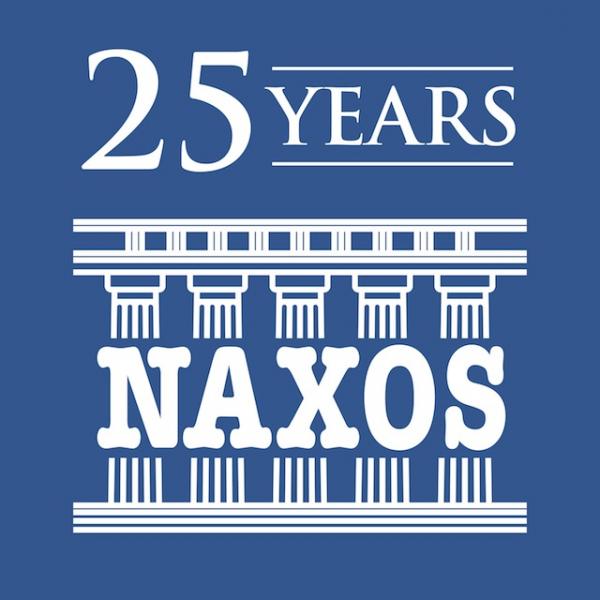 Naxos - the world's largest independent classical label - is celebrating its 25th anniversary this year. While the company made its name on budget releases of recordings by Eastern European orchestras and rereleases (and occasional remastering) of out-of-print material, it's moved on to create a strong catalog of contemporary music, and has embraced high-resolution releases, with a number of SACD and Blu-ray releases in the last few years. And, of course, they've jumped into the FLAC format. This week, HDtracks is paying homage to the label's achievements with a featured set of CD-quality and high-resolution releases from the label, spanning the 19th and 20th Centuries.
Naxos' long experience in working with the orchestras of Eastern Europe and with some of today's best (if not most recognized) conductors, most notably Marin Alsop, shows in their series of high-resolution recordings, which stand up to - and even surpass - some of the old standards in both quality of performance and sonics. We checked out a few of the Naxos releases currently offered by HDtracks for high-resolution download. Try a few. You won't be disappointed. We certainly weren't!
John Adams; Shaker Loops: Bournemouth Symphony Orchestra conducted by Marin Alsop, featuring baritone Nathan Gunn. "Shaker Loops", Short Ride in a Fast Machine, "The Wound Dresser," and "Berceuse Élégiaque"
Marin Alsop gets behind the wheel of the Bournemouth Symphony Orchestra for a tour of John Adams works associated with (and existing in stellar recordings by) other conductors - in this case the composer himself and Michael Tilson Thomas. The recording is 16/44.1, but quite revealing nonetheless.
The most interesting piece here, to my ear, is the relatively slight "Short Ride in a Fast Machine," which Alsop takes at a much faster tempo than Michael Tilson Thomas (or almost anyone else). Her sure hand and the ensemble's authoritative playing ensure that the fast machine never threatens to go off the rails. (Tilson Thomas' recording, with the San Francisco Symphony, is also available from HDtracks, in a 24/88.2 or 24/176 version from SFS Media.) The woodblocks that set the tempo are, perhaps, a tad prominent, but the Bournemouth is impressive here, as they are throughout, whether creating the downright lovely textures of "The Wound Dresser," the atmospherics of "Shaker Loops," or the impressionist pastiche of Adams' reenvisioning of Bersoni's "Berceuse Élégiaque." Absolutely worth having, even if (maybe especially if) you already have recordings of these pieces.
John Corigliano Phantasmagoria/The Red Violin Concerto: Buffalo Philharmonic Orchestra conducted by JoAnn Faletta; Michael Ludwig, violin.
The 24/96 FLAC really shows off the piece's dynamic leaps; the Buffalo Philharmonic Orchestra under the direction of JoAnn Falletta navigates the twists and turns of Corigliano's "Phantasmagoria" impressively. Violinist Michael Ludwig is stellar throughout "The Red Violin"; you're probably familiar with the Joshua Bell recording (with Naxos mainstay Marin Alsop conducting the Baltimore Symphony), but Ludwig more than holds his own, with great violin tone (well-placed against the orchestra) and all the technique necessary to pull of Corigliano's knottiest writing.
The recording has great dynamic range - capturing everything from whispered harmonics to massed strings - and a transparency that reveals the occasional breath, rustle of clothing, page turn, and footstep along with them. Individual instrumental effects (like the skronky scrabbling at the close of the Chaconne) are easily distinguishable; at the same time, the orchestra comes across as an organic unit.
Frédéric Chopin Piano Concerto No. 1/Piano Concerto No. 1: Warsaw Philarmonic Orchestra conducted by Antoni Wit; Eldar Nebolsin, piano.
These are just beautifully recorded, with Eldar Nebolsin's beautiful touch and phrasing evident against the solid backdrop of the Warsaw Philharmonic, conducted by Antoni Wit. You can really hear the piano speak on this 24/96 recording (originally released by Naxos on Blu-ray disc) reveals every nuance of Nebolsin's playing through the wide range of moods the piano concertos explore; stereo imaging is quite wide and open as well. Concerto No. 2 is particulary impressive, Nebolsin on great form whether exploring the lyrical (check out the "Maestoso") or the ridiculously technical (the "Alla Polacca" section).
Gustave Mahler Symphony No. 8: "Symphony of a Thousand": Antoni Wit conducting the Warsaw Philharmonic Choir and Orchestra.
There are dozens of recordings of this monument of Mahler's catalog, obviously, and the question of whether this performance compares with Georg Solti with the Chicago Symphony Orchestra or Claudio Abbado conducting the Berlin Philharmonic comes down to a matter of personal taste. This is an authoritative performance, without question, and - since we're considering the high-resolution 24/96 version here, a fantastic sounding recording too. It's a tough job to capture a choir and orchestra with in balance, but that's been pulled off here with aplomb.
That's but a brief sampling of what's on tap from Naxos. If you're serious about classical music, whether as a listener, student, or educator, you'll also want to check out their highly intriguing Naxos Music Library, a subscription streaming service aimed at students and scholars.