Meridian Explorer USB DAC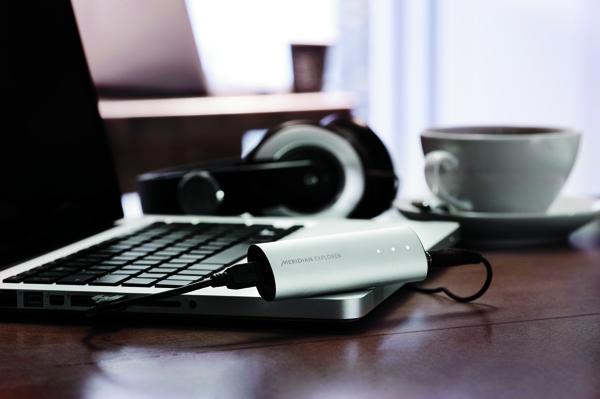 Price
: $299
At a Glance
: Computer-friendly USB DAC • Headphone amp • Clean and precise sound
Do you have a pack of cigarettes on your desk? If so, try this. Connect a USB cable between the pack and your computer. Then connect a line-level cable between the pack and your desktop-powered speakers or amplifier. Finally, replace the cigarette pack with a Meridian Explorer USB DAC. There: Your life just got a whole lot happier and healthier. And your music is smokin'.
External DACs, or digital-to-analog convertors, have been around for a couple of decades, but the need to improve computer audio has breathed new life into the product genre. Isn't your computer already a digital device? Yes, but its internal soundcard is subject to interference and timing errors that audibly pollute a musical bitstream. So your desktop system needs a DAC to mediate between your computer's USB output and whatever external audio system you're using. Most USB DACs are now asynchronous, meaning they reclock the bitstream to reduce timing errors to virtually nil.
The Meridian Explorer is a compact USB DAC, no longer than a pack of smokes. At one end is a USB input, which also powers the unit; at the other end are a headphone output and a mini-jack that doubles as both a digital coaxial and analog output. The gleaming gray extruded-metal enclosure includes three white pinpoint indicators for sampling rate: 176.4/192, 88.2/96, and 44/48 kilohertz. The unit doubles up the indicators to keep the design simple and sleek. However, there's plenty of room for more indicators, and I'd have preferred having them. Through its S/PDIF output, the DAC downsamples 192 to 96 and 176.4 to 88.2.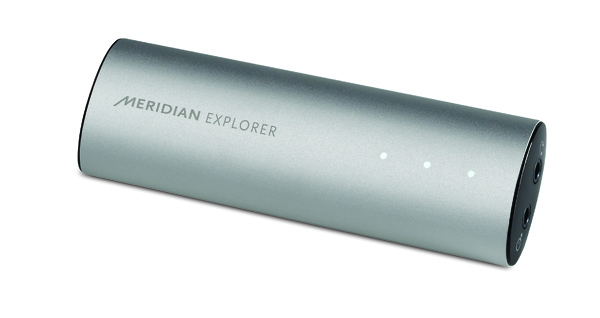 Meridian provides separate installation instructions for Mac, Windows XP, and Windows 7 and 8, and they must be followed precisely. Windows requires downloadable drivers; Mac does not. In Win XP, the manual says not to connect the Explorer to the computer till the driver is installed. In Win 7 and 8, the manual says to connect the Explorer first, but then ignore installation notifications from the operating system. Additional instructions covering all forms of OS direct the user to disable sounds and enhancements that would distract the user or alter the sound.
Unlike, say, loudspeakers or phono cartridges, most external DACs don't differ hugely in their sonic personalities. But that's not to say they have none. Compared with an average computer soundcard, the Explorer is noticeably more clean and precise, with stronger imaging. Compared with other USB DACs, it is rigorously objective, with no obvious midrange sweetening or treble or bass boosts. That means it won't change whatever you like or dislike about your system, though it may bring your perceptions into finer focus.
I tried the Explorer with three sets of headphones: the AKG K240, the Bose TriPort, and the Yamaha RH-5Ma. The DAC did not disguise the Yamaha's toppy tonal balance but did make its prominent highs cleaner than I've ever heard. This was most obvious in the splashy opening notes of Chopin's "Scherzo No. 1" as performed by Arthur Rubinstein in his Living Stereo collection of Ballads & Scherzos (HDtracks, 24/176.4).
Likewise, it was dispassionate about the AKG's strong and sometimes woolly bass. This made the rhythm section and saxes full and fat in Eye on You by Ronald Shannon Jackson and the Decoding Society (WMA rip, 128 kbps).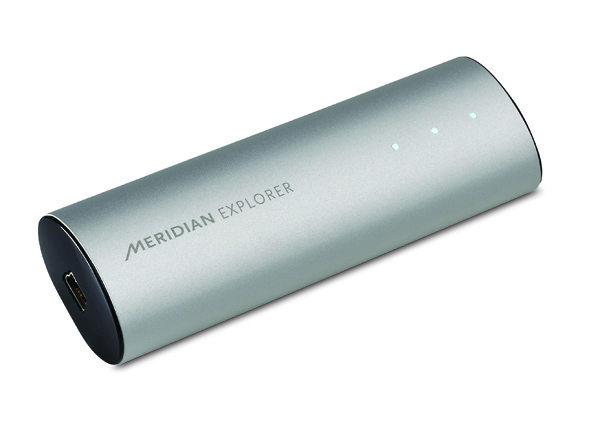 The headphones it benefited most were the Bose TriPorts (forerunner of the current Bose AE2). They image well even with iPod flea amps. But when they were driven by the Explorer, images became bigger, bolder, and better defined, giving Janis Joplin a thrillingly detailed full-band physical presence in Gershwin's "Summertime" from Big Brother & the Holding Company's Cheap Thrills (HDtracks, 24/176.4).
My desktop 2.1 system includes a Peachtree Decco2 amp driving Era Design 4 speakers and a Pinnacle Baby Boomer sub. The amp's hybrid tube/solid-state preamp section has a slight sweetening effect. The Explorer neither disguised nor exaggerated that quality. What it did add was a top-to-bottom increase in detail that benefited all the music cited above and a lot more I haven't mentioned.
That Meridian excels with this kind of digital audio product is no surprise. The British company has made high-end DACs for a long time, and incorporates them into its world-class active loudspeakers. Designed and manufactured in the U.K., with cofounders Bob Stuart and Allen Boothroyd acting as lead engineer and industrial designer, respectively, the Explorer has not only a great lineage but a reliably accurate sound that will enhance your investment in high-quality headphones, speakers, and amps.