Meet Master and Dynamic's MH40, High End Headphones with Styling to Match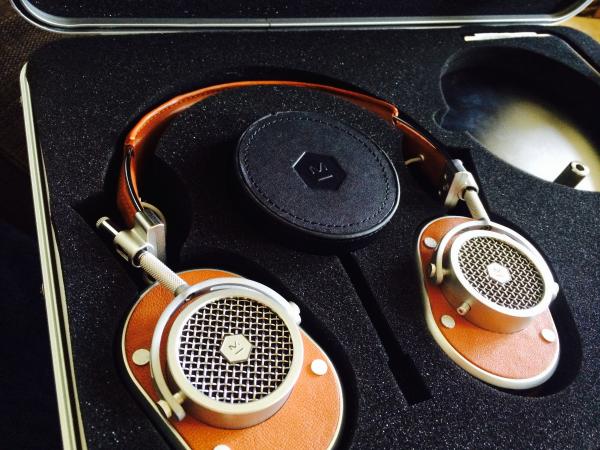 Master and Dynamic
are relatively new in the headphone community, but they sure know how to leave a memorable first impression.
Due out later this month, the MH40
are retro-modern without trying too hard; that effortless kind of organic cool that you know probably took countless hours to design, but look as easy and sexy as bed head on a rock star. The chassis is crafted of durable goods: forged aluminum with stainless steel accents, and the headband and earcups have calfskin leather on the outside, lambskin on the inside. (Sorry, fellow vegans… maybe one day they'll make a protein leather version just for us.) So, after a good lovesick sigh over the design came the moment of truth: was the beauty skin deep? It's time to take a listen. Firstly, I have to mention that there are going to be a few minor changes between the prototype that I received and the final retail model. Most importantly, the folks at Master and Dynamic informed me that the headband is going to be tweaked to allow persons with a smaller skull to get a better headband fit and earcup seal. This is great news, as I found that I needed to scootch up and gently push at the earcups to make them snug. That small fitting change makes a huge difference in both isolation and bass response. Once that adjustment is made, you are treated to headphones that feel solid, but not overly heavy, and a sound profile that...actually could be described similarly. The MH40 are tuned for folks who like pop, hip-hop, and dance. They have a distinct bass bump that is forward yet (in my testing, at least) has tonality and presence all the way down to 24Hz. They have a sense of depth to their sonic field, and the high end is crisp and clear. That said, the bass bump might extend a tad too far into the lower mids, as the mellowness of the midrange can, on occasion, verge into slightly muddy territory in sonically dense rock and orchestral music. The bass will feel especially pronounced if you are accustomed to listening to open-backed headphones or models in this price range that are styled for an "audiophile" sound, which tend to lean heavily on the high end. Speaking of the high end, it's defined, delicate, and has an almost icy metallic precision to it. (As opposed to a warm, rich tonality.) This is possibly due to a bump around 9kHz, which is fantastic for detail in consonants but also adds a sharp edge to the high end which I could see being a love-it-or-hate-it situation for listeners who have spent time with headphones that gently roll off the highs after 3kHz. Overall, the choices made in the tuning are purposeful and create a signature sound worthy of the price range. Other noteworthy features of the MH40 are the removable cord which is covered in a fantastic woven material that truly reduces cable noise (seriously!), and a metal mute button for those moments when you need to hear your surroundings quickly. Plus, Master and Dynamic understand that most people these days don't solely use their headphones in front of a receiver, so they also include a cord with an in-line mic.
In an age when headphones are as much fashion accessory as functional tool, there are a lot of companies making gaudy showpieces that rarely put any of your monetary investment into the actual listening experience. Master and Dynamic are a delightful counterpoint to that movement. While their first over-ear offering might sonically be for a specific listening taste, their design, attention to detail, and quality construction are something that appeals to the masses. Personally, I'm very glad to have made their acquaintance, and can't wait to see what they have to offer next. The
MH40 retail for $399, are available in brown/steel as well as all black and will be available by June 20.