Martinlogan Dynamo 1100X Subwoofer Review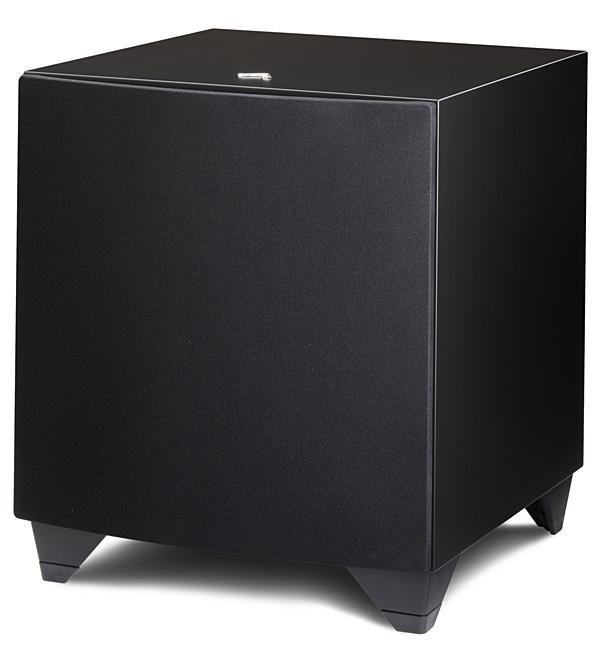 PRICE
$1,099.95
AT A GLANCE
Plus
Versatile configuration options
Excellent iOS/Android control app
Music and movie optimization modes
Minus
Wireless module costs extra
Only available in black finish
THE VERDICT
The Dynamo 1100X subwoofer's impressive performance is enhanced by room correction, flexible setup options, and an excellent control app.
When I was a kid, the closest thing my family had to a remote control was me. As the youngest child, it was my job to get up off my butt and turn the knob if someone wanted to watch a different TV channel. Today, it seems that just about any device that plugs in can be remotely operated with a clicker from the comfort of your chair, but a subwoofer? Isn't that the kind of set-and-forget product that completely takes care of itself? As it turns out, remote control adjustment, a key feature of MartinLogan's revamped Dynamo line, can be a really handy feature in a subwoofer, but we'll talk more on that in a bit.
Sound & Vision's coverage of the Dynamo series subwoofers, including my own 2015 review of the previous-generation 1500X flagship, dates back to when the first model launched some 14 years ago. Now in its fourth generation, the Dynamo lineup comprises five models, with the 1100X ($1,099.95) that MartinLogan sent me to review sitting just below the 1600X flagship. Going down in size, there's also the 800X, 600X, and the Dynamo 400, which loses an "X" designation because it doesn't include the remote control, room correction, and wireless connection features.
The 1100X's sealed cabinet has an almost cubic shape, with a sharp-edged Euro-chic look and a smooth satin black finish. There are no other color options—as Henry Ford would have said, you can have any color as long as it's black. The subwoofer as shipped is set up for downward-firing operation with its four feet on the same cabinet side as the long-throw driver. You can also convert it easily into a front-firing design by moving the feet to the rear panel and flipping the sub on its back. I didn't hear much difference between the two orientations, but the front-firing mode is handy if you plan to install the sub in a cabinet. The feet themselves are a pretty slick design, with hidden spikes that can be exposed and used if your room has thick carpeting. Martin- Logan also includes a grill so you can cover the driver in a front-firing orientation.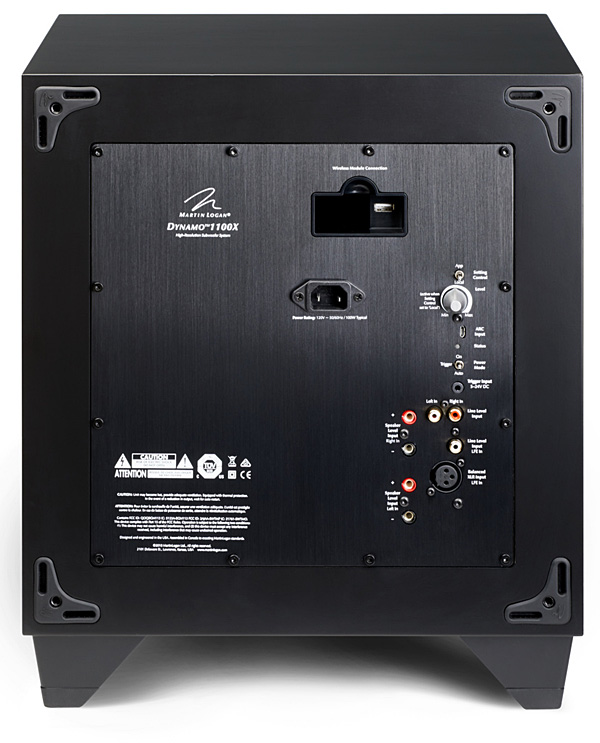 Because the 1100X's adjustments are done mostly by remote, controls on its back panel are deceptively simple: level knob, power mode switch, and a second switch to select between local or remote control. Connections, on the other hand, are plentiful, with speaker- and line-level stereo inputs, a mono LFE input with both RCA and XLR connections, and a slot where you can fit the optional $200 SWT-X wireless connection module. Rounding out the connections are a 12-volt power trigger input and a USB port that can be used when running ARC room correction software from a PC.
One nice feature of the 1100X is that it allows you to simultaneously connect stereo and LFE inputs to individually optimize setup for movies and music. Since the sub's LFE input bypasses its built-in crossover, it can be configured with your surround processor for multichannel movie playback. Once that's done, you can then fine tune the sub's blend with your main speakers for playing stereo music.
Remotely Speaking
The Dynamo 1100X is hardly the first remote-controlled sub to come along, but it's certainly one of the most versatile. Instead of supplying a dedicated handset that will likely end up lost between sofa cushions (as well as adding to the sub's cost), the Dynamo uses MartinLogan's Subwoofer Control app. This runs on your smartphone or tablet (iOS or Android) and connects to the sub via Bluetooth to deliver a level of fine control that most subwoofers can only dream of. Naturally, you get all of the standard adjustments for level and crossover point, but you can also change the crossover slope and fine-tune phase to within one degree. There are separate playback modes for Music, Movies and Nighttime, and there's also a bass tone sweeper to help you locate any rattling fixtures in your room.