Marantz AV8003 Preamp/Processor and MM8003 Multichannel Power Amplifier
In the world of cars, any make and model will get you where you need to go. Some will get you there faster, and others will get you there in style. However, only a select few exude an air of sophistication and grace.
That is pretty much how I've always thought of A/V receivers compared with separate preamp/processors and multichannel power amplifiers. Of course, the gap between these two camps is getting narrower—AVRs have certainly come a long way with regard to features and performance. But separates tend to have that extra level of staging and caché that sets them apart.
The Marantz AV8003 pre/pro and MM8003 multichannel power amp certainly fall into this category. Together, they strike a stylish and elegant pose in their rich, black casings. A groove is etched about a quarter of the way into the front extrusion on either side of these units, creating an attractive 3D design element that is rather imposing when they are stacked.
But don't let their flashy exterior fool you—they are all business on the inside. Each chassis is reinforced with heavy-gauge, copper-plated steel for maximum isolation from vibrations and external electromagnetic influence. Both units are surprisingly shallow, with a depth of only 16 inches, allowing installation into conventional equipment racks and cabinets.
Features—AV8003
The THX Ultra2-certified AV8003 is a preamplifier, surround processor, and AM/FM tuner. Taking separates technology to the next level, the AV8003 offers a variety of networking and custom-installation features for integration into complex and sophisticated home-entertainment centers.
Of course, it decodes the latest surround formats such as Dolby TrueHD and DTS-HD Master Audio in addition to all other surround codecs using a 32-bit digital signal processor (DSP) and a 24-bit/192kHz digital-to-analog converter (DAC) for all eight channels. Love 'em or hate 'em, compressed audio files like MP3 and WMA are now commonplace, and even a high-end product such as the AV8003 must provide the best possible playback for this type media. To that end, the AV8003 is equipped with M-DAX (Marantz Dynamic Audio Expander) to interpolate the missing high-frequency spectrum, enhancing the performance of low-bitrate MP3, AAC, and WMA files.
Marantz provides Source Direct and Pure Direct modes for the purest audio reproduction of 2-channel sources. Source Direct bypasses the tone controls, EQ, and bass management, while Pure Direct also turns off the LCD display and all video outputs, including HDMI. Obviously, you cannot use Pure Direct when transmitting audio signals via HDMI.
There are four HDMI 1.3 inputs and two HDMI 1.3 outputs, along with the expected assortment of component, S-video, composite, and audio I/Os. Thanks to the HDMI 1.3 specification, the AV8003 supports Deep Color and x.v.Color for video displays with the extended video capabilities, though there is no commercial content created with these expanded specs.
The AV8003 transcodes all incoming analog video signals to HDMI, but the video processor's capabilities are otherwise very limited. Coming from a purist perspective, Marantz chose to continue in this tradition with the AV8003.
Incoming HDMI signals are passed without any video processing, regardless of their resolution. The theory is that customers who purchase separates tend to have high-end projectors or standalone video processors, either of which would probably provide better video processing than any chipset Marantz could install.
According to the company, the decision to bypass video processing of HDMI signals was made to avoid the pitfalls of double processing. Many A/V chains can have up to three video processors, so Marantz felt there was no reason for the AV8003 to add to the confusion.
The only video processing offered by the AV8003 is converting analog 480/576i and 480/576p to the display's native resolution via HDMI. The unit will transcode incoming 720p and 1080i analog signals to HDMI, but there is no upconversion or deinterlacing for these resolutions.
Only one of the two HDMI outputs can be active at a time. This feature is most useful if you have a flat-panel TV and a projector in the same room and use them for different purposes. For instance, maybe you only use the projector when the whole family is watching a movie and the flat panel for more casual viewing. Each HDMI output can be set to its own output resolution, or you can set them to Auto so they match the native resolution of the displays.
Like the best pre/pros, the AV8003 provides balanced (XLR) and unbalanced (RCA) preamp outputs. Balanced outputs insure noise-free transmissions from the Marantz to the companion MM8003 multichannel power amplifier.
An Ethernet port on the rear panel supports networking capabilities, which lets you stream audio and video directly from any DLNA (Digital Living Network Alliance) server, including photos in JPEG and BMP formats. The networking system is compatible with NAS (network-attached storage) devices, including media-server systems that store lossy and lossless audio files.
This is an important feature, but the manual only refers to Windows computers—nothing about the Mac. It turns out that a Mac can be used as a media server, but only if it is running DLNA server software such as TwonkyMedia. I didn't have TwonkyMedia installed on my Mac, so I couldn't access the external hard drive that serves my media files. However, since my music and photo files are synced with my Apple TV, I could play them via one of the HDMI inputs.
With up to three zones of audio and video, including the main room, the Marantz separates can be set up for whole-house music and video distribution. Unless you are adept at zone and network configurations, a custom installer might best exploit these features. For integration with third-party control systems such as Crestron, an RS-232 port is provided along with IR repeaters (in and out) and two 12-volt DC triggers.
A major advantage of separates is the isolation of the audio and video signals from the power-amp circuitry. This eliminates a lot of extraneous noise and signal interference that can occur when everything is contained in a single enclosure.
However, even a preamp requires operational power, so the AV8003 incorporates a shielded power supply to prevent leakage from the transformer to the audio and video signal paths. The low-flux toroidal transformer is encased in an anti-magnetic steel shield for even greater control of stray flux. Internally, the parts and circuit boards are arranged in the shortest signal paths possible to prevent signal degradation and interference from other signal traces.
Features—MM8003
According to the specs, the MM8003 power amplifier produces 140 watts of high-current output from each of its eight channels, measured across the full audio bandwidth (20Hz–20kHz) at 8 ohms with less than 0.08% THD. To match the balanced outputs on the AV8003, the MM8003 has balanced (XLR) inputs in addition to unbalanced (RCA) input connections. A switch on each channel lets you select the balanced or unbalanced connection.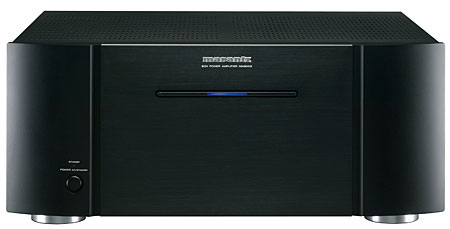 The MM8003 can be configured in a variety of ways depending on how many channels you want in the main system and whether you want to use the multizone capabilities. You can also bi-amp your main left and right speakers in a 5.1 system or use the MM8003 as a straightforward stereo-distribution amplifier, providing power for up to four separate rooms.
The power supply in the MM8003 is massive with a multiple-secondary toroidal transformer rated at 600VA along with 100,000µF custom-designed capacitors mounted in copper-plated, anti-vibration brackets. Marantz's Reference Series PM-11S1 Stereo Integrated Amplifier uses the same power section. A high-current feedback topology ensures accuracy and control, even under high-drive conditions.
The output stages are mounted on an extruded-aluminum "thermal tunnel" for efficient heat dissipation. Four channels are placed on either side of this tunnel with temperature sensing and forced-air cooling to keep the internal circuitry from roasting. Finally, the "soft turn-on" circuit prevents an excessive inrush current from tripping an AC breaker or fuse.
For custom installation applications, there are two 12VDC trigger I/Os and an RC5 jack.