Make Your Own DVD!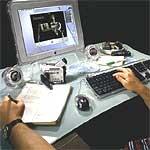 About eight years ago, as a recent college graduate working a low-stress job, I made my own short movie. I had a couple grand in the bank and a handful of friends willing to help out. (You'd be amazed how many people will show up on a cold Saturday morning if you prom ise free bagels and coffee.) The early '90s was the golden era of indie film - Robert Rodriguez's El Mariachi, made for only $7,000, and Richard Linklater's strikingly original Slacker were attracting media attention. But time and budget constraints restricted my effort, Vexed, to a paltry 14 minutes, and its gloomy imagery and tone limited its appeal to hard-core horror afici o nados like myself. Shortly thereafter, I got a real job, and my budding film career was aborted.
Nonetheless, I'm proud of my film, and over the years I've transferred it to a variety of tape formats, the most recent being MiniDV. So when I heard about the first affordable computers with built-in recordable-DVD drives and bundled editing/authoring software, I decided to preserve my magnum opus on DVD as well.
Gearing Up Both PC and Mac users can now buy desktop computers packed with everything necessary to edit video footage and transfer it to DVD, complete with menus and button links to different movies and still images. I checked out the Compaq Presario 7000 with MyMovieStudio software ($1,635) and the Macintosh G4/733 MHz with iMovie 2 and iDVD ($1,949). The Compaq system's base package has a 60-gigabyte (GB) hard disk, a write-once DVD-R drive, and a 17-inch CRT monitor; I used a 15-inch flat-panel LCD monitor ($380 extra). The Mac also comes with a 60-GB hard disk and a DVD-R drive, but the monitor is extra; I used Apple's 17-inch flat-panel Studio Display ($999). Both have an IEEE 1394 (a.k.a. FireWire) connection for transferring video to the hard disk, and both DVD-R drives can record onto write-once CD-R as well as re writ able CD-RW discs.
---
LATEST VIDEO