Living with Technology Page 3
Chicago Connection By James K. Wilcox Photos by Larry Evans Eighteen months after completing an extensive renovation of their colonial-style home just outside Chicago, real-estate management and consulting executive Bob Chodos and his wife, Chris, decided their multiroom audio system needed an upgrade. Many of the rooms in the 5,500-square-foot house already had built-in speakers and individual volume controls, but Bob and Chris felt hamstrung by being able to play only one source at a time throughout the rooms. They also wanted to tie their home computer network into the audio system, which would allow them to listen to Internet radio and to digital music files stored on their four PCs.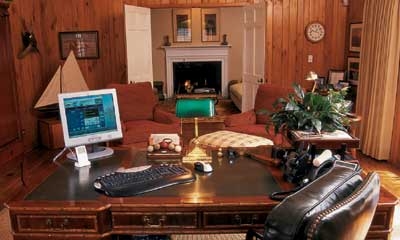 The whole-house audio system can be operated from the PC in the home office.
The homeowners turned to John Baumeister, owner of Baumeister Electronic Architects in Chicago, to handle the installation. "I had John centralize the sound system so I could, from various locations, listen to music from the CD changer, music stations from the Comcast digital cable box, or even access Internet radio stations," Bob recalls. While video wasn't a focus of this installation, he wanted the system set up so it could be incorporated in the future.
The house's technology backbone was substantially upgraded during the renova tion, which included running Cat-5e high-speed voice/data cable and Cat-3 voice cable and linking the network through a central router and firewall. "My initial plan was to centralize the computers," says the tech-savvy homeowner, who until recently handled much of his firm's information-technology matters. "I work on a virtual private network (VPN)that links my home office to my office in Chicago, and I have my wife's computer and two of my boys' computers tied in to the network." This lets them share a printer/fax/scanner/copier as well as high-speed DSL Internet access.
In tackling the installation, John had to work not only with the installed backbone, but also within the family's budget. And he had to meet their desire for a clean, uncluttered look, which had led them to install ceiling-mounted speakers in most of the connected rooms. "When I first visited, Bob told me he wasn't happy with the sound in his home, which was set up as a single zone," John recalls. "There was one preamplifier/amplifier going through a Niles switch box that allowed him to turn the sound on and off in different rooms, with volume controls situated in each room. But he had to go back to his office area to control everything." Because the wiring passed from the office to the area in the basement where all the house's wires and cables converged, John was able to relocate nearly all the equipment - including a Sony 400-disc CD changer, a Comcast digital cable box, an Escient FireBall music server, and even an old Tandberg cassette deck - to Middle Atlantic racks in the basement. The result is that the office is now relatively free of gear, and the system can be controlled via the home's four computers or the Crestron color touchscreen in the kitchen.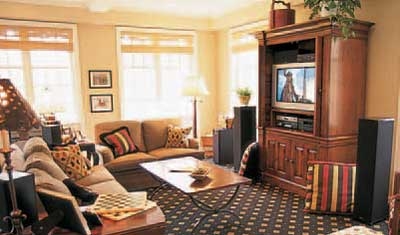 The Chodos's next project is to bring their media room - which includes a Sony HDTV and Definitive Technology speakers - into the home network.
Crestron was a natural choice given both John's experience with its products and Bob's familiarity with the company. Along with the kitchen touchsceen and X-Panel applets (mini software applications) that run on the PCs, the system has an audio distribution processor and a control processor. "My suggestion was that instead of buying separate control interfaces, we could access the system through his existing computers, which would save a lot of money," John says. Powering the whole-house audio system is a Niles 12-channel amplifier, which pumps out 60 watts to each channel. From almost any room on the main floor, you can select any of the audio sources - including PC- and Internet-based music, which is sent to the Escient server - and play it in any of the wired rooms.
Since Bob and Chris's large (28 x 32-foot) kitchen is a main congregation place both for the family and for guests when they entertain, it was a focal point of John's efforts. It originally had a pair of JBL speakers in the ceiling, but just two speakers couldn't provide adequate coverage, according to John. By manipulating the wiring - going across some cabinets, around the fireplace, over to the other side, and back up through the ceiling - he was able to relocate the JBLs to a less-trafficked end of the room. He replaced them with a pair of Sonance Symphony 624TR two-way in-ceiling speakers, which have a pivoting tweeter that helps provide broader coverage. To fill out the sound, John placed a 1,000-watt Velodyne subwoofer out of the way next to a cabinet.
The media room, which has a 34-inch Sony direct-view HDTV, a Denon 5.1-channel receiver, and a Definitive Technology surround sound speaker system, operates independently from the main system. But whole-house audio is piped in via a pair of soffit-mounted JBL ceiling speakers, and John added a Velodyne sub to beef up the sound. Music from the whole-house system can also be pumped out to a large patio area as well as to the three-car garage where Bob has a workbench.
The kitchen/dining area is controlled by a Crestron touchscreen.
Crestron touchscreen
Possible projects include adding the master suite and bath, as well as the kid's entertainment area - all of which are prewired with speakers - to the whole-house system. And Bob has already talked to John about installing a home theater in the basement - which is prewired for 5.1-channel sound - as well as adding sound to another patio area off a bedroom. John says that thanks to the extensive prewiring and the multizone capability of the Crestron PAD8 processor, additional zones can be created simply by adding amps and, where necessary, speakers.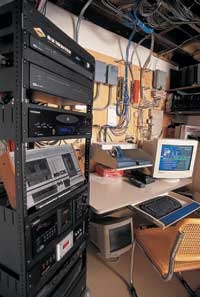 A basement area has been set aside for most of the equipment for the house-wide audio system, including a PC and an Escient FireBall music server.
The process has had its hiccups, however. "At the beginning, I didn't do a good job of explaining to John the degree of tonal control I was looking for," Bob acknowledges, "so we changed out equipment until I got what I wanted. When we finally hit upon the kind of control I was looking for, my budget got blown." As a result, the project came in about $10,000 over the initial plan to spend about $20,000.
But Bob is very pleased with the installation, including the improvements to the home's backbone as well as the integration performed by Baumeister Electronic Architects. "John did a great job, and I liked working with his guys - they were 'can do' kind of people who helped bring my house into the 21st century. The system is a lot easier to use now that we have this level of control. Before, people were popping speakers and afraid they'd blow up the system. Now it's point, click, and go."
One unexpected benefit of the audio system is that the family is watching less TV. "The music is running constantly, and I'm playing more classical music and jazz all the time," Bob says, "so it's exposing my children to that, and they like it. And I find us sitting around in the kitchen talking more than watching television. If I had my choice I'd take all my TVs out. We use them too much."
LATEST VIDEO