Living with Technology Page 2
Pittsburgh Palace By James K. Wilcox Photos by Scott Goldsmith
When they began construction on their 10,500-square-foot home on Mount Washington, which overlooks Pittsburgh, Peter Karlovich and Steve Herforth knew they wanted a certain level of control over the lighting and blinds. But they didn't anticipate the high-tech showplace their home would eventually become. In fact, by the time it was completed last August, it included a whole-house music system, a DJ/ dance area with disco lights, a computer network, and a touchpanel system for controlling the lights, blinds, electric skylights, security system, sauna, spa jets, and three gas fireplaces, plus an outdoor fire pit and a separate gas fire sculpture.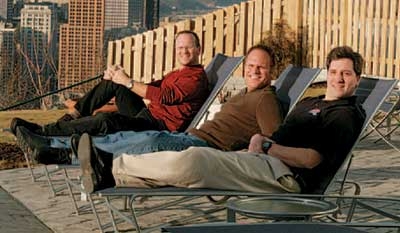 Homeowners Steve Herforth and Peter Karlovich with installer Matt Mandros.
The installer, Matt Mandros, founder and president of MGM Automation in Pittsburgh, said the project started with discussions about light controls, but quickly became something much more ambitious. "Peter's background as a software architect makes him fairly technically minded," Matt says. "And he knew he wanted to have the house wired and to have computer networks, but he hadn't waded through all the options yet."
Peter, who sold his software company and retired at the height of the dot-com boom, was familiar with lighting systems but knew little about whole-house audio. "We focused first on the music system," he says. "because I wanted to make sure it and the lighting system would fit together seamlessly and unobtrusively."
The key to operating everything from touchpanel controllers lies in making the system's main components - a LiteTouch lighting-system controller and an Elan HD system controller and RS232-based integration controller - seamlessly work together. The house has 18 UStec four-port multimedia tecPorts, several single tecPorts for cable, data, or phone lines, 58 LiteTouch control stations, 11 Elan volume controls, two Elan keypads, and eight Elan Via touchpanels (both in-wall and tabletop models).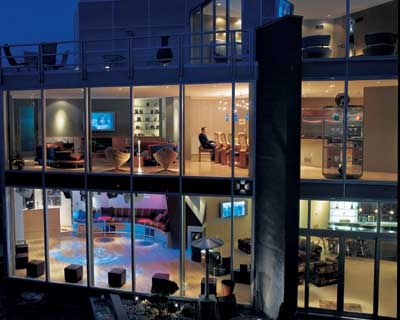 The first floor of the 25-room connected home features a dance floor with DJ booth and a billiards room, while the second floor has a living room/media room next to the dining area.
Working with Peter and Steve during the initial stages of construction allowed Matt to future-proof the house. "If it hadn't been such a wide-open canvas, I don't think we would have gone as far as we did with the automation and integration," Matt says. One consequence, however, was that the project's budget ballooned from about $130,000 to more than $180,000, not including the plasma TVs and DJ gear, which the homeowners purchased separately.
Peter didn't want a wireless computer network. "I guess with his background, he was cognizant that wired networks are more secure," Matt says. The main interface with the whole-house audio system is through PCs in the living room and DJ area, so anything connected to those sources becomes available to the whole house.
The homeowners were generally in favor of prewiring to anticipate future needs. "Peter always wanted to have his options open. Flexibility was very important," Matt says. One example was the decision to include fiber-optic cable within the wiring. "Currently it's dark," Mandros says, "but it's there if he ever needs it. He's still exploring the possibilities."
The house's clean, open architectural design and the owners' love for entertaining dictated that the whole-house A/V system couldn't be intrusive. So the large high-definition plasma TVs sit flat against walls, the 35 speakers are all mounted in the ceiling, and most of the gear is stored either on racks in a storage area under the three-car garage, or in the case of the Elan Via DJ media server and Nuvo AM/FM tuner, in the DJ booth.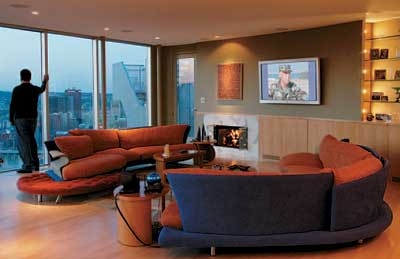 The living room features a 60-inch Zenith plasma HDTV - and spectacular views of Pittsburgh.
The living room/media room has a 60-inch Zenith plasma HDTV, a 7.1-channel Harman Kardon A/V receiver, and seven Proficient Audio in-ceiling speakers. The speakers, which have angled woofers and pivoting tweeters, are mounted in backboxes to improve the bass. A PC connected to the receiver and TV lets the owners listen to Internet radio or music files, surf the Web, or stage photo slideshows when entertaining. "When we're having a party, we can distribute music throughout the house - and it's a big house - at the touch of a button," Peter says. Because the room's focus is the windows that look out over the city, Matt had to make sure nothing, including the controls, detracted from the surroundings.
The control system and most of the components are located in a room below the garage.
The rest of the house has 28 Elan ceiling speakers with pivoting tweeters. Matt also installed Elan in-wall subwoofers in the kitchen and billiards room. Powering the whole-house system are four Elan 60-watt-per-channel 6-channel amps, plus a 150-watt-per-channel stereo amp. Music from any of the nine zones can be played in any of the other zones, and Internet access and signals from the high-definition cable box can be routed to any of the video displays.
Many of the rooms, like the kitchen, are wired for mono rather than stereo. "With stereo ceiling speakers, the sound can be very poor because either you don't get good separation, or you're getting sound from only one channel," Matt explains.
In addition to the 60-inch plasma in the living room there are two 43-inch Pioneer plasma TVs and two 15-inch Sharp Aquos LCD TVs. But the owners aren't that excited about video. "The infrastructure lends itself to a DVD server, which would let them stream movies over the Ethernet," Matt says. "Every place that has a high-def display also has broadband capability, so it's ready to go when they're ready to go."
All parties seem happy with the results, and they've discussed other projects, including installing a home theater under the garage. Not surprisingly, Matt calls Peter and Steve ideal customers. "They were not only open to suggestions, but it was apparent early on what they wanted, and they communicated it clearly. With some customers, there's a lot of detective work."
But Peter's software background made him an unusual client. "I asked Matt to get me the software used to program the lighting system and the Elan sound system," he recalls. "Typically they don't give that to end users, for fear they'll screw it up." As a result, Peter has tweaked the lighting controls and reprogrammed the Via touchpanels to give each of them the ability, among other things, to turn music on in the entire house at the touch of a button.
Steve would step in occasionally and rein Peter and Matt in. "He's not unfamiliar with technology, but he knows that I can go a little too far," Peter says. "He'll say, 'You know, that's a little too complicated.' And he's right. If our guests use the bathroom, they shouldn't need a Ph.D. to turn on the lights."
- James K. Willcox
LATEST VIDEO