LG BH200 Super Blu Blu-ray Disc and HD DVD Player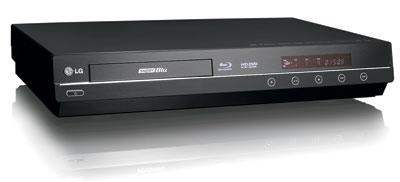 One of the biggest news items to emerge from last year's Consumer Electronics Show was LG's announcement of a dual-format deck that could play both Blu-ray Discs and HD DVDs. We subsequently got our hands on that player, the BH100 Super Multi Blue, and we found it an intriguing but frustratingly incomplete solution. Among the player's shortcomings was an inability to display the onscreen menus of HD DVDs.
The Short Form
Price $999 / us.lge.com / 800-243-0000
Snapshot
Although it comes up short on some audio features, LG's new do-it-all player provides reliable handling and high-quality video.
Plus
•Consistently sharp pictures from HD DVD, Blu-ray, and DVD discs •Smooth, glitch-free operation •Supports both HDi and BD-Java interactivity •Eliminates need for two separate high-def disc players
Minus
•Dolby TrueHD decoding limited to 2 channels •No user-selectable 1080p/24 video output option
Key Features
•6-source/6-zone system •Expandable to 30 listening zones •60-watt per channel amplifier •Four different control options •Modular, card-based architecture •XM, Sirius, AM/FM, or all three •iPod integration •GXR2: 17.4 x 5.8 x 18 in; 54 lb
Scan forward a year to LG's BH200 ($999), with the more abbreviated nickname of Super Blu. Not only does this dual-format machine cost a few hundred bucks less than its predecessor, it's a superior unit on a number of levels. Among the most notable advancements is full support for the HD DVD format's HDi interactivity. HD DVD onscreen menus can be displayed and navigated with no limitations, and the player has an Ethernet port to plug into a home network and access Internet-based interactive features on discs. As for Blu-ray, the BH200 is currently specified as a BD-Rom Profile 1.0 player, although its hardware supports BD-Rom Profile 1.1, and a firmware upgrade that LG plans to release in early 2008 should elevate it to that status. (Among the key differences between the two profiles is the addition of secondary audio and video decoders in 1.1 that allow features like video picture-in-picture and audio commentaries to run concurrently with main movie playback.)
Moving on to the nuts-and-bolts features, the player passes 1080p/60 video signals through an HDMI 1.3 connection, and it can also upconvert regular DVDs to that format. LG's manual suggests that the player also supports 1080p/24 video output. Strangely, there's no option to select that format in the video setup menu, although a company rep I spoke with said the feature should be enabled automatically when the player obtains the display's EDID (Extended display identification data) via an HDMI connection. But the player's audio capabilities, unfortunately, aren't much advanced over those of the BH100. The new deck supports output of multichannel PCM soundtracks on discs via its HDMI connection, but built-in decoding of lossless Dolby TrueHD soundtracks is limited to 2 channels, and it can only extract the core 1.5-Mbps DTS track from DTS-HD Master Audio soundtracks. On a positive note, it plays standard CDs - a basic function that LG's previous Super player lacked.
Viewed head-on, the BH200 looks like any other high-def disc player I've had in recently, with an all-black façade and a row of transport controls. And there's also a USB port under a flip-up panel for plugging in a flash drive loaded with JPEG photos or MP3 and WMA music files. You get HDMI, component video, and a regular composite-video connection, but no S-video jack. Audio outputs are limited to optical digital and stereo analog; there's neither a coaxial digital output nor multichannel analog outputs, both of which are provided on Samsung's similarly priced BD-UP5000 Duo HD player. The Ethernet jack is a big plus, both for compatibility with HD DVD and future Blu-ray interactive software and for downloading firmware updates.
LG's sizable remote control lacks backlighting, but its keypad has a clean layout, with frequently used buttons all orbiting around the menu-navigation buttons at its center. A control labeled "Resolution" sits at the bottom, close to one labeled "Video PIP." The first can be used to switch the resolution of the video output signal when the player is in Stop mode without wading through setup menus. And the second control will activate video picture-in-picture on any future Blu-ray Discs supporting that feature.
Setup Setting up the BH200 was painless and glitch-free - a first in my experience with Blu-ray players. It worked smoothly with the Anthem AVM50 preamp/processor that I used for testing, and I encountered no machine freeze-ups or disc incompatibilities - another first. I initially configured a Pioneer 1080p plasma TV to display 1080p/24 signals from the LG, but the player would only deliver 1080p/60 when either the Auto or 1080p resolution modes were selected from its Display menu. And the same thing happened when I plugged the player into a 1080p/24-friendly Sony SXRD front projector. Not a disaster exactly, but I'd still prefer having a menu-selectable option to guarantee 1080p/24 video output irrespective of the EDID handshake described earlier.