Knowing (Blu-ray)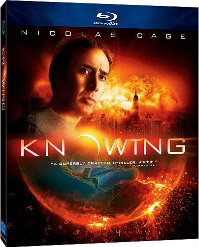 In 1958, as part of the dedication ceremony for a new elementary school, a group of students is asked to draw pictures to be stored in a time capsule. But one mysterious girl fills her sheet of paper with rows of apparently random numbers instead. Fifty years later, a new generation of students examines the capsule's contents and the girl's cryptic message ends up in the hands of young Caleb Koestler (Chandler Canterbury). But it's Caleb's father, professor John Koestler (Nicholas Cage), who makes the startling discovery that the encoded message predicts with pinpoint accuracy the dates, death tolls and coordinates of every major disaster of the past 50 years. As John further unravels the document's chilling secrets, he realizes the document foretells three additional events - the last of which hints at destruction on a global scale and seems to somehow involve John and his son.
Fans of director Alex Proyas have been chomping at the bit for a return to Dark City form for quite some time now. Knowing puts him back in the sci-fi thriller genre, but it lacks the dark tone and cutting edge feel of his earlier films. The film succeeds in the thrills department and delivers a pretty good time overall. Although some of the acting is forced, which is surprising considering the caliber of the cast and the score is a tad annoying. Regardless, I still enjoyed it.
Knowing was captured on the Red camera with a native resolution of 4K. This is the first feature film I know of shot with it so I was excited to see how it translated to home video. The transfer is indeed quite good but I didn't think it was a clear step up from what we've seen with other digitally captured films. Detail is exceptional and the image has a great sense of dimension and depth. I was impressed with the darker sequences, which typically look flat with digital cameras, but the Red seems to do fine with shadow detail and contrast. Colors are a bit amped but this lends to the rich look of the imagery. The only negative is some finer detail is a bit soft, although it is never too distracting.
The DTS-HD MA 5.1 soundtrack features a rich soundstage and impressive low end response. There are a few intense action scenes and the sound design makes the most of the situations with incredible dynamic range and panning effects. Low bass extension is nearly system threatening and there are some great infrasonic touches. Dialog is very natural in tone and balance and the spatial design of the mix floats throughout the room.
Extras include an audio commentary with the director and two features on the film and its themes.
While not as groundbreaking as his previous films, Knowing was still better than I was expecting given the trailers. This ground has been covered before, but it was still a decent ride.
Release Date:July 7, 2009
Studio: Summit
Movie: 6/10
Picture: 9/10
Sound: 9/10

Review System
Review System
Source
Oppo BDP-83 Blu-ray player

Display
Planar PD-8150 1080p DLP Projector
120" ST 130 Screen w/ Carada Masquerade Masking System
Electronics
Onkyo Pro PR-SC885 pre/pro
Outlaw Model 7900 Fully Balanced Amp
Exact Power EP-15A Voltage Regulator
Exact Power SP15x4 Balanced Power Transformer
Speakers
Paradigm Reference Signature S8 Mains
Paradigm Reference Signature C5 Center
Paradigm Reference Signature ADP Surrounds
Paradigm Reference Signature S6 Rears
Dual SVS PB12/2 Plus Subs
Dual SVS 25/31 Subs
Cables
Cables by Accell, Nordost, Blue Jeans and Better Cables

LATEST VIDEO