KEF: Not ready for AARP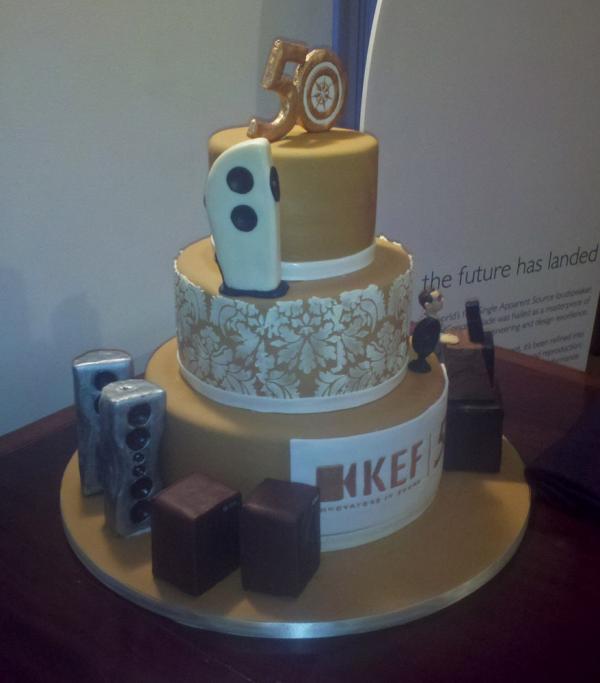 I'd expected a kind of This Is Your Life thing, where partygoers would be "treated" to a recitation of five decades of milestones. But the 50th anniversary party for speaker manufacturer KEF at the British Consulate in Manhattan was anything but a long look backward.
In welcoming the guests, British Consul-General Danny Lopez cited the importance of companies such as KEF to U.K. Prime Minister David Cameron's "Brand Britain" initiative. "KEF represents the best of British innovation and technology," Lopez said.
Any doubters had only to look to Lopez's right, where a pair of the new KEF Blade speakers stood - and, later, played with power provided by a stack of Parasound electronics. The Blade - with its curvaceous gloss-white enclosure, quartet of side-firing woofers and front-firing concentric Uni-Q midrange/tweeter array - wowed the party guests. Attendees who didn't know a thing about audio dug its cool looks. Audiophiles in attendance were impressed with its total lack of cabinet vibration even at fairly high volume. "Touch the side," an audio writer friend of mine insisted. Lo and behold, I couldn't feel the slightest trace of vibration. (Unfortunately, the highly reflective room and party chatter prevented any sort of serious listening.)
KEF Electronics-which takes its name from Kent Engineering & Foundry building in which it was launched-came to life on October 2, 1961 as the vehicle for ex-Wharfedale technical director Raymond Cooke to pursue his then-radical ideas for using molded plastic in speaker cones. The company is known for numerous innovations, including the Uni-Q driver (which has recently made its way into KEF's lower-priced R-Series) and the use of digital technology (way back in 1971) for speaker measurement. It's also revered as the manufacturer of the woofers and tweeters used in the legendary LS3/5A speaker, a minimonitor originally designed in the early 1970s by the BBC for remote recording but quickly adopted (and still used today) by audiophiles for in-home listening.
When KEF America president Alec Chanin noted, "Not a lot of companies have had this kind of run," I was left wondering which of today's recently founded audio companies will still be around 50 years from now, in 2061. Given that I'm three months younger than KEF, it's unlikely I'll ever learn the answer.