KEF KHT6000 Speaker System and Arcam AVP700 Pre/Pro and P1000 Amplifier
This time, it's all English.
After the parade of international system mates that we've had in every other installment of this column recently, we finally settle into a system whose parts share their nation of origin. Don't be too quick to assume that it is the United States or Japan I speak of—this month's system hails entirely from merry old England. This isn't terribly surprising, but it does give me an opportunity to say a few things to our friends across the pond that I've been meaning to say for a while, such as: Sorry about that whole revolution thing (although I don't really mean that sincerely), and thanks for the Rolling Stones, Lord Stanley (who gave us the Stanley Cup), and Elizabeth Hurley—in no particular order, of course.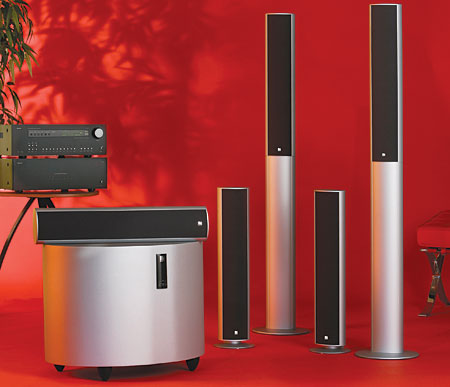 We can thank England for a lot of first-rate audio equipment, as well. Names like Meridian and B&W have become virtually synonymous with high-end sound, and there are plenty of other companies who are also looking to contribute to the English audio legacy. I gave Arcam and KEF their shot with a solidly performing, straightforward 5.1-channel system made up of Arcam's AVP700 7.1-channel preamplifier/processor and P1000 seven-channel amplifier combined with KEF's KHT6000 speaker system (four HTS6001 satellites and a HTC6001 center channel) anchored by KEF's PSW3500 subwoofer.
As do other speakers in the KHT line, the HTS6001 and the HTC6001 employ a couple of interesting proprietary technologies. The first is KEF's Uni-Q system, which places a tweeter within the midbass driver to create a coaxial, coincident driver array. The primary idea is to improve off-axis performance and widen the sweet spot considerably. They also use the ACE bass system, which was designed to reduce cabinet pressure that restricts cone movement, which, in turn, reduces bass extension. This is obviously of particular benefit in cabinets of this size, where low-frequency performance has always been a problem.
The HTS6001 and the HTC6001 both utilize four 3-inch midbass drivers flanking a Uni-Q driver that is made up of a 0.6-inch aluminum dome tweeter and a 3-inch midbass unit. There are multiple stand options, including tabletop bases, an effectively simple arm on the HTC6001 center speaker, or floor stands. The floor stands provide their own bass enhancement by more than doubling the internal cabinet volume via removable plates on the bottom of the speaker. The satellite-to-stand connections are simple, solid, and well engineered. You can also easily wall-mount the KEFs. The binding posts are easier to access than they are on many plasma-friendly speakers, but they only accept bare-wire or pin terminations.
The PSW3500 subwoofer is a sealed-box, downward-firing system that uses a 12-inch polypropylene woofer and a 300-watt internal amplifier. The back panel supplies an array of controls, including gain control and a crossover-bypass setting. There's also an auto-on mode, a low-pass filter-slope control with 12-decibel and 24-dB settings, a ground-lift switch, and a "cinema" setting that adds a 3-dB boost for movies. Connections include line-level inputs and high-pass outputs. A welcome bonus is the PSW3500's remote control, which lets you adjust level, crossover frequency, and phase from your chair.
Arcam's 7.1-channel AVP700 pre/pro has a potent trio of attributes—it sounds good, it's well stocked with features and connections, and it couldn't be much easier to use. Processing includes all the Dolby and DTS tricks, including EX and DTS ES Discrete, and Pro Logic IIx and Neo:6. Connections include ample analog and digital audio inputs and outputs, including a 7.1-channel analog input, as well as audio and video for a second zone. The amp has video well covered, too, with multiple composite, S-video, and component video inputs and outputs. The connection highlights, however, are the 7.1 channels' worth of true, dual-differential balanced outputs (XLR), and the HDMI connections (two inputs, one output). There's also a two-way RS-232 jack, 12-volt triggers, and IR jacks. The menu system is straightforward and intuitive, and the excellent remote makes everything that much easier.
The AVP700's balanced outputs go nicely with the P1000 amplifier's balanced inputs (XLR). There's one for each of its seven channels, which are each rated at 135 watts (with all channels driven into 8 ohms). There are single-ended inputs (RCA), as well, along with single-ended outputs and a 12-volt trigger. Each channel has a three-position gain switch that offers gains of 31.5 dB, 29 dB, and 26 dB. Five-way binding posts round out the back panel. The front panel is simple and clean, adorned only with channel-status indicator lights and a power button. Thermal and overload protection is also aboard.
A relatively simple, straightforward system makes for a relatively simple, straightforward setup. For more than half of my testing, I only used two of the KTS6001s with the floor stands, with the center-channel arm on another floor stand and the surrounds on the tabletop bases. I did use floor stands with the surrounds for a period, as well; but, knowing how averse people seem to be toward using floorstanding speakers as surrounds, I assume the majority of listeners will use the tabletop stands. With both the tabletop bases and the floor stands, the surrounds sat slightly above ear level, 120 degrees from the listening position for music and firing slightly toward the back of the room for movies. I set the front speakers a couple of feet away from the side and rear walls and toed them in slightly. When it wasn't on a floor stand, the center channel rested comfortably atop the TV. The PSW3500 sat halfway up the side wall. The AVP700 and P1000 were up and running in a matter of minutes—make your connections, plug the two units into a power source, make a few settings, and you're done.
It's not always easy to get a deep, well-developed image from small cabinets with small drivers, but KEF has done it. Vocals from two-channel material were dead center—provided the recording cooperated—and the sweet spot was considerably wider than I expected. I also noted ample delineation between vocals and instruments—and between the instruments themselves. "Katy Hill" from The Three Pickers concert is always a good barometer of this. It uses several fiddles, dobros, acoustic guitars, and banjos simultaneously, but this system sorted them out nicely despite the relatively smaller stage that it had to work with. It may be easy to separate a banjo from a fiddle, but successfully separating two fiddles that are playing the same thing requires a little more finesse, which the Arcam/KEF combination consistently delivered.
I expected extra finesse with high-resolution material, and I got it. The system's bass had a nice round thump with material like Bucky Pizzarelli's Swing Live (SACD and DVD-Audio, Chesky). Each kick of the bass drum finished off nicely without any overhang or excess rumble. The same accuracy was evident at the top of the frequency range, where cymbals attacked aggressively—but not too aggressively—and finished without hissing or spitting. A system earns its keep in the places in between, though, and this one made its case for being a keeper with an impressive midrange performance, highlighted by the immediacy and openness of Swing Live's clarinet work, which drives this salute to the immortal Benny Goodman.
I have become increasingly impressed by the ability of the recent crop of plasma-friendly speakers to fill a normal-sized listening room with big-movie sound, and the KHT6000 system was no exception. The stage opened up nicely, and off-axis performance was especially impressive—which is important, as movie watching tends to be a more social pastime than dedicated music listening. As I've said before—probably ad nauseum at this point—don't expect miracles with such speakers. No matter what the salesperson tells you, small speakers, plasma friendly or otherwise, rarely ever put out the same sense of size and body as large, well-designed towers. But that doesn't mean they can't put out good-quality size and sound, especially with a good amp behind them.
The HTS6001 and HTC6001 may not be big, but, with a midlevel sensitivity of 89 dB, they won't allow an amp to sleepwalk through its duties—and the P1000 was perfectly happy with that. It effortlessly drove the KEFs through dense and sparse tracks alike, with considerable dynamic range and little in the way of discernible compression or fatigue. The P1000 didn't have to control big drivers, but it did have to control a lot of drivers at the same time—and it didn't mind a bit. This amp is clean and quiet, but don't interpret that to mean it is lifeless or lacks punch. It will thump anytime you ask it to—and without getting harsh or grainy.
The P1000 wasn't the only amp in the system that showed good driver control. The PSW3500's amp did have to handle a big driver, and it didn't mind, either. This amp doesn't have the biggest power ratings you'll find at 300 watts, but the sheer size of power isn't always what counts—it's how you use it. I liked what the sub did at both ends of the power spectrum. Big events like explosions came off without boominess or distortion, and the sub handled less common, subtle details in the low frequencies with an impressive display of detail and nuance. As with most any other sub, it won't let you overdrive it without some protest. If you keep it anywhere near rational levels, though—and your eardrums and neighbors will thank you for doing so—you won't hear a bit of complaint.
If I may generalize, I've usually found English audio equipment to be very similar to the English themselves—refined, composed, and almost always respectable. (Let us not forget the Spice Girls.) This KEF/Arcam system fits that bill nicely. It is attentive and detail-oriented, but it isn't afraid to get rowdy when you ask it to, either—not unlike an Englishman with a few pints in him. The system's simplicity and straightforwardness also aid this cause. There's a lot of what you need and very little of what you don't. In these categories and price points, the competition is only getting stiffer, but this system enters the fray well prepared.