The Karate Kid & The Karate Kid II (Blu-ray)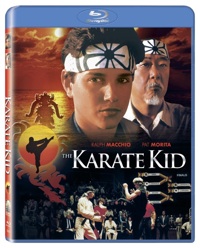 Daniel (Ralph Macchio) and his single mother move from the east coast to Los Angeles and he has a difficult time meeting new friends. When he becomes the object of bullying by the Cobra Kai, a menacing group of karate students, a local handyman (Pat Morita) teaches the teenager self defense and in the process the two become the best of friends.
In Part II, Daniel and Miyagi travel to his ancestral home in Okinawa where the young American enters an exotic new world offering some clues on his mentor's secret past. For Miyagi, it's an opportunity to see his father one last time and to try and rekindle a childhood romance, although his return ignites a bitter feud with a long-time enemy, Sato (Danny Kamekona).
The Karate Kid was a big hit in 1984 and led to a surprising Oscar nomination for Morita who up to this point was known as a character actor on TV. As a kid who moved around a lot I can empathize with the Daniel and the challenges of being the new kid in town. Fortunately I wasn't a victim of this type of abuse. Regardless, I really enjoy these films a lot.
Video Highlights

AVC/1080p encodes on BD-50 discs
Both films have average resolution
Elevated black levels
Darker scenes are quite grainy (typical of the era)
Accurate color palette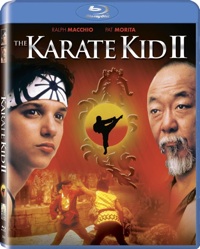 Audio Highlights

DTS-HD MA 5.1 soundtracks
Clean dialog
Front-loaded presentations
Adequate dynamics
Quiet surround speakers
The 1980s photography holds up pretty well but don't expect to be blown away by the video or audio
Bonus Materials

The Karate Kid
Feature length commentary with the director, cast, and writer
3 featurettes (SD)
Blu-Pop with trivia and some secrets from the film
BD-Live enabled
The Karate Kid II
The "Sequel" featurette (SD)
Blu-Pop with trivia and some secrets from the film
Both films have aged well and my kids really enjoyed them. Pat Morita's career-defining role is the most enjoyable aspect for me and his chemistry with Macchio helps move the story along. The presentations aren't groundbreaking, but look pretty good on Blu-ray. Recommended for fans.
Click here to email any comments or questions!
Release Date: May 11, 2010
Studio: Sony
The Karate Kid
Movie: 9/10
Picture: 7/10
Sound: 7/10

The Karate Kid II
Movie: 7/10
Picture: 7/10
Sound: 7/10

Review System
Source
Oppo BDP-83 Blu-ray player

Display
JVC DLA-RS1 projector
Stewart FireHawk screen (76.5" wide, 16:9)
Electronics
Onkyo Pro PR-SC885 pre/pro
Anthem PVA-7 power amplifier
Panamax M5400PM power conditioner
Speakers
M&K S-150s (L, C, R)
M&K SS-150s (LS, RS, SBL, SBR)
SVS PC-Ultra subwoofer
Cables
Monoprice HDMI cables (source to pre/pro)
Best Deal analog-audio cables
PureLink HDC Fiber Optic HDMI Cable System (15 meters) from pre/pro to projector

Acoustical treatments from GIK Acoustics
LATEST VIDEO