Kaleidescape Mini System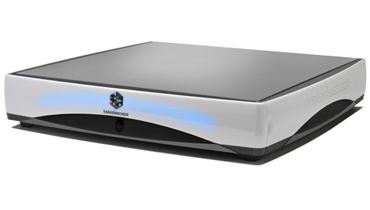 Key Features
$8,590 KALEIDESCAPE.COM
• Movie/music server with two additional music-only zones • Uncompressed storage for all movies and music • Sigma Designs VXP processing • System holds up to four 500-gigabyte hard drives for storage of 225 DVDs or 2,475 CDs • Supports additional storage and up to 15 simultaneous outputs • Connections: HDMI, component-, composite-, and S-video; optical and coaxial digital audio; 3 analog stereo audio (1 per zone); LAN, USB, RS-232 serial and IR mini-jack input • 17 3?4 x 31?4 in x 171?4 in; 17 lb
Companies don't stay on top by standing still. In the ever-evolving world of technology, if you aren't constantly innovating and moving forward, you get passed by.
Kaleidescape is a company with a shark-like need to keep on the move, and I've been fortunate enough to chronicle its progress over the years. The company invented the hard disk-based movie server category. When I reviewed its first offering back in 2004, I was blown away by the technology - and by the system's wallet-emptying $32,000 price tag. When I revisited the system 2 years later, Kaleidescape had more than tripled its disk-cartridge capacity, added music management and an HDMI output, and cut the price nearly in half. A year ago, Kaleidescape impressed me again with a 1080p movie player featuring Sigma Designs' terrific VXP video processor.
For its latest trick, the Mini System, Kaleidescape has combined a server and a movie/multizone music player into a single box, and slashed the price yet again, this time to the $8,000 range. Needless to say, I had to see if this new offering maintains Kaleidescape's leadership position, or if the company's magic has finally run out.
SETUP
With a name like "Mini System," I was expecting something small, but the Mini System, which combines a 1080P Movie Player and a 1U Server, is in reality kind of large. The system retains Kaleidescape's signature gloss-white look. Its side panels can be removed to facilitate rack mounting with the included kit. The front of the unit is totally devoid of buttons, while the DVD drive, hard-disk cartridges, and front-panel controls are all concealed behind a flip-down front panel.
For such a powerful system, installation proved incredibly simple. An Internet connection is required for metadata lookup, while data streaming to additional client players can be done over the home's network. (The Mini System supports up to 15 simultaneous video or audio streams.) All expected audio and video outputs are present, and in my setup I used the HDMI connection to output both audio and video signals for Zone 1. Two additional sets of analog audio outputs (labeled Zone 2 and Zone 3) allow for multiroom music listening. All audio and video outputs are simultaneously active, though only the primary video output benefits from VXP processing.
The system holds up to four 500-gigabyte cartridges, which look like a cross between an 8-track tape and an Atari 2600 game cartridge. Data is striped across multiple drives for protection, meaning that if one drive fails, you won't lose any data. (For this reason, a minimum of 2 drives is required.) A fully loaded system can store approximately 225 DVDs or 2,475 CDs, but storage can be increased nearly indefinitely by adding additional Mini Systems or either a 1U or 3U Server.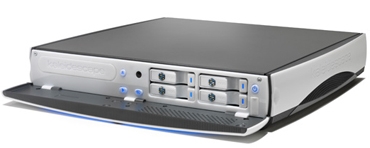 The Mini System's flip-down front panel hides a DVD drive, control buttons, and hard-disk cartridge slots.
Importing discs from your collection takes about 15 minutes per DVD and 8 minutes per CD. You can also listen to a disc without importing it, or enjoy other music or movies already stored on the system while an import is happening. There is no way to transfer media into the Kaleidescape over your home network - a definite bummer if you already have a large library of ripped music on your computer. However, Kaleidescape's Conductor software allows the Mini System to automatically export a compressed copy of any music you rip to an iTunes library on a networked computer.
A limited menu of adjustments are available via the system's on-screen graphical user interface, but most tailoring is done with a Web interface. Here you can select things like preferred audio soundtrack format (Dolby Digital, DTS, or stereo) and the level of image enhancement. One spectacularly cool feature that I stumbled across was located in the system's Screen Masking menu. Front-projection systems that use an anamorphic lens and a 2.35:1 aspect ratio screen are becoming increasingly popular. However, some widescreen films display subtitles in the black bars beneath the video image, and these get eliminated by the vertical stretch process that projectors use to format 2.35:1 images for display with no letterbox bars. But the Mini System can actually reposition subtitles back within the 2.35:1 image. As the owner of an anamorphic front projection system, I must declare that feature to be super cool.