JVC DLA-X7 D-ILA 3D Projector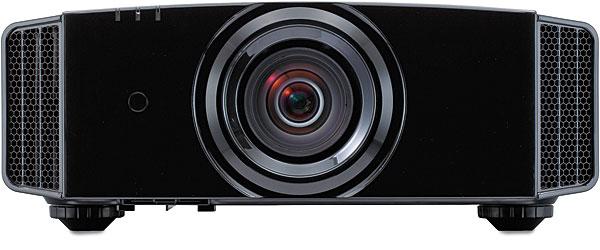 Price
: $7,995
At A Glance
: State-of-the-art blacks and contrast • Reference-quality 2D and 3D performance • Painful setup and calibration to achieve best performance
The Agony and the Ecstasy
JVC's projectors have been fixtures in HT's Top Picks in recent years. This year, the anticipation of getting our hands on JVC's newest projectors was even more acute. Not only has the line been completely redesigned for the first time in a couple of years, this is JVC's first series of 3D projectors. The $7,995 DLA-X7 reviewed here is the middle child, between the $4,495 DLA-X3 (reviewed by Kris Deering on page 58) and the $11,995 flagship DLA-X9, which is essentially a DLA-X7 with hand-picked parts and 3D paraphernalia—two pair of active shutter glasses and a 3D sync transmitter—included. The DLA-X7 is THX approved for 2D and 3D. It carries over virtually all of the significant features from last year's JVC models, while adding 3D capability. If you don't believe I couldn't wait to get my hands on this projector, check with JVC. Their corporate communications guru suffered an incessant onslaught of phone and voicemail messages through the holidays until the DLA-X7 was safely on my doorstep.
New Design
The new line has been physically redesigned; it resembles the JVC projectors of three and four years ago more closely than last year's models. The lens has gone back to the center of the chassis (nice), which has chunked on nearly 10 pounds compared with its immediate predecessors. Like the much earlier center-lens JVCs, this one is vented on the front at either side of the lens. But I'm pleased to note that unlike those JVCs of yesteryear, the new vent design doesn't spill light toward the screen. The input pack, which sports two HDMI 1.4 inputs, has migrated from the side of the projector to the rear. Also kept is the automatic lens cover that opens on startup and closes on shutdown. All of the lens adjustments are electronic, including horizontal and vertical lens shift, zoom, and focus. The DLA-X7 is quiet even in its High lamp setting; it's so ultra quiet in Low, you can't tell it's on.
JVC's projectors are three-chip designs (no color wheel or color artifacts), and D-ILA is JVC's name for its proprietary LCOS imaging chip technology. JVC continues to stand alone in the digital projector world by realizing incredibly deep blacks and contrast and doing so without the use of a dynamic iris system. When well implemented, dynamic iris systems dramatically increase a projector's blacks and contrast. The best systems do so while minimizing the artifacts associated with these systems.
But even the best dynamic irises occasionally show artifacts with program material. JVC offers the only free lunch out there by getting blacks and contrast among the very best we've measured in front projectors with no dynamic iris side effects.
JVC's recent projectors have had manually adjustable irises, with a wide range of fixed settings to tailor the light output to your room and screen. The DLA-X7 (and DLA-X9) is a little different internally in that it uses two irises: one closer to the lens and another closer to the lamp. The user adjustment of the overall Lens Aperture is the same as in previous models; both irises adjust simultaneously. The Lens Aperture adjustment range is 0 to 15, with 0 being wide open—the brightest setting.

The DLA-X7 also boasts higher claimed light output than previous JVC models in its rated light output spec, which is now 1,300 lumens. Its literature also calls out its new design, with a more powerful lamp, as being "50 percent brighter." JVC now specs the lamp to 3,000 hours to half brightness in Low lamp mode and 2,000 hours in High lamp mode. However, my experience with previous JVC designs and my measurements cast doubt on these claims in practical application. My two-year-old JVC DLA-HD750 had around 300 hours on its lamp before the DLA-X7 arrived. I calibrated both projectors to track the tightest gray scale at a gamma of 2.2 to 2.3 and show colors as close to the HD standard (Rec. 709) as possible. I also set their white and black clip points identically. On the same 92-inch-wide Stewart StudioTek 130 screen (white, 1.3 gain), I was running the DLA-HD750 on Normal (low) lamp with the iris at –4 to get my desired 15 foot-lamberts of top-end light output. With the DLA-X7 at around 150 hours of use, I had to run the lamp on High, with the iris at –5 to get 15 ft-L. Spec your screen size conservatively and don't bet on the provided specs. Running the lamp in High diminishes the lamp's life span, but most users will have to live with this even for 2D viewing to get a satisfyingly bright image—or would have to go to a smaller screen size.
JVC has also smartly tweaked its picture adjustment memory settings so that both the lamp power and Lens Aperture settings are specific to memory settings. For instance, for 2D, you can set up and access a user memory with the lamp on Low and the iris closed down for excellent contrast. Select another memory for 3D, and the projector will kick into High lamp and open the iris all the way up. Slick. Getting as much light output on the screen as possible is paramount with 3D.