Jon Anderson, Soothsayer of Wonderous Stories
Forgive the imagery, but Jon Anderson is like the Energizer bunny of progressive music—he just keeps on going and going. The legendary founding Yes vocalist/lyricist forges ever onward like a man perpetually possessed by his muse, whether he's adding to his own solo canon or collaborating on shared-name releases with the likes of violinist Jean-Luc Ponty, Flower Kings guitarist/vocalist Roine Stolt, or his former fellow Yesmates in the short-lived but quite well-loved musically acrobatic acronym known alternately as ARW, or YES Featuring Jon Anderson - Trevor Rabin - Rick Wakeman.
Even the man himself professes some level of bemusement at his drive to keep creating new material. "I'm amazed that a) I'm still going strong, b) Yes music survives, and c) people still love the music we did in the '70s—even the first couple of albums we did," Anderson muses. "But I've gotta keep on moving onward and upwards." How come? "Well, it'll keep me outta trouble."
Anderson's latest effort is a solo project almost 30 years in the making, 1000 Hands—which, as you may have already surmised, is the result of his working with literally multiple-hundreds of collaborators on and off over the course of three decades, with the likes of the late co-founding Yes bassist Chris Squire, Steve Howe, Alan White, Chick Corea, Billy Cobham, Ian Anderson, and Larry Coryell among them.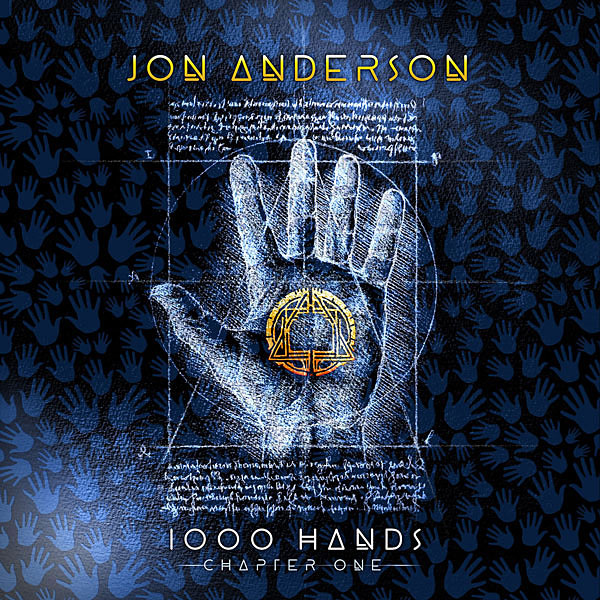 "I was going to call the album Uzlot, which is a north English way of saying 'a lot of us,'" Anderson explains. "Beside getting Chick, Billy, and so many others involved, I also wanted to get these fantastic musicians I saw in L.A. called Zap Mama, an incredible group of vocalists from Belgium and Africa. All these years later, my wishes came true."
Though 1000 Hands saw a small independent rollout in early 2019, the album was reissued and upgraded with much flair by Blue Élan Records on July 31, this time around with a high-grade 180-gram 2LP configuration added into the release mix. Songs like the worldly wise "First Born Leaders," the tribal-round uplift of "Activate," and the jazz-inflected title track are all continuing evidence that the literal tenor of Anderson's always sweet tenor vocals remain as unwavering and true as they've ever been.
I called Anderson, 75, at his home in Central California to discuss the long-gestating genesis of 1000 Hands, some of the semi-secret surround-sound projects he currently has in the works, and how one of his personal mantras just might have tipped the scales to enable him to work once again with his lifelong friend, Yes guitarist Steve Howe, after two decades had passed between collaborations. As he spoke, my spirit climbed high in the sky / I bid it to return to hear your wonderous stories. . . .
Mike Mettler: The first time we ever spoke was back in February 1991 for Yes' Union project. During that conversation, you made a one-off statement to me about some other music you were doing at the time that you had to put aside to work on Union, so I'm thinking some of the material that ultimately wound up on 1000 Hands must have been what you were talking about. We knew about it then; we just didn't know what it was going to turn into.
Jon Anderson: True! That's amazing! You know, I also just finished a project last week that I'd been working on for three months, and I thought, "Once I've got that done, I've only got six or seven projects left to get done before Christmas, and I'll be a happy guy!" (laughs)
Mettler: If I remember correctly, you were in Big Bear Lake, California in 1990 while working on that then-shelved 1000 Hands material.
Anderson: I was in Los Angeles at the time, and I just wanted to get away from everything, so I went up to Big Bear for a break. The first night, I went out to a bar to have some tequila (chuckles), and there were a couple of guys playing guitar and singing on this little, tiny stage in this bar, and they were pretty good. They did a couple of Eagles songs, and some other things.
I waved them over to buy them a drink, and we were just chatting away. I said, "Is this what you do every night?" "Oh no, no; we run the ski resort." They were just big fans, and we wrote some songs together for fun. I was also writing songs with my friend Brian Chatton [who was the keyboardist in The Warriors, Anderson's mid-1960s band prior to joining Yes], as we were making an album and getting a lot of different people to play on it. Chris [Squire, the aforementioned original Yes bassist, who passed away in 2015] and Al [Alan White, current/longtime Yes drummer] were in Los Angeles, and I asked them if they wouldn't mind playing on a few tracks. I brought the 24-track [tape machine] down to a studio in L.A. They played on it, and they were fantastic.
And then I wanted to get The Beach Boys to sing on it too—and I never did, but I did bump into Bruce Johnston at NAMM. What an incredible event! I was onstage with a guy with this crazy electronic keyboard while we were singing [The Beach Boys' classic 1965 No. 1 single] "Help Me, Rhonda" with about 10 or 12 people. And one of them was Bruce Johnston of The Beach Boys.
[MM notes: Johnston is, of course, a longtime touring and recording member of The Beach Boys who initially joined the band in 1965 as a replacement for Brian Wilson when he opted out of touring with the group for a period of time in the 1960s.]
Mettler: Something I find interesting is that the concept of being out in nature, and around mountains especially, is a recurring theme in a lot of your material. You seem to be very in tune with nature, especially in this phase of your life. Is that something you connected with early on, back when you were growing up in England?
Anderson: I feel it all the time! I was actually doing some writing recently about my very early days, and I remember going to this place called Blue Bell Woods, which is in a small town in north England near Manchester.
I'd go there and hear and see things when I was 4 and 5 years old that I couldn't believe was happening around me. But I remember it now more vividly, for some reason. Birds singing, and birdsongs, are very important to our balance—to our earth balance.
Mettler: Well, one thing we can agree about nature is we all live in a 360-degree world. We're literally living in surround sound, if you will. And in fact, the last time we spoke in June 2016, you said something to the effect of, "music is all about creating surround sound." Considering a lot of your music fits perfectly for that format, can we get a surround sound version of 1000 Hands at some point? Is that something you've thought about?
Anderson: I'm actually working with Dolby, who are supposed to be sending me some of their Atmos equipment before Christmas. (slight pause) You never know what's going to happen these days.
Mettler: Oh, that's fantastic. I can't wait to hear what you do with all that gear. Since most of the first half of the Yes catalog has been done in surround, you must be pleased with the results—especially when it comes to [September 1972's] Close to the Edge.
Anderson: Yeah, I'm still amazed with it! You know, you carry on with working on your career, and you never really stop to think about what you've done until somebody comes along and says, "Didn't you always want to be on the radio?" Well, Close to the Edge wasn't made to go on the radio. I said, "Yeah, we weren't interested in creating music for the radio just then." We knew we could do a 20-minute piece because it would fit on one side of an album, an LP. But if you go over 20 minutes, the sound doesn't get better—it gets worse.
Mettler: You're right, because you start compromising the sound of some of the content in the mix, the longer it gets. As I told Steve Howe recently, the title track to Close to the Edge is my second favorite surround sound mix ever. Steven Wilson, of course, was the man who mixed that in 5.1 for you. Did you ever talk much with him at the time about those Yes albums that were being done in surround?
Anderson: No. I actually learned later on that he had done them, and when I listened to them, I thought the mixes were really, really lovely. I got in touch with him just last month, because I want him to remix Olias in 5.1. That's one of the projects we want to get done before Christmas. [Olias refers to Olias of Sunhillow, Anderson's first solo album that was released in July 1976.]
Mettler: Oh, that's great! You played some songs from Olias on your solo tour last year, in fact [including "Flight of the Moorglade" and "To the Runner," with "Ocean Song" playing from tape before Jon and his 1000 Hands band came onstage to start the show].
Anderson: I always thought that someday, maybe I could perform it with the right kind of musicians, and the right kind of sound. And the band I'm working with now, the 1000 Hands band, is perfect for that.