Jon Anderson and Jean-Luc Ponty: Owners of a Lovely Spark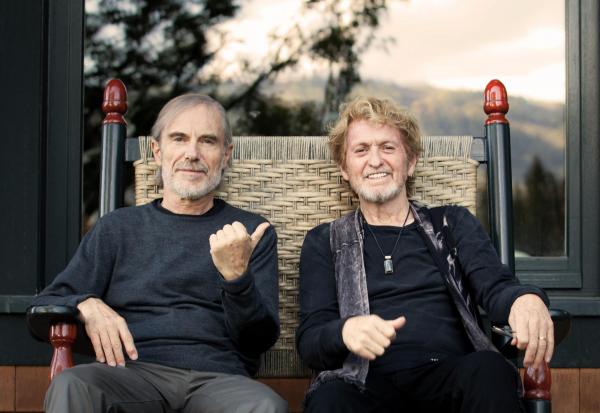 Creative sparks don't always fly when veteran musicians get together to collaborate. But that's exactly what happened when two progressive titans, vocalist Jon Anderson and violinist Jean-Luc Ponty, came together to form the Anderson Ponty Band, a.k.a. APB. Their oh-so-apropos debut,
Better Late Than Never
(Liaison Music), mixes fine, edgy originals with rearranged and revamped covers of classic material like Yes's "Roundabout" and Ponty's "Mirage" — renamed here as "Infinite Mirage," as it now features Anderson singing new lyrics he wrote just for the song.
"We work together like family," marvels Ponty, 73 (at left in the above photo, pointing his thumb at Anderson, at right). "I love that Jon has added lyrics to some of my classic tunes, because it respects the essence of the compositions while at the same time adds new dimensions to them. We kept the original sections as is, and we added new sections to incorporate Jon's vocals. And he lets me play on his classics. He lets me improvise on the violin, but he also interacts with it like we're having a dialogue."
Anderson has been a longtime admirer of Ponty's, having initially crossed paths when the violinist was a member of The Mahavishnu Orchestra when the band opened for Yes at the Houston Astrodome on December 2, 1974. "He's a maestro at the violin," Anderson says. "We're totally in the same state of mind about music and how you must progress. You can't go back; you have to go forward, musically. And I love the way my voice sounds with his violin. We're musical brothers, you know?"
I called Anderson, 71, during an APB tour stop to discuss working with Jean-Luc, our ongoing mutual love of surround sound, and the ever-escalating legacy of Yes.
Mike Mettler: It seems like this album has been a lifetime in the making, but it also seems like you guys have been working together forever. That's how this music comes across.
Jon Anderson: It's beautiful, actually. We were big fans of Mahavishnu; I loved Mahavishnu. Jean-Luc was playing violin with them, so we got together and chatted a lot. He was also working with [Frank] Zappa, and my children were hanging with Zappa's kids in the '80s.
Mettler: From A to Z, literally!
Anderson: Yeah — oh yeah! Well done! (laughs) It was just last year I was working on some music with a friend through the Internet, as one does these days, and he knew Jean-Luc and got him to play on a track. I loved the way my voice sounds with his violin. I'm a violin nut. I've written a violin concerto on the Internet called Violin Stories [an orchestral collaboration with Bill Kilpatrick], so I automatically wanted to work with him.
Mettler: Does technology these days make it easier to create music? Does it make you feel you can get your ideas down faster?
Anderson: It's a definite combination of all those things. You can connect with people all over the world. You just do it on Logic on your Apple laptop. I'm making music with dozens of people all over the world as we speak. Over the last 10 years, I've never been more productive, but things take time, as we know. You can't expect everything to be done even in 1 year. Music is everlasting.
Mettler: I love the re-arrangements of some of the classic Yes material here. What's that one song — "Owner of a Horse and Cart," as Rick Wakeman called it?
Anderson: (chuckles) Yes, yes, Rick Wakeman was always quick with a quip! And the guys in the band play the hell out of it [i.e., "Owner of a Lonely Heart"]. We just did a show in Chicago, and they do it so well. They just do it for fun and the love of music.
Mettler: What it boils down to is, if the song itself isn't good at the core, you can't take liberties with it like you do to give it a different life.
Anderson: When we do "Long Distance Runaround," it's like a dream. I was telling the guys about raga, which is a style of Indian music. You play it in the morning and you play it in the evening — it's an homage to the day kind of thing. And I said, "That's what we're going to do — an homage to the day, and in the middle of it, we'll do a song that people know." You have to have a place you're going to on that musical journey.
Mettler: I also love how "Time and a Word" has become a Bob Marley song. That's fantastic!
Anderson: Ah, right! (chuckles) I like doing that. I do that in my solo shows too. I started doing it when Neil [Cambell] started dropping in. We did it and I went, "Oh, perfect! We'll do that one!"
It just follows my train of thought, really; those kind of chords. It's just one of the magical moments. I've been playing it in my solo shows as a reggae song, just for fun. I don't play that good a guitar, but I knew I could play with a reggae feel, so I thought, "Why not do a reggae song? That's kind of cool." So I talk about going to Jamaica and not remembering what happened there. But it was good, though.
Mettler: I don't think you're supposed to remember what happens there. (both laugh) One of the phrases I like from the DVD is when you say, "Change the reel of your movie." What a great idea.
Anderson: We all perceive the world from our point of view, the oneness of our life. We are collectively the oneness of life, in our own movie. And if you don't like what you see, just change the reel. It's easy in some ways but obviously very difficult in other ways, depending on what you're going through.
Mettler: What is the instrument you're playing in "Time and a Word"?
Anderson: It's a Strumstick created by Bob McNally, who created the Martin Backpacker guitar. He has such a creative pedigree. I met him at NAMM. It does lots of things. It's surprising.
Mettler: It was also cool to see you playing harp on the DVD.
Anderson: We don't take the harp on the road because it's so big, so what I play is a beautiful mandolin that [guitarist] Jamie Glasier brought on tour.
Mettler: Naturally, I loved hearing the live DVD in surround. We've talked about high-resolution audio and surround sound before, which are things you still feel are important.
Anderson: There is so much going on in that music that it's much like Yes — you can listen to it over and over and find more in it when you do, which is why the quality of the sound is so important.
Mettler: I'm also glad we get high-res versions of most of your music in the digital realm so we can hear all the nuances of tracks like "Renaissance of the Sun" if we're in a portable mode.
Anderson: Someday I'll be getting some implants so that I can carry anything around like that. Actually, I have it already — it's something called the brain. It would be nice when you hear music in your head that you could hear it even better, wouldn't it?
Mettler: How far off from that are we, really?
Anderson: Just read a book called The Future of the Mind, by [theoretical physicist] Michio Kaku. It's a great book.
Mettler: I'll have to read that. To be able to exactly harness music the way you hear it in your head would sure be something.
Anderson: That's the whole idea. Musicians and artists have this energy coming through them.
Mettler: How do you translate the sound in your head? What's the process for you?
Anderson: That's the game. That's the conduit from the source, which is the energy that surrounds all of us. And a lot of us are connected to it through schooling and studying it over the years. I'm 50, almost 55 years into making music. My life has been a university of music.
Mettler: Right, you started playing with your brother Tony in 1963 — and look where it got you!
Anderson: Yeah. Who woulda thunk?
Mettler: Well, you did! And you'll think up some more, too.
Anderson: We're working on it. We've got about 30 years to go. You always think your best music is to come. That's the whole concept of life — better things are still to come.
Mettler: Did you find the way you and Jean-Luc connected out of the box surprising, or not surprising?
Anderson: Not really surprising. It's happened to me a couple of times, like when I bumped into Vangelis, and we had 10 years of making music together. There was no hardship; it was just a beautiful thing to work with him and tour with him.
I've worked with hundreds of people, because it's music. And it's music that drives everything. That's the source of all the energy.
Mettler: Positivity is a word I've always associated with the music you make.
Anderson: Ah! I know, it's how I've felt — I've always felt positive about everything in life, and I'm blessed every day.
Mettler: Speaking of Vangelis, how cool would it be to get a surround sound version of [the 1981 Jon & Vangelis album] The Friends of Mr. Cairo?
Anderson: Oh my gosh, yeah! That was a wonderful project.
Mettler: Maybe we could get Steven Wilson to do that one. He's certainly in tune with a lot of your material since he's done a number of Yes albums in 5.1. I just had his 5.1 mix of Relayer (1974) on recently. "The Gates of Delirium" and "Sound Chaser" sound so good in surround, I have to say.
Anderson: I haven't listened to that one yet, but it's the kind of thing that "comes" to me. I'll be sitting by the fire in my house in the mountains and I'll say, "OK, I'm going to listen to that one and think about it very carefully in my head." It's perfect. Perfect sound.
Mettler: Wouldn't you say that most, if not all of the music you've worked on throughout your life works really well in the surround sound format?
Anderson: That's right. I had the idea very early on. When I listened to music in my house, I had four speakers, one in each corner. It wasn't in surround sound then, but I wanted to fill the room. I didn't like music "projected" at me.
Mettler: As we've said before, mono and stereo are man-made things. Life comes at us in 360 degrees.
Anderson: All of the time. We're going to be watching movies without 3D glasses in the next couple of years. And reading that book [The Future of the Mind] will blow your mind.
Mettler: Word is that Tales From Topographic Oceans (1973) is coming in surround. That album was made for surround, wouldn't you say?
Anderson: Totally made for that! Like "The Ancient (Giants Under the Sun)."
Mettler: Agreed! Well, I can't wait to hear all of Oceans that way. There does seem to be a renaissance surrounding Yes. Why do you think people are visiting and revisiting Yes now?
Anderson: Timing is everything. I write and record music that I know people will listen to for another 10 years, maybe more. It's not "hip," or commercially correct. Topographic wasn't commercially correct, but it was the perfect timing for me because we had gained all these fans across the world, so I thought, "Why don't we try something absolutely different than what's going on in the business or on the radio? Let's do something that's new in the world of music."
There was a guy at the show last night who came up to me who must have been all of 18. And he said, "I just bought this last week — Tales From Topographic Oceans." I said, "Well done." (laughs) It was made with love, it was made with dreams, it was made with good energy. It's not perfect, but that's just what it was. Perfect for us.
Mettler: An album like that one opened your ears up and helped you realize there was more to music than just four on the floor. You could hear the possibilities.
Anderson: Yeah, yeah! That was the sort of logical concept of making something where if someone says, "Why did you do that?" I'd say, "Well, if we hadn't have done that, we wouldn't have done 'Awaken' [the pivotal track on 1977's Going for the One]." Everything is stepping stones.
Mettler: And ultimately, you found the top of the charts with "Horse and Cart" — I mean, "Owner of a Lonely Heart."
Anderson: Exactly. Well, it was meant to happen. I'm always in touch with Trevor [Rabin]; he's a good guy. He's good.
Mettler: Finally, I must extend condolences about Chris Squire [the Yes bassist/co-founder who passed away on June 27, 2015].
Anderson: Thank you. We think about him every show. I owe so many things to him on so many levels, or else I wouldn't be doing anything that I do, and did. He climbed all those musical mountains with me, and I'm so grateful for his life.
Mettler: I think more people responded to his passing than maybe many people expected. Yes music has touched more people than many may have realized.
Anderson: Yeah, millions! (laughs)
Mettler: And who knows — maybe a Rock & Roll Hall of Fame thing will come to pass.
Anderson: From your mouth to God's ears! Yes music — I'm still creating it. I didn't "leave" Yes. I'm still playing it.