Jamming For the Benefit of the Green Mountain State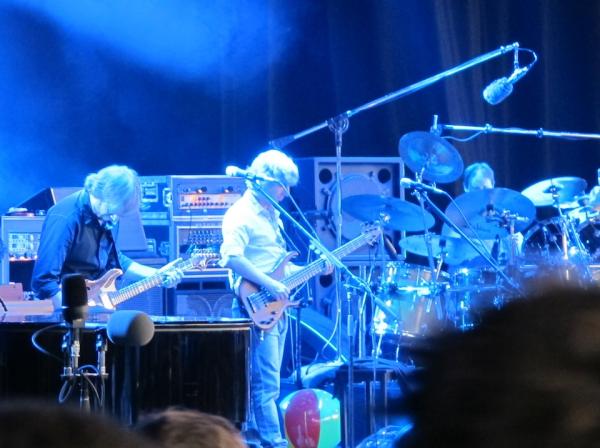 What do good hippies do when their band's adopted home state is devastated by a natural disaster? They throw a benefit concert of course! Phish brought the heat serving up lively versions of classic songs with a couple of new ones thrown in for good measure. Highlights include a long trippy "Carini" dedicated to their former drum tech and his wife, and the jammed out "Down With Disease" that follows it.
Lots of the songs become very dense with sound as the band jams on them, which made me glad I was listening in 24-bit, as the clarity that came along with that helped to hear all the subtleties of those moments. As the band won't be touring for a while, I'll try to keep up with some of Trey's shows if they are offered as FLAC HD downloads. Otherwise, I'll dig into some other sources of high-rez music and I also plan to offer some reflections on the hardware I've been using and may sample some other pieces of equipment too.
Set 1
Chalkdust Torture A common opener, but it's failed to work well in this spot during Phish 3.0. The tempo is fast enough for the song to sound right, but somehow it still lacks a certain oomph this time out. It might be best for the band to stop using it as an opener for a while until they can imbue it with kind of immediacy found in the beginning of tonight's. . .
Moma Dance They really attack the beginning of this one. It doesn't get long, but there's good energy in this one. Plus, the significance of the line "the moment ends but I feel winds," at a benefit for flood relief as a result of a hurricane shouldn't be discounted. Given the band's regular rotation of songs, this was probably a better choice than, say, "Drowned." This version is a good example of how a song can really rock out and be a lot of fun even when it doesn't live up to its jam potential.
NICU When constructing a setlist for a show dedicated to the state where you started you band, it's somehow fitting to go back to the Neonatal Intensive Care Unit. It's also appropriate for Trey to "look back on the days when my life was a haze." Again, there's great energy here, no doubt fed by the crowd. Perhaps it's the setting, but this feels like one of the better versions of "NICU" we've seen in 3.0.
Funky Bitch The whole band really gels on this track and the balance of the mixing does a great job of showing this off. They don't do anything particularly interesting with this version, but it keeps the energy up and is always a fun song to dance to at a show.
Sample In a Jar A very enjoyable, typically cookie cutter song that's perfect for the middle of the first set. Some nice flourishes by Mike and Page are tucked in in the second half, while Trey mostly sticks with what was written for the album. Again, we see the band functioning solidly as a unit, listening to each other well and filling in any available space with interesting tidbits.
Cavern A slightly faster than usual version that keeps its momentum rolling hard all the way through. Mike's slapping hard on this one while Trey's guitar wails nicely where appropriate. Three-and-a-half minutes in they take an almost irkfully long pause before reminding us to "take care of your shoes." Again, great advice in the wake of any disaster.
Bathtub Gin The beginning stutters playfully before Page rips up the keys in a very controlled sounding (compared to recent versions), though perfectly disjointed run across the ivories. Page really has some fun in the first few minutes of this one and the crowd does its part expressing their love of bathing loud and proud. Though they never stray from Type I jamming, they do finally give a song some room to breathe while giving us something solid to chew on. Seven songs in, it's a welcome excursion and they do a great job of jamming this one out and bringing it in for a safe landing.
Alaska A slow swaggering version, this emphasizes the hefty doses attitude in the lyrics, but the band doesn't seem to be too comfortable playing this song at this tempo. Despite this initial quirkiness, they do gain a little comfort as the song progresses, and the second half lands in the usual fun territory we've become accustomed to for this song. Always a good choice for set one, in my opinion.
Possum Everyone's favorite roadkill. The band is sounding comfortable and confident and aren't pushing the tempo too fast, instead leaving it in a place that could go in various directions. They don't take it to Type II, but they do have a lot of fun with it. Trey shreds hard on top of Page's deft work on the keys. This is perfect example of a song that benefits from high-rez audio. The detail available across the audio spectrum while Mike and Fishman are holding down the rhythm and Trey and Page let loose on top of that really lets you appreciate how hard all members of the band are working at once.
Wolfman's Brother More hard slapping funkiness from Mike. It doesn't eve take them four mintes before they veer off into some funky Type I jamming. Trey's tone turns to a slight rounded out growl, which matches well with Page's crunchy tone. They take their time building up the jam with Trey meandering while Page, Mike and Fishman pump away to keep the tempo up. The jam wraps up a bit too quick and they quickly launch into. . .
Julius This is a bit of a surprise as a set closer given that it normally doesn't get jammed out much, and indeed the beginning stumbles once or twice, so on first listen it's a bit tough to expect much. But the rather grand swing at the heart of the chorus does make a nice closer for a set that has been light on the jamming. Plus, they start in on a fun jam about four minutes in (again), this time with Page featuring more prominently, while some delicate guitar work by Trey provides a playful counterpoint. Eventually they ease into giving Page time to experiment some while Trey continues to crank out high-pitched, very fast runs on top, occasionally breaking it up with a wail or two (or three or four). A resurgence of the chorus comes back to ease things toward a nice big raucous rock star ending to what was likely a very fun set to witness live, and one that stands up well despite a lack of new exploratory jamming.
LATEST VIDEO