War, Inc.—First Look (Blu-ray)
Video: 4/5
Audio: 4/5
Extras: 1/5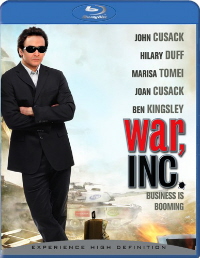 "War, Inc." is a political satire set in Turaqistan, a country occupied by an American private corporation run by a former US Vice-President. In an effort to monopolize the opportunities the war-torn nation offers, the corporation's CEO hires a troubled hit man to kill a Middle East oil minister. Now, struggling with his own growing demons, the assassin must pose as the corporation's Trade Show Producer in order to pull off this latest hit, while maintaining his cover by organizing the high-profile wedding of Yonica Babyyeah, an outrageous Middle Eastern pop star, and keeping a sexy left wing reporter in check.
First Look goes a different route with this one. The film is a bit of a farce on the war we have today. It portrays an Army owned by corporate America and controlled by the former VP. Cusak plays an assassin for hire who is brought in to pull off a hit during a mock trade show while staging a wedding for a sex crazed pop star. The film has its wit but is also a bit too silly at times, which hurts the overall tone. The performances are fun but ultimately I would call this a renter at best.
The HD presentation is a solid one with a nice balance of fine detail and dimension. I was impressed with the strong contrast levels and how much they added to the overall look of the film. The production isn't quite as spit and polish as we see from larger studios but they do a great job with what they have. Fine object details are excellent in close ups and I saw little in the way of distractions.
First Look delivers a Dolby TrueHD 5.1 soundtrack for this one and overall it does a great job with the material. Dynamic range was a bit better than I was expecting but the sound design isn't overly impressive and comes off a bit simple at times. The soundstage does have a nice open quality to it and there is plenty of discrete sound use during the more action oriented sequences. The pop songs add a nice bottom end to the mix and the balance of dialogue to the rest of the mix is solid.
Extras are limited to some trailers for other First Look titles.
This film ends up being an interesting mix of political views and dark comedy. The performances are solid but the storyline is kind of all over the place making it hard to give a solid recommendation. First Look has done a great job with the presentation though.
LATEST VIDEO