The Kids Are All Right—Universal Pictures (Blu-ray)
Video: 4.5/5
Audio: 4/5
Extras: 3/5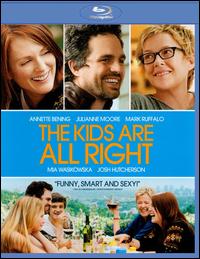 It's all about family. Nic and Jules are married and share a cozy suburban Southern California home with their teenage children, Joni and Laser. Nic and Jules - or, when referred to jointly by Joni, "Moms" - gave birth to and raised their children, and built a family life for the four of them. As Joni prepares to leave for college, 15-year-old Laser presses her for a big favor. He wants Joni, now 18, to help him find their biological father; the two teenagers were conceived by donor insemination. Against her better judgment, Joni honors her brother's request and manages to make contact with "bio-dad" Paul, an easygoing restaurateur. The kids find themselves drawn to the confirmed bachelor's footloose style - especially in contrast to Nic, a principled doctor who has long established their house rules. Jules, who has been looking to start a new career in landscaping, also strikes up a rapport with Paul. As Paul comes into the lives of the forthright four, an unexpected new chapter begins for them as family ties are defined, re-defined, and then re-re-defined.
Universal serves up a solid Blu-ray presentation for this outstanding character piece. I got the chance to see this one during its limited release in theaters and the Blu-ray looks pretty much identical to that viewing. Fine film grain is present throughout and the image definitely has a film-like quality to it. Fine object detail is solid though longer shots may be a tad soft (similar to the theatrical look). Colors are natural in tone and saturation and contrast is decent. The DTS-HD Master Audio mix delivers the sonic goods perfectly and I loved the song selections used throughout the film. Dynamic range is decent, but this is a pretty tame production sonically. Dialogue sounds natural and imaging is dead on throughout.
I was disappointed that Universal didn't include a digital copy for this release. I like how Warner is offering this option with all their new releases and wish other studios would do the same. You do have some BD-Live features and Universal's Pocket BLU experience for those with a smartphone. Supplements also include a look at the production and writing the film along with interviews and a feature commentary.
This is one of the best movies I saw this year with outstanding performances from all the cast and a story that really tugs at the heartstrings. The Blu-ray serves up the presentation nicely making this an easy recommendation.
LATEST VIDEO