The Godfather Collection—Paramount Pictures (Blu-ray)
Video: 4/5
Audio: 3.25/5
Extras: 4.5/5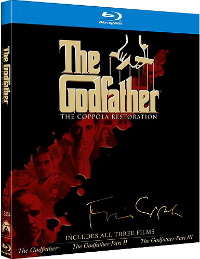 The complete saga of the Mafia Corleone family, from Don Corleone's childhood in Sicily, his son Michael Corleone's rise to power and finally the struggle to succeed him.
No one can deny the brilliance of Francis Ford Coppola's saga. The first two films are considered to be masterpieces of American cinema and despite the lukewarm reception; I still like the third and essential closure. Paramount has exceeded my expectations for this new Blu-ray set and I'm overjoyed that we're seeing this type of classic cinema on the format.
A ton of restoration work was done to make these the quintessential versions of the film. These new Blu-ray encodes are a significant leap over the previous versions I've seen, but fans of crisp imagery and lots of detail may be a bit disappointed. The image has a very natural film look with plenty of fine film grain and soft focus. Contrast levels are pretty extreme with rich blacks and slight blown out whites that give the image a vintage look. Because black levels are so deep, depth and dimension in darker sequences can be somewhat lacking. Consistency of image is also a bit hit or miss. At times the image quality wavers considerably with some small sequences looking a bit over processed. Since these films were restored using a wide selection of sources, I'm sure this is a limitation of the footage available. Overall I can say I've never seen this look this good, but compared to some other recent restorations some may find them a bit soft.
The soundtracks have been remastered in 5.1 and presented in Dolby TrueHD. The imagery is very front heavy with sparse use of the surrounds for ambiance. The third film has the most dynamic range simply because of the age. I never felt like the film lacked in sound design but it can come across a bit thin at times. Dialogue is always very natural with good timbre and balance within the soundstage. The score sounds magnificent in these new editions and drives the emotion of the films home.
These films were released in special edition form in 2001. All of the extras from that exhaustive set are included here. That includes commentaries and extensive behind the scenes footage along with interviews and trailers. New to this Blu-ray edition is some more retrospectives on the films and new interviews with the major players involved. You also get a feature on the restoration process that will give you an even great appreciation of the end result.
Paramount has done a wonderful job bringing these films to HD. Considering what they had to work with the end result is one of the better restorations I've seen. Fans of the series will be thrilled with the quality and breadth of supplements. Here's hoping we see more efforts like this going forward.
LATEST VIDEO