Starship Troopers—Tristar Pictures (Blu-ray)
Video: 3.5/5
Audio: 3.75/5
Extras: 4/5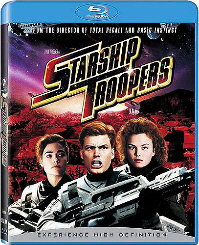 From the bridge of the Fleet Battlestation Ticonderoga, with its sweeping galactic views, to the desolate terrain of planet Klendathu, teeming with shrieking, fire-spitting, brain-sucking special effects creatures, acclaimed director Paul Verhoeven crafts a dazzling epic based on Robert A. Heinlein's classic sci-fi adventure. Casper Van Dien, Dina Meyer, Denise Richards, Jake Busey, Neil Patrick Harris, Patrick Muldoon, and Michael Ironside star as the courageous soldiers who travel to the distant and desolate Klendathu system for the ultimate showdown between the species.
This movie always cracks me up! It is pure Verheoven; excess, excess, excess. This is a smorgasbord of ultra violence, dark comedy and interstellar sexuality, but boy is it fun. I can even look past the ultra beautiful cast and terrible acting just because of the sheer voluptuousness of carnage and eye candy.
This is the second version of this film I've owned on Blu-ray. I had imported the UK version sometime ago but this US release looks to be a different encode. Sony does a great job delivering this campy classic and the outstanding visual effects from Industrial Light and Magic look as good now as they did then. The image wavers a bit in overall detail and sharpness, but this film has always had a bit of a back and forth style to it. At times fine details and dimension can be outstanding and the blending of VFX is completely seamless. Film grain varies in intensity throughout the film but is never intrusive and only lends to the look of the film. Colors are slightly muted by today's standards but the palette never borders on bland. While only a slight improvement over my UK release, this is the definitive version available today.
The UK version I reviewed previously had two next generation soundtracks; a 5.1 PCM mix and a DTS-HD Master Audio mix. This US release features Sony's signature Dolby TrueHD 5.1 standard. This was an interesting one to compare as it gave me the chance to see if I could detect differences between the three audio flavors. In the end I preferred the PCM mix the most. It had a bit more body to it and the soundstage seemed a bit more open. Differences were fleeting though. The new Dolby mix is still a great sonic escape, but its dynamic range isn't quite up to snuff with the newer films out there. While the soundstage is nice and open and surround use is heavy, the mix seemed a tad anemic in overall presence compared to newer films out there. Bass response was good but I thought the track could have gone a bit deeper. Regardless these are nitpicks and overall fans of the film will probably be really pleased with the effort.
Sony has really delivered on the supplements for this one. There is a picture-in-picture feature that includes interviews with the cast and crew along with a look at the production and the revision of the classic novel. You also get quite a few production features that look at everything from the special effects to casting. A feature commentary with the director and a separate commentary with the cast and crew are also included. Deleted scenes and a retrospective round out the contents. This release is also BD-Live enabled but the features weren't available yet during my review.
This has always been a fun film and textbook Verhoeven. Sony has done a great job with this special edition and the A/V quality is great. A must own for sci-fi fans.
LATEST VIDEO