Rudy—Columbia Pictures (Blu-ray)
Video: 4/5
Audio: 4.25/5
Extras: 3/5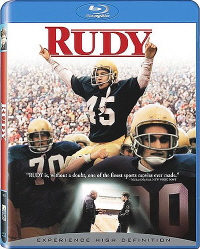 All his life, people have told Rudy he's not good enough, not smart enough, not big enough. But nothing can stop his impossible dream of playing football for Notre Dame. From the time he's a young boy, Rudy is determined to join the Fighting Irish. But his blue collar family only laughs at his ambitions - they know Rudy will follow his father and brothers to the local steel mill. And, for four long years after high school, he does just that. But some dreams won't die, as Rudy proves when he goes to heroic, occasionally hilarious, lengths to win admission to Notre Dame. Once there, he becomes a walk-on player, serving as little more than a human tackling dummy against the starting players. Bloodied but unbeaten, Rudy wins the respect of legendary coach Ara Parseghian and the other Irish players, who give him one shot at gridiron glory.
This has always been one of the most inspirational stories out there. I'm not a big sports fan but I always enjoy sports movies and this is one of the best. The film's themes are nothing new but the great cast and storyline really do a great job of tugging on the heart strings. A great catalog classic.
Sony has done a terrific job on this transfer. The level of detail and dimension was far better than I was expecting for an older title. You really have the sense of watching a great film print with this one. Detail is excellent without looking like it was overly sharpened. Colors are very natural and never come off overdriven. I did see some minor ringing in the image from time to time but it was never to the level of distraction.
The 5.1 Dolby TrueHD mix was far more dynamic than I was expecting and does a great job of setting up a realistic atmosphere throughout the film. Dynamic range is impressive with good bass extension and the mix has a lot of presence in the surround soundstage. Imaging is transparent across all the channels giving you a better sense of being there than most catalog titles I've viewed. Sony continues to impress with their home theater mixes.
Extras include a look at the real Rudy along with an interview with actor Sean Astin. This title is also BD-Live enabled giving you the opportunity to download some trailers and other production material from Sony's BD-Live website.
Sports classics don't get much better than this. Sony has done a tremendous job bringing this classic to Blu-ray and continues to set the bar for catalog releases in my opinion.
LATEST VIDEO