An Interview with Indie Band Just Off Turner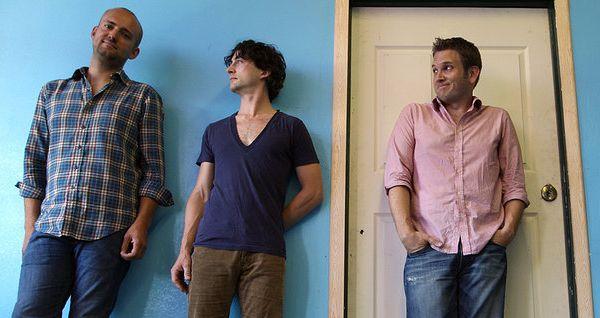 From songwriting to touring and recording to shows, we sit down with Just Off Turner, an LA-based indie rock band, to talk about making music in today's world of Spotify and iTunes.
S&V: So who is Just Off Turner?
Phil: Phil Metzler. I play keyboards, trumpet, synth and electric basses on our recordings (now that Stephen has left)… I'm originally from Michigan and was a composition major in college. I moved to Los Angeles in 2002 to pursue a music career.
Bryan: I'm Bryan Mounce, singer/guitarist for JOT.
Eric: Eric Gustafson, drummer, carpenter, traveler, recent father of beautiful Lulu, and known for many things, including: leaving articles of clothing around the globe and in friends' cars, having a razor sharp wit, and wearing deeply cut v necks that would embarrass Pamela Anderson.
S&V: How'd the band get started?
Phil: There had been a couple of iterations of JOT before I joined in 2005. I was playing guitar at The Saddle Ranch on Sunset Blvd. when Eric and Bryan came in one night. Bryan had worked there and knew my friend, Mike, who was playing guitar with me that night. We got to talking and they found out that keyboards were my main instrument and they just happened to be looking for a keyboardist to develop their sound. I met with them that weekend to 'jam' and, when we were finished, I almost immediately asked the next time we could get together.
Bryan: Eric & I were introduced by a mutual friend back in Fayetteville, AR about 14 years ago. We eventually moved to L.A. where we ultimately met Phil. I think we all knew we wanted to make music together very early on in our relationships.
S&V: What do you feel has changed in your early songs compared to your more recent work?
Phil: We've made a conscious effort to incorporate synths into our sound and compositions in recent years whereas, we were striving for a much more organic sound in our earlier recordings. Where my palette consisted of piano, organ and electric pianos on the first two albums, I've turned to analog synth sounds and loops since our Bad Year EP.
Songwriting-wise, I think we're concentrating on riff-based songs rather than strictly chord-based songs these day; which feels like a "band thing" to do (as opposed to a singer/songwriter approach).
Bryan: I think our skills have developed. And because of that, our abilities are catching up to our imaginations, allowing us to be more creative & 'out of the box' with our arrangements.
Eric: Yeah, we are loads better!
S&V: How as your work aesthetic changed?
Phil: We used to scrutinize the length of the songs – Making them as radio-friendly as we could. Lately, while we're still a pop/rock band, we've been letting the songs breathe more. Letting them take their time to say what they have to say…
When writing the songs, we've found that recording our progress and taking the recordings home to marinate in our brains for a while is key. We're all continuing the songwriting process outside the studio, in our day-to-day lives. When we get to the next writing session we all each have new elements or ideas of how to map the songs…
Bryan: When working on new material, we are more inclined to let the songs naturally evolve. We take more time developing the arrangements by just jamming for a while. We always record rehearsals with a little digital recorder. Then Phil emails Eric & me the best takes of whatever we're working on. We'll listen for several days or weeks. Taking that time allows us to entertain several ideas before getting back together to try them out.
S&V: How do you approach recording?
Phil: I've invested in a bunch of recording gear so we track 75% of the instruments at my modest home studio. While we've enjoyed tracking in the same room at the same time, these days it would be a bit difficult to pull off in my house so we track each instrument separately. I'll generally build a template and groundwork in Apple Logic, get Bryan to lay down some scratch vocals and guitar for Eric to drum to and then we'll start layering. Mixing and mastering we farm out to the pros at Astor Recordings.
Bryan: We generally have the songs mostly completed before recording them. By 'mostly' I mean we have the basic song structure complete with beat, chord progression, & vocal melody. We will record the basic tracks at Phil's house. From there we usually do overdubs & vocals at our producers' studios. We used to like to track bass & drums live while we all played together. Doing it that way is just too costly for us now... especially if we're not getting the takes that we're excited about. Studio time is expensive, so it's easier to concentrate on one element at a time, making sure to get the best individual take possible & then moving on to the next element. At some point during that progress I will usually come up with the lyrics.
Eric: With our earlier songs we tended to record what we preformed, but more recently we have kind of flipped the process and now we just figure out how to preform what we record. This definitely forces us to perform with more gear than in the past, but it also gives our live show a fuller sound.
S&V: Thoughts on being an independent artist in 2014?
Phil: When we started out in 2005, it was the beginning of the end of traditional record contracts and developing new acts. Even though we had a significant push with an endorsement by John Mayer in 2007 and tons of new fans, we couldn't get our foot in the right doors at that time. Since then, we've enjoyed modest success with television placement, performing overseas and at festivals, but still struggle with finding a broader audience.
While YouTube, Facebook, SoundCloud and other websites are great for discovering new music, it's now like finding a needle in a haystack. There's a glut of great, not-so-great and awful music out there... The market is oversaturated.
Bryan: I think the best part is that we have a platform to get our music to our fans without being signed or getting any kind of substantial radio play. The worst part is not knowing the best way to promote ourselves. We have the potential to reach a massive audience. Not knowing the best way to reach them is pretty frustrating.
S&V: How do you think the music industry has changed since you started, and where do you think it's going (and how you'll fit into it)
Phil: Unless you're a super-massively popular artist, you don't want a record contract. But without a contract, how do you become a super-massively popular artist?
I have no idea how independent artists are going to survive in the current and future markets. I don't know how to be a successful touring musician without a record label. I know some people that do it, but generally come back from their tours in the red.

We're lucky that we continue to make music and make money (though not enough to support ourselves and families on music alone) in 2014. We have fans all over the world... We just can't get to them.
Bryan: I think the main change is that the consumer has more control over what is successful or popular. It's a buyer's market. People have a gigantic buffet of music to choose from. Because of that, a larger number of artists have access to the money people are spending on music. But, people seem to be spending less money on music in general. So I think it's likely that most artists will continue to give away music for free, and focus on ticket sales & other forms of revenue other than album sales or downloads. As long as JOT has the means to keep making music, we will keep putting it out there one way or another.
Eric: It seems like it has been in a constant state of flux since we started. Basically, technology is the driver of most of the change. An independent band can now record and distribute a quality product themselves. This allows the listener to have more options than ever before, but as an artist there is a bigger pile to rise through. Basically, the biggest hurtle seems to be the promotion engine. That takes money, and grass roots take time.
S&V: How do you keep inspired and motivated in the current industry?
Phil: All it takes is one person on Twitter or Facebook that loves what we do and is vocal about it to keep me moving. I think the three of us are making sincere and interesting music and I want to keep doing that as often as I can with these guys. I think we have more to say.
Bryan: I listen to popular radio stations. I'm motivated to do better than what I hear.
Eric: I think the inspiration and motivation have to fully be driven by the love of music, and making music that you like to listen to. If you try to closely follow current industry trends, you'll probably always be just behind the curve. Also, considering the difficulty in actually making money as an independent artist, if it's not primarily about the music you'll probably be disappointed.
S&V: Thoughts on Spotify/iTunes/Bandcamp/PledgeMusic/etc.
Phil: Personally, I'd like to avoid crowd-funding to support our music. It might be the best way to have your fans invest in your cause but, ultimately, it seems petty to me. Like asking for a handout even though you're giving them something in return.
The Spotify model isn't going away anytime soon. At this point, I'd rather people hear our music for free than not hear it because it costs them money.
iTunes is a delivery method. Do they take too big of a cut from our sales? Maybe, but there aren't many platforms as prevalent in the world.
Bandcamp is nice because more and more people are becoming familiar with it and it's pretty artist-friendly. We released our last EP on Bandcamp two weeks prior to its availability on larger platforms. We have quality control over the release on their website (FLAC, Apple Lossless, bonus multimedia files…) and customers have the opportunity to pay what they want for the release; and perhaps pay a little more than face value to support the artist.
S&V: Thanks guys!
This interview came about from various conversations on these topics (including this one) yours truly has had with the band.
You can check out Just Off Turner on their website, iTunes, Bandcamp, Soundcloud, and elsewhere. Their latest EP is Ready To Go.