The International (Blu-ray)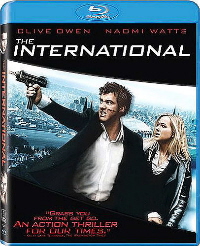 Interpol agent Louis Salinger (Clive Owen) is determined to expose an arms-dealing ring responsible for facilitating acts of terrorism around the globe. But as his investigation leads Salinger and his partner, Manhattan Assistant District Attorney Eleanor Whitman (Naomi Watts), deeper into the secret world of greed, corruption, and murder, they become targets of a deadly conspiracy so vast, they soon find the only people left to trust are each other.
The first two acts are outstanding and build the tension with mystery and suspense, but unfortunately, director Tom Tykwer couldn't keep it going through the third act, and it ends on a sour note. The best action scene takes place in the Guggenheim Museum in New York, and art aficionados will cringe at the condition of the museum after the gunfight! Sony delivers a jaw-dropping presentation, and right from the get go, I was floored by the level of detail, depth, and dimension. The image is razor sharp with beautifully preserved film grain. The image is consistently crisp with exquisite color and contrast.. I will be using this one for demonstration purposes for some time to come.
The 5.1 Dolby TrueHD mix is also solid, but it has a minor hiccup—the noise floor is a bit bothersome. It's easy to hear during the quieter passages, especially with dialog. It comes in and out when characters are talking, which is very distracting. Aside from that, the soundtrack delivers. The action sequences display tremendous dynamic range, and the low-end extension punctuates the gunshots, making you feel like you're right there.
Sony has included a digital copy of the film along with its typical BD-Live support. This is also one of Sony's few releases that supports online chat and a PIP commentary during the film. You also get some deleted scenes and a short look at the production.
The ending leaves a lot to be desired, but I could think of worse ways to spend a Saturday night. The presentation is phenomenal and worth a rental to see how great Europe can look in HD, and the audio is nothing to scoff at either.
Release Date:June 9, 2009
Studio: Sony
Movie: 6/10
Picture: 10/10
Sound: 9/10

Review System
Source
Oppo BDP-83 Blu-ray player

Display
Planar PD-8150 DLP projector
120" Stewart StudioTek 130 screen w/Carada Masquerade masking system
Electronics
Onkyo Pro PR-SC885 pre/pro
Outlaw Model 7900 power amp
Exact Power EP-15A voltage regulator
Exact Power SP15x4 balanced power transformer
Speakers
Paradigm Reference Signature S8 front L/R
Paradigm Reference Signature C5 center
Paradigm Reference Signature ADP surrounds
Paradigm Reference Signature S6 rears
Dual SVS PB12/2 Plus subs
Dual SVS 25/31 subs
Cables
Cables by Accell, Nordost, Blue Jeans, and Better Cables
LATEST VIDEO