The Imaginarium of Doctor Parnassus (Blu-ray)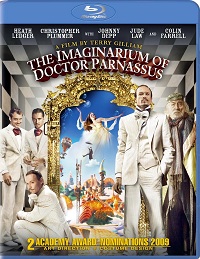 In exchange for extraordinary powers, Doctor Parnassus (Chrstopher Plummer) makes a deal with the Devil to turn over any child he fathers when they turn sixteen. But as his daughter Valentina's (Lily Cole) birthday approaches, a mysterious stranger (Heath Ledger) arrives with the power to change everything. Does the good Doctor risk everything and make another deal with the Devil?
I'm not a huge fan of director Terry Gillium, but I enjoyed this much more than his other films. It could have something to do with Ledger's final performance, but I found the script engaging and entertaining, plus, the visuals are to die for. Of the three stand-ins, I liked Johnny Depp's adaptation the best but that's no slight against Colin Ferrell or Jude Law who do bang-up jobs as well.
Video Highlights

AVC/1080p encode on a BD-50 disc
Extraordinary color palette with vivid primaries
Exquisite detail in facial pores, clothing, and backgrounds
Elevated black level
Blue/green screen scenes aren't seamless
Audio Highlights

DTS-HD MA 5.1 soundtrack
Plethora of discrete effects enveloping the room
Ample LFE
Score occasionally overpowers the dialog
Gilliam creates yet another interesting world and the audio and video serve it well. The detail is first-rate although his choice to elevate the black level washes out some of the darker scenes. The audio track is very impressive with plenty of action and dynamics.
Bonus Materials

Commentary by Terry Gilliam
Terry Gilliam film introduction (HD)
Deleted scenes (HD)
10 featurettes (HD)
Theatrical trailer (HD)
16 previews of other Sony titles (HD)
BD-Live with MovieIQ
The quirky screenplay is very entertaining and with any other director I doubt this would have seen the light of day (or the dark of the theater). Gilliam seamlessly and brilliantly integrates three other actors into the production filling the shoes of Ledger and the audio and video quality is exceptional. Recommended.
Click here to email any comments or questions!
Release Date: April 27, 2010
Studio: Sony
Movie: 8/10
Picture: 9/10
Sound: 9/10

Review System
Source
Oppo BDP-83 Blu-ray player

Display
JVC DLA-RS1 projector
Stewart FireHawk screen (76.5" wide, 16:9)
Electronics
Onkyo Pro PR-SC885 pre/pro
Anthem PVA-7 power amplifier
Panamax M5400PM power conditioner
Speakers
M&K S-150s (L, C, R)
M&K SS-150s (LS, RS, SBL, SBR)
SVS PC-Ultra subwoofer
Cables
Monoprice HDMI cables (source to pre/pro)
Best Deal analog-audio cables
PureLink HDC Fiber Optic HDMI Cable System (15 meters) from pre/pro to projector

Acoustical treatments from GIK Acoustics
LATEST VIDEO