Image Is Everything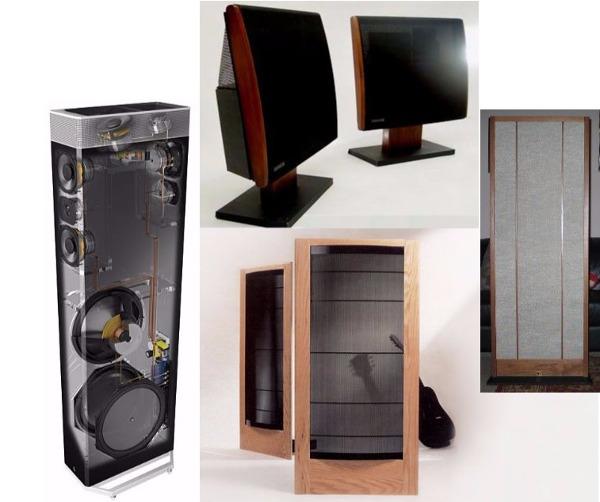 There aren't too many to choose from, but bipole and dipole speakers are a special breed that I've long admired.
We just posted our review and an inside look at Definitive Technology's recently revised BP9000 series. The BP9080x towers represent the fourth generation of the product that launched the brand in 1990, the BP10, a passive tower featuring a bipolar radiation pattern (powered woofers were added later). Many of us have heard or own bipole or dipole surround sound speakers. These typically have a pair of offset baffles and can provide a more diffuse and less localizable rear soundfield to enhance the sense of envelopment. But bipole and dipole mains, used in the front left/right positions of a stereo pair, have always been a bit of a rarity; perhaps more so today. I'd venture to say that many of our 90,000 readers have never actually heard a well-optimized bipole or dipole speaker pair backed by good electronics and source material.
That's a shame, because they're something to behold.
For those unaware, bipole main speakers emanate sound from both the front and rear, with the rear-projecting sound in phase with the output coming from the front. This means that when the direct-radiating front drivers are pushing out or pulling back, the rear-facing drivers are doing the same. Dipole mains similarly project from front and back, except the sound coming from the back is out of phase from the front, with the diaphragm direction equal but opposite that of the front-facing drivers. Flat-membrane speakers, such as electrostatics or magnetic planar designs, are usually open at the back and create a dipolar radiation pattern.
The reason for taking this approach, of course, is that it can enhance the soundstage and imaging in a very noticeable way. When you simultaneously send sound away from the listener like this, you automatically make your room, notably the back wall behind the speaker, part of the design. In the right room, with an optimum amount of space behind and around the speakers, bipoles and dipoles can use those reflections to deliver a crazy wide and deep soundstage, inhabited by near lifelike (if not bigger) voices and instruments. The trade-off, at least from a practical standpoint, is said to be somewhat less focus of the voices and instruments inside that soundstage.
In the right room, with an optimum amount of space behind and around the speakers, bipoles and dipoles use reflections to deliver a crazy wide and deep soundstage.
So in a way, it all comes down to a matter of taste—a point that's well made by Dan Kumin at the end of his BP9000 review. Not too long ago, I wrote about how
better speakers tend to target the same goal of neutrality but still retain their own signature
. Part of that is from differences in how they image. At various times in my hobby and career, I've been lucky enough to own Dahlquist DQ-10s—a now legendary speaker that used multiple, staggered open driver arrays on time-aligned baffles to enhance the soundstage; a pair of MartinLogan CLS electrostatics; and the Magnepan MG-I, a tall magnetic-planar dipole. Each had its weaknesses, but each had, as its great strength, the ability to create a lifelike, three-dimensional soundstage that sucked me in at the first note.
I was reminded of that recently when Definitive demo'd the new BP9040 for me in a hotel suite in New York. Despite a less than perfect room, they sounded great and...big. And I was heartened that, in this age of ever-shrinking wireless box speakers fed by smartphones, we still have a few affordable options for audiophile-quality bipoles and dipoles from the Def Techs, MartinLogans, and Magnepans of the world. That Definitive Technology continues to evolve and improve these BP towers 26 years after their introduction is a testament to what is fundamentally right and musical about them.