Inception—Warner Bros Pictures (Blu-ray)
Video: 5/5
Audio: 5/5
Extras: 4/5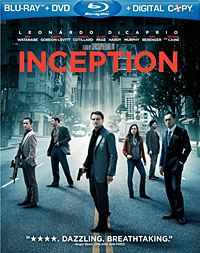 Dom Cobb is the best there is at extraction: stealing valuable secrets inside the subconscious during the mind's vulnerable dream state. His skill has made him a coveted player in industrial espionage but also has made him a fugitive and cost him dearly. Now he may get a second chance if he can do the impossible: inception, planting an idea rather than stealing one. If they succeed, Cobb and his team could pull off the perfect crime. But no planning or expertise can prepare them for a dangerous enemy that seems to predict their every move. An enemy only Cobb could have seen coming.
Warner serves up a reference quality Blu-ray presentation for Nolan's brilliant sci-fi gem. The photography of this film is captivating with immense details and scale. Fine object detail is excellent and the image has a very natural film-like look with solid contrast and shadow detail. Long shots hold up nicely as well with great depth. Colors are slightly subdued but manage to avoid the garish stylization we see so often with newer films. The soundtrack is breathtaking with intense low end performance that is system threatening. This is probably one of the most dynamic soundtracks I've ever heard and easily one of the best of the past year. The sound design is outstanding and the balancing within the mix is flawless. You'd be hard pressed to find a better presentation on Blu-ray this year.
Warner continues their outstanding Blu-ray value model by including both a DVD and a digital copy of the film. Extras delve deep into the production of the film with an extraction mode that jumps in and out of the film at key points to give you some insight into the filmmaking process with the director. This can be done during the film or on its own. You also get the comic prologue to the film and an isolated 5.1 soundtrack for the outstanding score of the film.
By far one of the best films of the year and I'm sure it will be destined for more than a few Oscar nods this year. Warner has served up a sensational presentation that is a must own for any film lover's collection.
LATEST VIDEO