Halloween (2007)—Dimension (Blu-ray)
Video: 4.5/5
Audio: 4.5/5
Extras: 4/5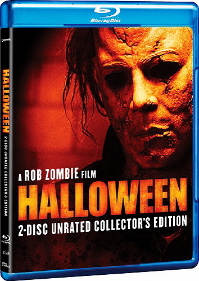 Rob Zombie reinvents the ultimate slasher classic, unleashing Michael Myers for a bloody rollercoaster of a rampage like fans have never seen. Including a retelling of the original story that unfolds at a breakneck pace, as well as a chilling new introduction that finally reveals the secrets behind Myers' disturbing childhood, "Halloween" breathes new life into one of film history's most terrifying tales.
There are always films that I'm surprised get the remake treatment. John Carpenter's horror classic is one of those films that I thought was good enough already and didn't really need a remake. But Rob Zombie has done a brilliant job with this retelling and expands on Carpenter's original vision. Zombie fleshes out Myers and gives the icon a back story that delves into the making of the monster. The film has a great raw energy to it and manages to steer clear of the cheese and mood so many new horror films fall in to and delivers one of the few solid horror experiences of late. Can't wait to see where he goes next.
Dimension delivers a solid HD presentation for this reimagining with incredible detail and color. The film has a very stark contrast look that really lends to the imagery and mood of the film. Zombie has already delivered two spectacular looking HD films with his previous catalog and this one may even look better than those. Depth of image and contrast levels are dead on and the level of dimension in the image is second to none. This can be a very dark film and the black levels are exceptional and really keep the depth of the image intact. A gorgeous HD transfer for a brutal film.
Dimension delivers a powerful Dolby TrueHD 5.1 mix with great dynamics and surround presence. Zombie makes the most of the 5.1 mix with intense low end dynamics and great subtle surround cues to heighten the atmosphere. The soundtrack is a mix of classic rock selections and of course Carpenter's iconic score. Every nuance is conveyed in the brutal moments of this film and the track does an outstanding job of keeping you on edge throughout.
This two disc set is chocked full of great supplements. Disc one features a full length commentary with Zombie along with a collection of deleted scenes and alternate takes. You also get a look inside the production with several features that go over casting, make up and production. The second disc features a documentary on the film's production that is over four hours long and looks at every aspect of the film's creation with the director. Few documentaries have ever given you an inside look like this before.
Horror remakes are rarely this good. Zombie has delivered one of the best I've seen yet for a film that didn't even need one to begin with. Dimension has provided a superb A/V presentation for it and one of the best supplemental packages out there for fans. Highly recommended!
LATEST VIDEO