Days of Thunder—Paramount Pictures (Blu-ray)
Video: 3.75/5
Audio: 4.5/5
Extras: 0/5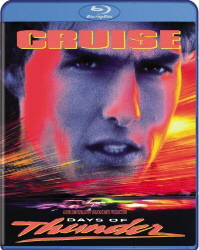 From the engine roar and fever pitch of professional stock car racing, "Days Of Thunder" explodes with the most spectacular racing action ever captured on film. Tom Cruise plays race driver Cole Trickle, whose talent and ambition are surpassed only by his burning need to win. Discovered by businessman Tim Daland, Cole is teamed with legendary crew chief and car-builder Harry Hogge to race for the Winston Cup at the Daytona 500. A fiery crash nearly ends Cole's career and he must turn to a beautiful doctor to regain his nerve and the true courage needed to race, to win and to live.
Tony Scott propelled Tom Cruise's career into the stratosphere with the hit Top Gun and the duo later returned for this NASCAR thrill ride that still stands as one of my favorite racing films that revolves around stockcars. The film does a great job of balancing the racing with the off the track drama and like most of Bruckheimer's productions and Scott's films; there is plenty of style involved. This was also the first film that paired Cruise with his future wife and film star Nicole Kidman, who just doesn't look anything like she does now. How times have changed.
The HD presentation is a bit of a mixed bag but still pretty solid. The print definitely has some wear and tear so the image has some occasional marks and scratches. This is usually around the scenes with a plate that tells you something but it happens quite a bit. Overall dimensionality is strong but the image has a bit of a hard look to it at times like it's been processed just a bit too much. Some light ringing was noticed but it was never intrusive and the color and contrast are quite strong. Fine object detail is great but longer shots can be a tad soft.
The soundtrack is an aggressive mix of race car action and score and the TrueHD 5.1 mix does a great job with it. Plenty of dynamic range here and low bass energy is tremendous at times. The surround soundstage really comes alive during the racing sequence whether from panning effects from the cars or the aggressive scoring of the film. The mix is nice and open but it does have a slightly dated feel to it. Dialogue sounds natural enough but some ADR issues are noticed.
Unfortunately Paramount delivers this one bare bones so no goodies this time around.
I'm a huge fan of Tony Scott and I've always been a fan of this one. While I'm anything but a fan of NASCAR, Scott still found a way to make a great film around the intensity of the racing. The A/V presentation was actually better than I was expecting making this one an easy recommendation for fans of the film.
LATEST VIDEO