Daredevil Director's Cut—20th Century Fox (Blu-ray)
Video: 4/5
Audio: 4.75/5
Extras: 3.75/5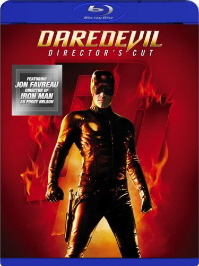 By day, blind attorney Matt Murdock toils for justice in Hell's Kitchen. By night, he's "Daredevil," The Man Without Fear - a powerful, masked vigilante stalking the dark streets with an uncanny radar sense that allows him to "see" with superhuman capabilities. But when the love of his life, fiery Elektra Natchios, is targeted by New York City's ruthless Kingpin of Crime and his deadly assassin Bullseye, Daredevil may be about to meet his match.
I'm of mixed opinion on this one. Comic characters are popping up every few weeks in theaters and some of the adaptations handle the storyline well and others simply become pop fluff pieces. This one falls in the middle. The characters are good but the film has this issue of propelling the storyline to the next action scene as quickly as possible and most of them are a bit on the silly side. While you have a pretty dramatic storyline here, the need to be "cool" takes away from its edge and makes it hard to take even remotely serious. Largely I would call this one a popcorn film but it wasn't a complete waste and better than a few other Marvel adaptations.
This has always been a pretty stylized film. I love the really over the top contrast ratio with inky blacks and slightly clipped whites. It makes the darker sequences very dimensional and exudes depth. Film grain can be slightly intrusive at times but the print seems to be in pretty good shape. Darker sequences are a tad soft overall but brighter scenes reveal a bit more detail. Overall the image has a very film-like look to it that works with the material really well. Colors are a bit overblown and lend to the contrast and style of image.
I've used a couple sequences from this film for audio demos for years now and this new DTS-HD Master Audio mix is terrific. Low end extension is incredible and the level of intensity offered from the infrasonics can be quite daunting at times. Since the main character is blind the film really takes the sound design to new heights with extensive use of the surround soundstage and inventive sound design. You really feel surrounded by the mix. A top notch soundtrack by Fox.
Extras include a feature commentary with the film's director and producer along with a host of production features. There is also a picture-in-picture mode that takes you on the set while you watch the film. Some music videos, a photo gallery and trailers are also included.
While this isn't one of my favorite comic adaptations, it is still far from the worst. Fox has done a great job with the presentation and extras package making it an easy recommendation for fans of the film and genre.
LATEST VIDEO