All Good Things—Magnolia
Video: 4.5/5
Audio: 3.5/5
Extras: 3/5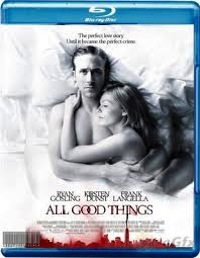 Inspired by the most notorious missing person's case in New York history, "All Good Things" is a love story and murder mystery set against the backdrop of a New York real estate dynasty in the 1980s. The film was inspired by the story of Robert Durst, scion of the wealthy Durst family. Mr. Durst was suspected but never tried for killing his wife Kathie who disappeared in 1982 and was never found.
All Good Things is a treat on Blu-ray with a nicely detail transfer that keeps a very natural color palette with great shadow detail and depth. Fine object detail is first rate and the dimensionality of the image is solid throughout. I didn't notice any type of compression issues or distracting noise. The soundtrack is also good, though what you'd expect from the genre. The score keeps things interesting and opens up the soundstage and the surrounds offer a subtle amount of ambiance and directional cues. Dialogue is recorded well with no distracting sibilance or imaging issues.
Extras revolve around the real case that inspired the film and the parallels with the film. You also get on set footage, interviews and a look at the make-up effects. Two feature commentaries are also included.
All Good Things is a decent thriller that offers some great performances from its leads. It is disturbing to think that much of what you may see is true, and I'm glad Magnolia included some features that talk about the events that inspired the film. Recommended.
LATEST VIDEO