HT Talks To: Randal Kleiser
A working director ever since film school, Randal Kleiser talks to us about his latest, his greatest, and his now famous USC roommate.
After years in television (The Boy in the Plastic Bubble), director Randal Kleiser earned a place in Hollywood history with his joyous adaptation of the Broadway musical Grease, soon followed by his updated ode to young love, The Blue Lagoon. He's kept busy in the ensuing years with an impressive slate of new projects and sequels—although the notorious Grease 2 was not his. We caught up with him as the DVD of his romantic comedy, Love Wrecked, which premiered on the ABC Family channel earlier this year, was being released on DVD from Genius Products/The Weinstein Company.
So, did shooting Love Wrecked bring back memories of The Blue Lagoon. . .only with more clothes?
Yes. My first instinct was to shoot the movie in the South Pacific. We shot Blue Lagoon in Fiji, and I was interested in placing the story in Tahiti. When we were approached by the folks at Sun Village Resort in the Dominican Republic and asked to come down to see what they could offer, we flew down. We found all the locations we needed in once place.
What drew you back to romantic comedy?
I like to bounce around to different genres. I was a big fan of Amanda Bynes, and she seemed perfect to play the lead in Love Wrecked. She has the comedy timing of a young Goldie Hawn.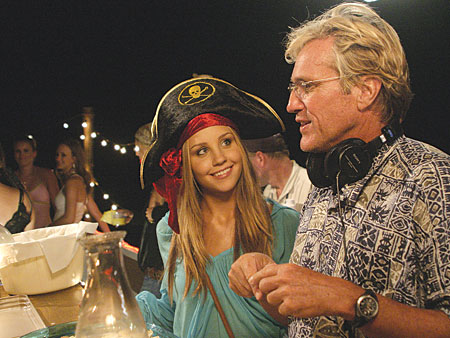 Kleiser directs Amanda Bynes in his recent romantic comedy, Love Wrecked.
What's the key to reaching that younger viewer, here as in the past?
Young people who are discovering love for the first time all have the same dreams, desires, and fears. These feelings are universal and don't go out of style.
How does your work on an original movie like this differ from directing a sequel? Does the existence of a previous film—Pee-Wee's Big Adventure; Honey, I Shrunk the Kids—make your job harder or easier?
There is more freedom on an original movie, but along with it is the requirement to imagine and invent a style. On a sequel, some of the decisions have already been made, so it's actually a speedier process to set up.
Speaking of which, any thoughts on Grease 2?
I liked the song "Cool Rider," sung by Michelle Pfeiffer.
When you're having a bad day, do you ever shout out loud, "I directed Grease, the last great American musical, damn it!"?
I think the last great American musical was Dreamgirls. I saw it five times and thought it was brilliant.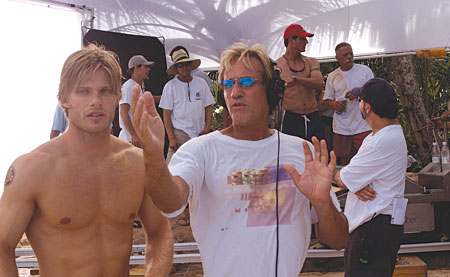 A blond stud poses next to actor Chris Carmack.
But Grease is just so popular. I personally saw it multiple times in the theater and own the soundtrack. I have both DVDs, and it seems like it will never stop. Can anyone explain what it was that made that movie such a landmark?
I've tried to figure it out. But I guess, somehow, all the elements came together, and it just clicked. The themes that are explored are found in many other movies. The hit songs certainly helped, but it's kind of a mystery to me why this movie still works in many countries for many ages, even today.
As a celebrated member of "the film-school generation," what's your take on DVD, Deleted scenes—as on Love Wrecked—commentaries, and so forth?
Moviemaking isn't all sun, fun, and glamour. Well, sometimes it is.
For anyone who's interested in the filmmaking process, deleted scenes and commentaries are like film school. It was hard for us to get the kind of information that is available today on these DVDs. You can learn a lot without going to school.
How important is the technical quality of your films on home video? Do you ever sit in on the video transfer or the sound mix?
I always follow my films as much as possible to keep the look and sound consistent. With digital intermediates today, you can keep working on the look after it's been shot.
Last question: Does George Lucas snore?
Very funny. I rented a downstairs bedroom from him in the 1960s, so I was far enough away not to know the answer.