HP Media Center PC with Personal Media Drive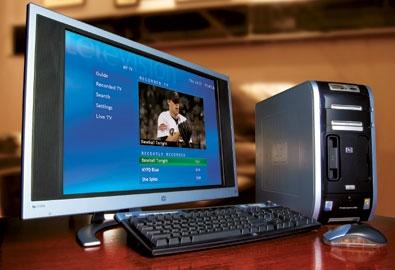 Media Center PCs are designed to replace a stack of A/V components, letting you watch live or recorded TV shows, play or burn DVDs, download movies and music, and play home videos and photo slideshows. Available in various hardware configurations from several computer manufacturers, these remote-controllable systems share the Windows XP Media Center Edition 2004 operating system. In the February/March issue we reviewed Dell's Dimension 4600C, and in June the Gateway FMC-901X and 610XL models.
Fast Facts
DIMENSIONS (WxHxD) m1050y PC , 7 1/2 x 15 1/2 x 16 inches; Personal Media Drive , 4 3/4 x 1 3/8 x 8 1/8 inches; f2304 monitor , 25 1/4 x 17 x 7 3/4 inches PRICES PC , $2,400; monitor , $2,100; additional Personal Media Drive, $220 MANUFACTURER HP (Hewlett-Packard), www.hp.com, 888-999-4747
So what makes HP's m1000 series Media Center PCs different? We looked at the m1050y. Besides an internal 250-gigabyte (GB) hard-disk drive, it contains a removable Personal Media Drive (PMD) with a capacity of 160 GB. Once removed from the computer, the PMD is powered by its own AC adapter. You can use its USB 2.0 port to transfer any of your stored TV programs or other content to a computer in another room - or another state. I've spent far too much money on blank DVDs - and far too much time burning them - in order to liberate TV shows from the fixed drive in a Media Center PC so that I could enjoy them elsewhere. The idea of recording shows directly to a massive removable storage device I could toss in my shoulder bag was very seductive.
SETUP Setting up the Media Center PC was straightforward. The 3-pound Personal Media Drive is about the size of a VHS cassette and docks sideways in the PC's front bay. I attached wireless receivers to two of the computer's USB ports: a radio-frequency (RF) receiver for the keyboard and mouse and an infrared (IR) sensor for the handheld remote control. The remote's sensor includes a sticky wired emitter I affixed to the front of my cable TV box for changing channels. I connected my cable box's RF coaxial output to the TV/RF input on the computer and attached the supplied antenna to the PC's FM input. Then I connected HP's optional 23-inch f2304 high-definition LCD monitor to the PC's DVI (Digital Visual Interface) output. The widescreen monitor has built-in stereo speakers, so I used a miniplug-to-miniplug cable to connect it to the computer's analog stereo audio output.
When I first powered up, I set up TV reception, the remote control, and the Internet-based electronic program guide. Using the guide, I set the PC to record the movie This Is Spinal Tap from Bravo and a bunch of shows from other networks. The PC defaults to its internal hard drive (C), so I changed the recording destination to K, the Personal Media Drive . (A DVD/CD writer, DVD-ROM drive, and flash-memory slots eat up the alphabet from D to J.) Unfortunately, there's no way to direct recordings to one drive or the other - the setting ap plies to all recordings from that point on un less you change it. And you can't record programs directly to a blank DVD+R or +RW, the formats used by the DVD burner.