HP Media Center PC with Personal Media Drive Page 2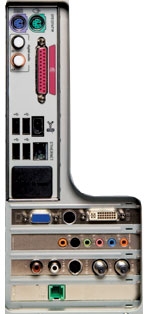 HOW IT WORKED When I returned to the HP Media Center PC after a weekend away, all the shows I'd selected to record were waiting for me on the Personal Media Drive . Two blue LEDs on its front indicate the state of the drive. A steady blue light means the drive is "warm-swappable," meaning it's safe to remove it. If the second LED is pulsating, the drive shouldn't be removed.
I pulled out the PMD, attached its USB cable and AC adapter (a small "brick" and power cord that weigh another 1 1/2 pounds), and hooked it up to a Dell Media Center PC. Sure enough, the Dell recognized the drive, and I was given the option of playing shows from Windows Media Player or Media Center . An episode of Andromeda played fine.
I took the drive down the hall at Sound & Vision , and another editor plugged it into his Windows XP PC (also from HP but not a Media Center model). He played an episode of South Park using Windows Media Player and was able to copy a show to his computer's drive and watch it with the portable drive detached. I took the PMD home, where I plugged it into an older PC with USB 1.1 ports. It warned: "A hi-speed USB device is plugged into a non-hi-speed USB hub. Will function at reduced speeds."
Key Features
• Pentium 4 (3.6-GHz) with 1 GB of RAM, 250-GB internal hard drive, removable 160-GB Personal Media Drive, and wireless remote, keyboard, and mouse • Windows XP Media Center Edition 2004 • 8 x DVD+R/RW and CD-R/RW burner plus DVD/CD-ROM drive • ATI Radeon X600 graphics card and Creative Sound Blaster Audigy 2 ZS card • 4 flash-memory slots • inputs/outputs 6 USB 2.0 ports (two in front); 2 FireWire ports (one in front); F-connector inputs for TV antenna/cable and FM antenna; composite/S-video input (front), S-video (back), both with stereo audio; DVI, VGA, and S-video outputs; coaxial digital audio output; Ethernet port
My home computer recognized the contents of the drive, but until I downloaded and installed a DVR-MS plug-in from Microsoft as well as the Update for Windows XP Service Pack 1, which took more than an hour, I was unable to play any of the TV shows. (DVR-MS is Microsoft's file format for recording TV shows.) When Windows Media Player finally was able to play them, there were no performance glitches even with that USB 1.1 input.
It's too bad that the Personal Media Drive doesn't have a set of A/V outputs, which would let you connect it directly to a TV. I also wish the drive was smaller. Compared with the iPod, which holds up to 40 GB and slips easily into a shirt pocket, the PMD is gargantuan.
Besides watching or recording TV, the Media Center lets you listen to FM radio. The PC's internal drive buffers a program for up to an hour (assuming you don't change stations), so you can listen to a tune again or use the Skip button to leapfrog commercials. You can preset nine stations. Unfortunately, you can't save a radio program, and the radio function can't be used at all while a TV show is being recorded. You'd think a Media Center would be able to handle multimedia, right?
Another thing I'd have liked the Media Center to do was download rented movies from Movielink and CinemaNow directly to the Personal Media Drive . That would let me use the broadband connection I have in the city for a faster download but watch the movie on a notebook PC in my country house. This wouldn't violate digital rights management since I wouldn't be copying anything. Alas, there's no way to change the movie services' download default settings from the computer's internal drive, and once it's there, the flick can't be copied to the removable drive.
TV/MOVIE PERFORMANCE HP's slick f2304 monitor may not be a great match for conventional TV - nearly two inches of blackened screen curtain each side of a 4:3 program unless you opt to stretch images - but for widescreen shows like Stargate Atlantis , which I recorded from the SciFi Channel, the monitor and Media Center PC were meant for each other. A button on the remote let me zoom the program to one of three picture heights, and one was a nearly perfect screen fit.
The f2304 is also an HDTV monitor, with a 1,920 x 1,200-pixel native resolution, but except for a handful of Windows Media 9 high-def DVDs, you can't watch any high-def video through a Media Center PC. With an outboard HDTV tuner connected directly to the monitor, the picture was gorgeous, though like all LCD screens the f2304 can't produce true black and has a narrower viewing angle than a plasma or tube TV. Besides DVI, it includes VGA and component/S-video inputs. There's a headphone jack, volume controls, and a pic ture-in-picture function. The monitor with built-in stand weighs only 21 pounds.
PLUSAll-in-one entertainment center. Removable Personal Media Drive.
MINUS Can't use FM while recording TV. Personal Media Drive links only to PCs, can't store legit movie downloads.
BOTTOM LINE At $2,400 for the PC as configured (after a $50 rebate) and $2,199 for the monitor (after a $100 rebate), or $4,500 together, the m1050y is not inexpensive in this age of commodity computing. But then again, you won't need much else for a small-room entertainment center. Sure, there are cheaper computers and separate A/V components, but few are as well integrated as this one-stop system from HP. And that pop- out Personal Media Drive can always stay with you.