How to Choose A Custom Installer
It's no surprise that consumer electronics have become increasingly dependent upon professional installation. Consider the following categories: satellite antennae, A/V distribution systems, projectors and screens, wholehouse control, lighting and dimming systems, content-sharing DVR networks, and of course wall-mounting and wire-pulling for flat-panel TVs. Want to talk about remote access to media servers and CCTV cameras via Ethernet? A system's operation is programming intensive and depends on physical installation, which requires construction expertise. There's so much going on behind your walls and in your attic. I wouldn't want to take responsibility for all of it at my house, and I know my wife wouldn't want me to, either. I bang up my walls enough, schlepping a retractable ladder from the garage up three flights of stairs to the master bedroom just to change a 9-volt smoke alarm battery. Drill holes in my walls? Me? Are you kidding? In this article, I'll help you find your closest local professional installers and provide an easy method to help you make the right selection.
How to Find 'Em
When you go to the following Website, www.cedia.org, you'll tap into the Custom Electronic Design & Installation Association (CEDIA), which is one of the prime national custom installer trade organizations. To the right of the page, you'll see "Find a CEDIA Member." Add your zip code and the search radius from your residence. If you live in a remote area, like Soddy-
Daisy, Tennessee, make sure your reach is broad, perhaps 100 miles or more. If you find an installer within 150 miles, one of the obvious questions you should ask is what their travel and expense charges are. This should include overnight hotel, per diem meals, and mileage for gas.
When you access the CEDIA site, you'll see a list of members with company profiles, qualifications, fields of specialization, locations, and other information. Hiring a CEDIA member is no guarantee of great work, and we certainly can't assume liability for the performance of those on this list. In fact, there are many excellent installers who are not CEDIA members. But as a consumer searching for a qualified installer, you need to locate those who have as much credibility as possible. Being a CEDIA member indicates a certain level of professionalism and a commitment to training, so it's a good resource.
Another good resource is the Consumer Electronics Association's (CEA) TechHome division on www.techhome.com . It's very easy to find an installer with its search tool. The TechHome division of CEA is chock-full of useful and important information, so take some time to browse its site. Upon your initial contact and depending upon your type of project, you may find qualified installers who decline your project but refer you to other installers. Perhaps they have a full schedule or they don't feel like they are a suitable match for your project scope. You should definitely follow up with these referrals and make sure you mention the name and company who referred you.
If you're knowledgeable about a particular brand of component that piques your interest, you might try to contact the manufacturer's regional sales manager or local sales representative. Some installers hold franchises with certain manufacturers and have a leg up on product knowledge and installation savvy. More on this later.
Of course, the best source is referrals by friends. If you know anyone who has had low-voltage work performed lately and they can make an enthusiastic recommendation, you should consider this installer seriously. Probe. Ask why your friend is so enthusiastic. If you hear comments such as, "I was having a problem operating the system, and they came right out and refreshed my training," you may have found your installer.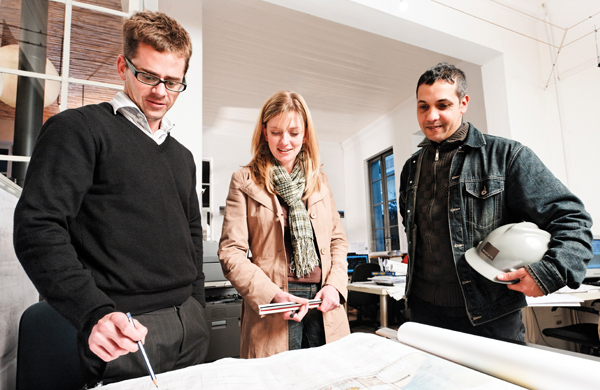 Active in the Industry?
Although it's not a guarantee, a custom installer's membership in CEA, CEDIA, CABA, AIA, ASID, ISD or another organization indicates their commitment and involvement in the industry. Can they point to a ranking in CE Pro's Top 100? What type of awards and press attention have they received? Purely as a point and not intended as a shameless plug, Sound Solutions in Los Angeles, of which I am director of marketing, has been honored with 14 national awards in the past eight years. On the strength of that, we have been included in The World's Finest publication along with Gulfstream jets, Patron tequila and Bugatti sports cars. You should look for installers who have established their own strong profile, take a leadership position in the industry, and participate on a national, state, or local level. Examples might be involvement with the EPA's Energy Star rating standards, green initiatives, community projects, pro bono work for charities, blood drives, etc. It's not a requirement, but it can be a good telltale.
Credibility
Unfortunately, in this field, we hear horror stories about installers who go AWOL and leave jobs unfinished, systems that never work, and equipment that doesn't perform as expected. If you hire the wrong person and become the subject of one of these stories, it will be too late to start from scratch. This is why you need to drill down and find out more about each installer you interview. Take the time to make the best hiring decision you can. It will pay off.
How long have they been in business in your area? Are they registered and currently licensed with your state's contractor's board? Any complaints with the Better Business Bureau?
Although it shouldn't be a final determining factor, websites are so inexpensive and so prevalent, that the lack of one may be an indication of the company's level of commitment. It doesn't take a lot to keep a nice website that tells the company's story.
You should check into the company's references. Can you call existing clients who will speak well of this installer? What did they especially like about him or her? Even better, if the scale of your project merits it, you might be able to wangle an invitation to visit a home the installer is especially proud of. If you happen to dig up some dirt, give the installer a chance to explain. There may be more than meets the eye.
You can sometimes judge a book by its cover. Check out the installer's truck. Is it clean and neat? Are the tools and parts organized, or is it a god-awful mess? If so, ask yourself if the installer can find anything? If so, what condition is it in? Could things become easily mislabeled or even worse, could they go missing? How about the installer's work outfit? Is it neat and clean? Ripped jeans? Mozzarella stains on the belly? Shirt with a company logo? Do they have an actual place of business?
The industry uses the somewhat unfair term of trunk-slammer to describe installers who don't have offices or shops. I personally know a few superb independent installers who work out of their vans. But if your project is of a large scope that requires CAD drafting, a multi-person team, and rack assembly, you should look for someone who has the facilities to accommodate the scale.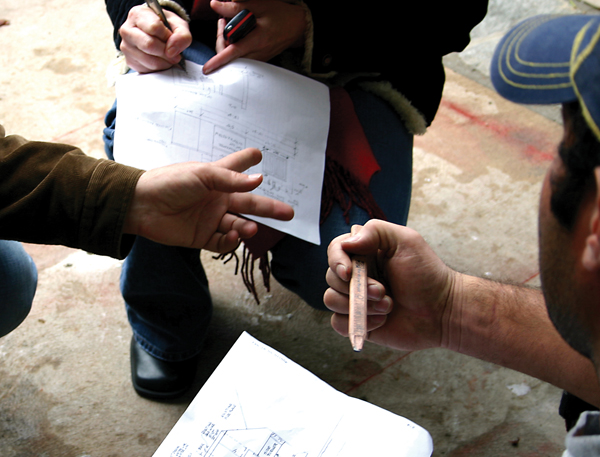 Skill Sets: Examine the Evidence
Presuming you've found one or several custom installers, how do you know if they can fulfil your particular requirements? The answer is to examine the evidence. Ask for examples that demonstrate areas of specialization that are particular to your project. How would they handle pulling wire through a wall that has a pricy finish, rare wood paneling, or a frescoed mural? Correct answer: "We have a lot of experience in heritage environments and respect the architecture and design. In fact, here's a photo of a complex installation we just completed."
On a less stratospheric level, let's say you want your flat-panel TV to be mounted so that it can swing out and also be visible to another seating area. Does your prospective installer know about hiding the swing arm bracket in a wall recess so it isn't exposed? If not, you could become very unhappy. If a universal remote control is part of your project, can the installer show you a sample of a wired tabletop and a wireless touchpanel control?
Equipment Purchasing Methods
Although it's not crucial, the installer's means of procuring their equipment can be revealing. One of your questions might be, what manufacturers do they have direct franchise agreements with? Virtually anyone with reasonable credit can purchase from wholesale distributors, and there's nothing wrong with this. Still, if an installer has direct purchasing privileges with well-known brands, it indicates a higher volume of business and a prime relationship for service and support if the need arises. What if your plasma TV goes on the fritz several times and is replaced by a newer model? Will the installer and manufacturer stand by you and replace it with that new model? Are all components factory fresh? Will you receive an equipment list with model and serial numbers? What is the installer's warranty policy? Will they honor each manufacturer's parts and labor warranty but still charge you for removal and re-installation? Do they have a blanket warranty that covers the actual installation and programming, including wire pulled through the walls? Do they have a dedicated service department that's available at your convenience? What about exchange of unrepairable components that have been to the shop numerous times? If such a component needs to be reprogrammed into the system, who pays?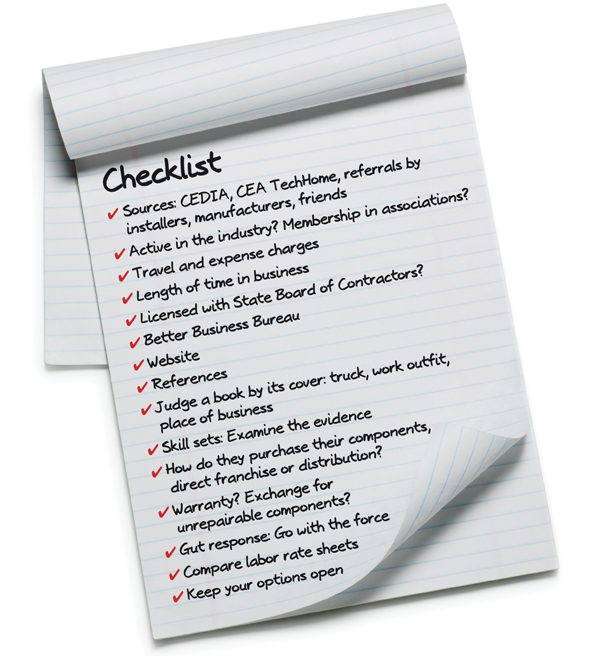 Gut Response
We've all been in situations where we were grateful for or knew we should pay attention to our gut reaction. Selecting a custom installer is no different. Impulse reaction is no guarantee that you're making the right decision. But your comfort level is important. If you feel you can communicate effectively and your installer is eagerly listening and responding, this may trump a boatload of credibility.
If you get a weird feeling because your interviewee is too fabulous, run away. If you don't get direct answers to direct questions, run away fast. Is the dude too polished? Some systems integrators have a great smile and a firm handshake, but they have very little to back it up. Don't be persuaded by first impressions. Some of the worst installers are charmers. Don't fall for their insincere, self-deprecating schtick.
Don't confuse bad salesmanship with no talent. Sometimes, the most qualified installer doesn't know when to stop talking. The smartest guy in the room often thinks it's vital that you should care about the inner workings of the video distribution amplifier he selects. It's true that we often fear what we don't understand. In this case, it's technology. So, it may be difficult to trust someone who talks above you. The best sales presenters never do. But you should look past your fears. If you run into someone who's clearly knowledgeable and also asks lots of questions about your particular project, this may be your guy.
Times Are Tough
During these times, not everyone can afford the luxury of professionally installed home entertainment electronics systems. You have leverage. Look at the bottom line and make sure you're comparing apples to apples. Ask to see the installer's labor rate sheet and compare it with others. But (and this is a big but) you should never knowingly waste someone's time and ask for repeated modifications on your proposal without awarding them the job. Since biblical times, it has been a crime to waste a tradesman's or merchant's time when you have no intention of using their services. You have every right to ask for competitive bids, but make your decision without wasting installers' time if you have no intention of hiring them. Time is their only true currency for a livelihood.
Keep Your Options Open
Life is funny. With all your due diligence and care in selecting a custom installer, things can go wacky. We see it sometimes. So be smart. If you're talking to competing, qualified installers, make sure you let the installer you didn't select know why. Often it's something that can be easily changed with their next presentation. And make sure they will welcome your call in the event that your first choice becomes flaky. It can happen.
Mark Elson is the soft-spoken director of marketing for Sound Solutions, a Los Angeles based high-end systems integrator.