Honey's Not Dead: The Jesus and Mary Chain Live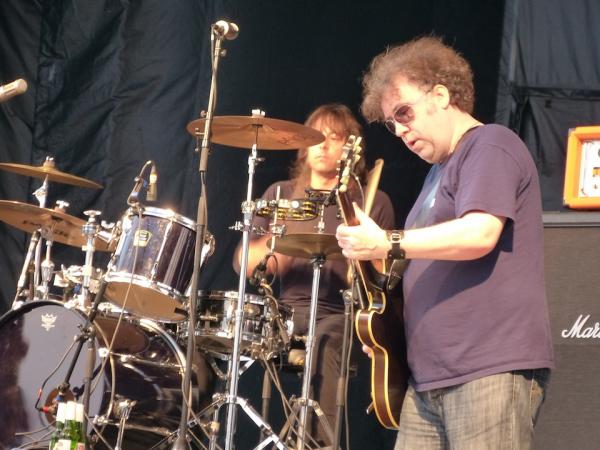 It's summertime, and that means outdoor concerts. Here in the far other end of New York state, we typically get to lay out our blankets and take in a predictable bunch of touring acts from the '70s and '80s. Peter Frampton? Check. Huey Lewis and the News? Check. Yes? Yes. The Jesus and Mary Chain. Um, did you say "The Jesus And Mary Chain?"
The outdoor show put on by 80s proto-shoegaze rockers The Jesus And Mary Chain at the Erie Canal Harbor Central Wharf in Buffalo, N.Y. on August 2 was actually one in a series of cool, free summer concerts to take place in this rustbelt city on the lake. (Other acts to play free shows here recently include Weezer, Fountains of Wayne, Built To Spill, and Matthew Sweet.) As a fan of the band dating back to its 1985 debut, Psychocandy, you know I was going to be there - this time with camera in hand.
The JAMC isn't touring to support any new recording, though they did recently reissue their entire catalogue via deluxe 2-disc+bonus DVD releases. With so many recent bands - Dum Dum Girls, Vivian Girls, just about any band with "girls" in its name - influenced by JAMC, specifically in its melding of melodic, early-rock innocence with noisy, lo-fi textures, one gets the sense that the band has returned to show the kids how it's done right.
The show featured selections spanning the JAMC's entire catalogue, including many from my fave three albums, Psychocandy, Darklands, and Honey's Dead. Founding members Jim and William Reid (vocals and guitar, respectively) still comprise the band's core, and are supported on tour by a second guitar, bass, and drums. While the show had its share of starts and stops, including song do-overs and a broken guitar string, Jim Reid's voice was in smooth form as the band cruised through "hits" including "Some Candy Talking," "Just Like Honey," and "Teenage Lust."
The five-piece format let the JAMC rock out in appropriately brutish fashion on tracks from the '90s grunge of Honey's Dead, the bass/drums onslaught throbbing across the grounds to galvanize a crowd consisting of older fans like myself along with young-uns who had dropped in to see what the noise was about. The band also made a conscious attempt to re-create the sonically stripped-down quality of their 80s-era recordings, with the bass dropping into miminal mode on those tracks, and William Reid's guitar screech rising up in level. Those seeking noise got it and then some: By show's end, more than one frantic teenager could be seen clutching their ears and darting for the periphery. To me, the aural assault was just part of the whole nostalgia trip. (Though I really did find myself wishing I had brought along some earplugs.)
The JAMC Buffalo gig also held a special surprise for fans of AMC's show Mad Men: actress Jessica Paré, who dropped in to lay down the female vocal part on "Just Like Honey." (Anyone who watched Megan Draper rock out "Zou Bisou Bisou" on Mad Men's season five premiere knows that girl can sing.)
The show's climax was an extended, punishingly loud version of "Reverence," the lead-off track from Honey's Dead. By this point in the performance, the band had sloughed off any shambling, tentative aspect - the show was, after all, the first stop on the current leg of its North American tour - and become a force to be reckoned with. One even got the sense that the JAMC was deliberately trying to scorch the grounds and fry us all with the feedback emanating from its amps. In reality, though, it was the sound of a band known for its intense noise/pop blend flexing its muscles - and making damn sure we know they still matter.