Sonus Faber Design Lab and Factory Tour
Veneto, a region in the North of Italy—the easternmost top of the boot—is most famous for its canal-lined capital city of Venice, but it's also home base to Sonus faber, a speaker manufacturer known for unique, elegant designs that regularly incorporate natural materials such as wood, leather, and marble. Now part of the McIntosh Group, a family of audio brands that includes McIntosh and Sumiko Audio, U.S. distributor of Rotel Electronics, Pro-Ject turntables, and Sumiko phono cartridges, Sonus faber has been in operation since 1983, when the company was founded by dentist/music enthusiast Franco Serblin.
I've long been familiar with Sonus faber, but only recently came into direct contact when Sound & Vision reviewed a 5.1 speaker system from its new Lumina line. Eager to learn more about the company and its processes—Sonus faber speakers are manufactured at its facility in Arcugnano, just outside of Vicenza—I accepted an invite to join a group of audio and tech press on a visit to the company's headquarters. Andiamo!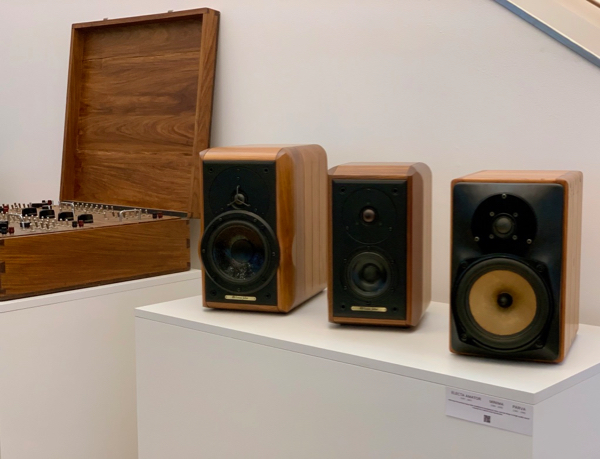 Past & Present
The first Sonus Faber speakers were compact 2-way designs that featured hand-built solid wood cabinets—a template that continues in several "Heritage"models to this day. The company quickly started to build an international fan-base, particularly in Japan, a country with keen appreciation of Italian culture and exports. With the brand's momentum growing, later designs such as the Extrema (1991) made overtures to the highest-end of the audio market, while subsequent models like the Guarneri Homage (1994) introduced elements like a lute-shaped cabinet and distinctive string grille that paid tribute to famous Italian instrument-makers from the 17th and 18th centuries.
When Livio Cucuzza, VP of product development, joined the company in 2011, he continued the Sonus faber traditions of using natural materials and lute-shaped cabinets, while propelling the designs to even greater heights in models such as the $130,000/pair Aida and $29,900/pair Amati Tradition. But the recent introduction of the affordable Sonnetto and Lumina speaker lines shows that the company isn't just about producing unobtanium.
The Luminas, which start at $899/pair for the Lumina I bookshelf model, in fact emerged unbidden from Cucuzza's design lab as opposed to being developed with the intent to hit a specific budget price point. The idea was to create affordable speakers with simple box-type cabinets that nonetheless exuded the company's characteristic high style, something accomplished by using real wood for the front baffles along with a leather cabinet wrap similar to what's seen on other, pricier Sonus faber speakers.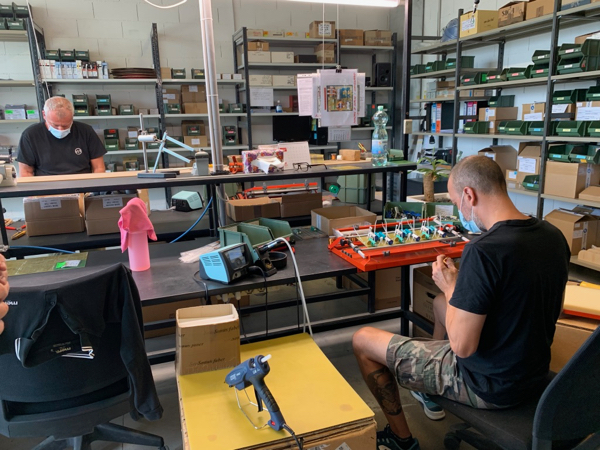 The Factory Floor
Walking through the company's main production area, I was surprised at how active the entire facility appeared to be compared with other speaker factories I've visited in the past. Each zone was fully staffed, with employees busily working away churning out products. Simone Farinello, production & operations manager and our tour guide, estimated there are 24 workers, many of whom are long-term employees—a necessity given the specialized tasks required to execute the company's hand-built designs.
While a fair amount of the materials and components used in Sonus faber speakers are Italian-sourced, certain items—walnut wood from America, capacitors from the U.K., for example—are shipped in from abroad. As with any other manufacturing outfit, supply chain issues can lead to production delays, in which case as much work is done as possible with the speakers then put "on deck."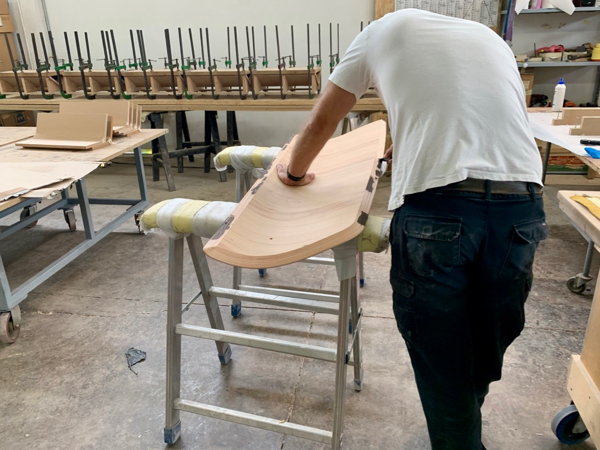 Sonus faber outsources woodwork and lacquering to neighboring outfits in the Vicenza area, with the speaker-maker's orders accounting for 90 percent of production at the woodworking facility alone. Here, skilled artisans cut, glue, and assemble cabinet elements by hand, with the flagship Aida in particular requiring 15 layers of wood to be joined before a final outer layer of walnut or wenge is applied.
Extreme care is taken to match the grain structure of wood components used to create the all-wood cabinets, with individual boards selected by eye and aligned by hand before being joined together. This gives the finished product a seamless, fine, furniture-grade appearance. The cabinets are then painstakingly hand-sanded to create the smooth, curved edges found in the vast majority of the company's speakers.
The lacquering facility used by Sonus Faber is known for its work with pianos, but most of the activity going down during our visit involved speakers. As with the woodworking process, applying the multiple layers of lacquer to speaker cabinets involves handiwork done by individual artisans, with extensive hand-polishing required to achieve the final glossy finish. Cabinets are then left to "cure" for a full month before being whisked off for final assembly into speakers.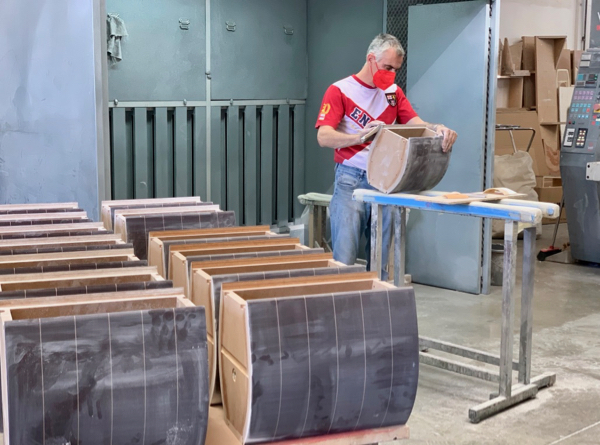 I was told during our tour that finding a new generation of workers to tackle the specialized tasks needed to produce custom, hand-finished products is an ongoing challenge. As a result, a number of employees at the lacquering facility are retirees who have been called back to duty, at least for part-time work. Apparently the owner has long been seeking to retire but is unable to due to continuing strong demand for his company's specialized services. (I was also told he "loves to work.")