Magnepan's Flagship Loudspeaker Hits the Road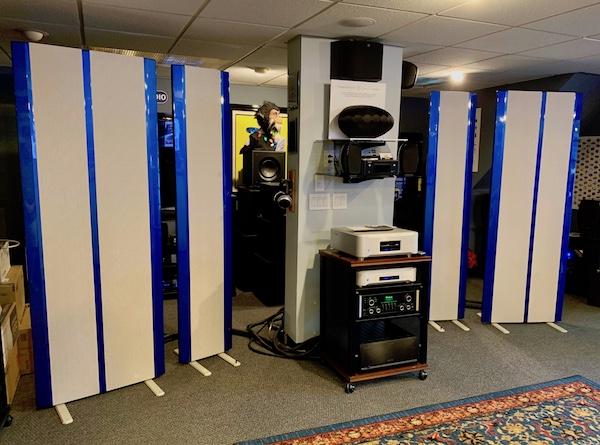 Road trips are a common enough activity in the U.S., but most, if not all, drivers leave their loudspeakers behind. Not Wendell Diller. The marketing mind behind Magnepan hit the road earlier this year with the company's 30.7 Magneplanar loudspeaker, a flagship model, in tow. The plan? To visit every one of the company's U.S. dealers and demo the new $30,000/pair loudspeaker.
That plan might not seem like such a big deal until you behold the 30.7 in person. Magnepan's flagship is a four-way design consisting of a pair of 6.5-foot-high panels each for the left and right speakers. The larger of the two panels holds separate quasi-ribbon drivers to handle the low and upper bass ranges. A comparatively slim second panel contains a quasi-ribbon midrange driver and a ribbon tweeter. Each speaker features high frequency, midrange, and midbass adjustments to compensate for room placement issues—a definite possibility when dealing with speakers this large.
I caught the Magnepan "tour" as it hit its 55th stop in Buffalo, NY, setting up camp at Speaker Shop, a veritable hi-fi playground that has been in business since 1977. Having never personally experienced a set of Maggies at this size, I was impressed with the realistic sense of scale it brought to the orchestral recordings I listened to, and the natural, unforced sound with jazz tracks. The 30.7 could rock as well, as the Led Zeppelin song "Communication Breakdown," an audience request, clearly demonstrated. Of course, the freedom from "box" colorations that panel speakers like Magnepans are well known for was also in evidence.
Where is the tour off to next? Wendell's plan is to roll east on the NYS Thruway to Rochester, NY, and then swing through Pittsburgh, Cleveland, and Detroit. Check out the Speaker Shop equivalent in any of those towns if you want to give these behemoths a listen.