CEDIA 2019: Demos to Die For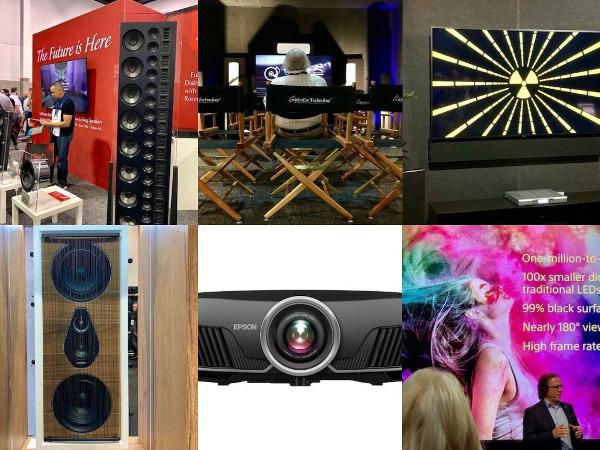 Following an overriding trend that started many years back, the annual Custom Electronics Design & Installation Association (CEDIA) expo, held this year at the Denver Convention Center, showcased an abundance of home automation technologies — everything from networked, voice-controlled window shades and lighting to home security systems. The show even had "wellness rooms" that seek to bring the outdoor experience indoors via circadian lighting, purified air, and ambient nature sounds.
While the idea of a wellness room does hold some appeal, especially given the long winters where I live, CEDIA for me is about experiencing the best video displays and immersive audio systems the industry has to offer. Fortunately for the Sound & Vision team, there were plenty of great home theater demos to check out at the show. Here are a few highlights from CEDIA 2019.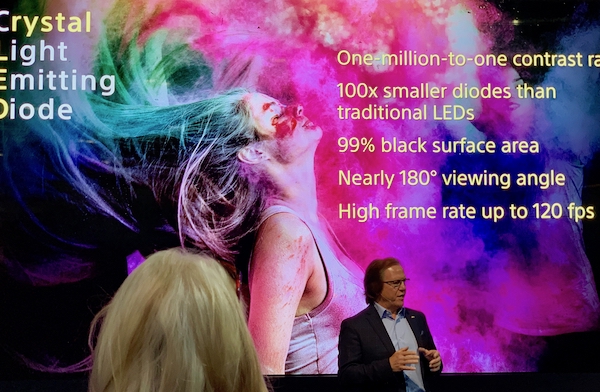 A Sony press conference scheduled for 8:45 a.m. on day one was packed with sleepy jet-lagged AV writers, me included, doing their best to get caffeinated and make out what a microphone-less Sony executive Mike Fasulo was saying. Things perked up when the enormous Cinema Crystal LED (Micro LED) display in the background suddenly lit up with a car racing game displayed at 4K resolution with a high frame rate. The combination of fine detail and realistic motion to be seen in the oversize image resulted in a thoroughly true-to-life experience — one that certainly woke me up. The modular Crystal LED display panels are 3D-capable and can be assembled to create displays with various aspect ratios and in resolutions up to 16K and in screen sizes ranging from 109 inches to 65-feet diagonal. Cinema Crystal LED is currently available to the Custom Installation channel at "if you have to ask, you can't afford it" prices.
A MartinLogan 9.4.4 speaker demonstration of its new Masterpiece CI Series in-wall speakers using clips from Alita: Battle Angel proved to be a face-melting highlight of CEDIA 2019. The powerhouse demo included a pair of Statement 40XWs ($19,999/each), five Monument 7XWs ($4,999/each), two Tribute 5XWs ($2,999), and four Sistine 4XC in-ceiling speakers ($1,999/each), all powered by Anthem electronics and augmented by a quartet of the company's Dynamo 1600X subwoofers ($1,699/each).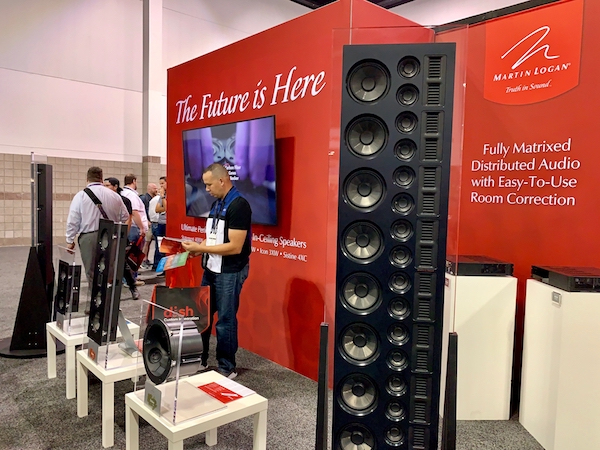 The flagship Statement 40XW shown in our photo uses 40 drivers total in a line-source configuration. Features include Folded Motion XT Obsidian tweeters, carbon fiber multi-section cone drivers, "Vojtko" crossover networks loaded with audiophile-grade components, and an exceptionally dense phenolic resin polymer baffle. The same drivers and custom crossover network can be found throughout the full Masterpiece CI Series speaker lineup, which also includes the Icon 3XW, a compact in-wall speaker that sells for $1,999/each. The company expects the Masterpiece CI Series to be available in early 2020.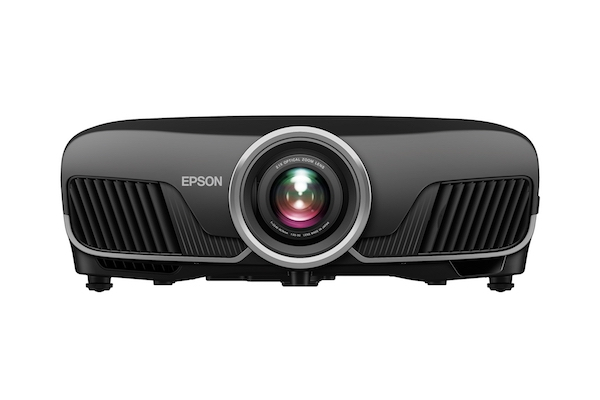 The Epson booth at CEDIA featured an outstanding demo of the company's flagship Pro Cinema 6050UB projector ($4,000), a slightly souped-up version of its Pro Cinema 5050UB model. What made the demo notable wasn't the price of the equipment used — the system's 130-inch diagonal, 2.35:1 Stewart Studiotek 130 screen used in all likelihood cost more than the projector, and the audio system was based around the relatively affordable KEF R-Series speakers — but its jaw-dropping AV quality. Using select clips from Guardians of the Galaxy Vol.2, Epson proved that, when installed in a carefully light-controlled room and set up by a skilled technician (ISF ninja Kevin Miller handled the calibration), a $4,000 projector can to go head-to-head with models that cost tens of thousands of dollars.

Speaker-maker GoldenEar Technology may be a regular CEDIA expo exhibitor, but the company's CEDIA presence is typically anything but regular. That's because president and co-founder Sandy Gross is a music-first guy who uses stereo jazz and classical recordings for demos. At CEDIA 2019, GoldenEar Technology was showing off its new Bookshelf Reference X (BRX), a passive version of the DA 3 powered wireless bookshelf speaker that the company has displayed at previous shows. (The release of the DA 3 has been delayed due to pending certification of its built-in wireless features.) Priced at $699 each, the BRX pairs a folded-ribbon tweeter with a 6-inch cast-basket woofer, while 6.5-inch passive radiators located on each side of the cabinet serve to enhance bass output. Getting to sit in the sweet spot and listen to jazz composer Charles Mingus' album Mingus at Antibes didn't match the sensory overload of the other CEDIA demos I sat through, but it was certainly a relaxing and pleasant experience. Talk about wellness rooms! Oh yes, to judge from my CEDIA experience, the company has another winner on its hands with the new BRX.

Theory Audio Design is a new venture from Pro Audio Technology founder and speaker engineer Paul Hales that aims to bring the features and performance of the latter line's high-end professional systems to a more affordable, living room-friendly product range. At CEDIA, the company was running a 5.2.2-speaker demo that used its ALC-1809 nine-channel Amplified Loudspeaker Controller to power a Theory sb75 75-inch passive LCR soundbar, four sb25 multipurpose surround speakers, and two sub15 15-inch subwoofers. Total price for the system clocks in at under $10,000. Hales started the show by speaking of his focus on dynamic range when designing speakers. Then, to drive home the point, he let loose with a thrilling demo that started with an Atmos track from the Kraftwerk 3D: The Catalog live performance Blu-ray. The system's immersive sound and dynamic, deep-reaching bass were notable for the price, and as a Kraftwerk fan, it was a treat to hear "Radioactivity" mixed in Atmos.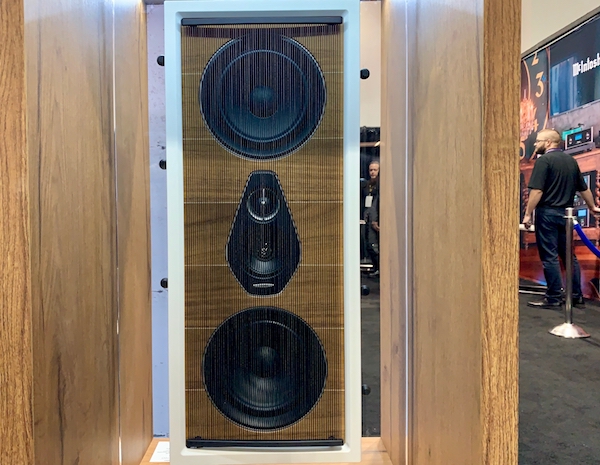 Italy's Sonus Faber is known for its elegant floorstanding and bookshelf speakers that use materials like exotic wood and leather. Even its subwoofers look like pieces of fine art sculpture. You wouldn't think such attention to detail could be carried over to an in-wall speaker, most of which are meant to be hidden from view, but the new Palladio in-wall speakers look every bit as gorgeous as the other speakers made by the company. The Palladio collection consists of 13 models and includes in-ceiling speakers. Sitting at the top of the line is the PL-664 LCR model ($2,500/each), a four-way design that uses the same natural-fiber cone woofers and damped Apex dome tweeter found in the company's floorstanding and bookshelf models. It even uses the same fancy string grille. Sonus Faber tapped the Elton John biopic, Rocketman, to show off the capabilities of the new model, and it was easily one of the best-sounding demos I heard at the show.