Home Theater and the Real Estate Advantage
Your home theater could hold the key.
Alex Martinez knows what prospective home buyers want, even in a tough real-estate market. Alex, a Los Angeles–based real-estate entrepreneur, enjoys continued success, even though the L.A. real-estate segment, like those of most of the United States, is in a sluggish period. He derives his inside knowledge not only from his work, but also because he and partner designer Chris Ewen are new homeowners themselves.
Martinez and Ewen recently purchased a delightful three-level, four-bedroom, four-bath classic old Hollywood showplace with outstanding views of downtown Los Angeles. The home already had an existing home theater, and the room came complete with built-in niches for an existing giant 64-inch Pioneer PRO-700-HD rear-projection set and three B&W loudspeakers across the front soundstage. There is also a closet with shelves to the right of the screen for the gear. The closet has an open back where air circulates to the workout room behind the theater to help keep the gear from Sony, Sunfire, Rotel, and Denon cool. Rounding off the theater are B&W side and rear surround speakers on shelves.
Alex and Chris bought the house when the housing market started to cool. With typical candor, Alex explains,"It was nice that the theater was in the house, but frankly, the first time I saw it, it scared me." Concurs Chris, "It was a little bit intimidating." This is a great time to point out that, in addition to the theater, the home has a distributed-audio system from years earlier, including in-wall speakers, volume controls, plasma TVs, and more throughout the house.
Although it seemed intimidating at first glance, the couple realized it was an advantageous selling point that the owners were willing to part with all of the equipment, and Alex and Chris could pay for it as part of the mortgage. This, of course, begs the question, what are today's buyers looking for, and how can you make your own house more marketable? Alex was quick to respond, "There are add-ons that will entice buyers to their checkbooks. Ten years ago, it was the Viking range and the Subzero fridge. Now, the informed buyer wants so much more than that. It's the media room or home theater; it's the automation, including lighting and drapery control. It's the little nuances that add up to a home's character.
"I've seen homes with voice automation, but it has to be user-friendly and work properly. Clients are constantly asking me about Smart Homes. Increasingly important is the green home of today. It's about the recycling and even water reusage. That's where home automation and control from another location are on the minds of the sophisticated buyer. I have many clients that have more than one home, and, of course, they need to know that safety and conserving electricity are going hand in hand in all of their properties. That's why the automation aspect is becoming so important."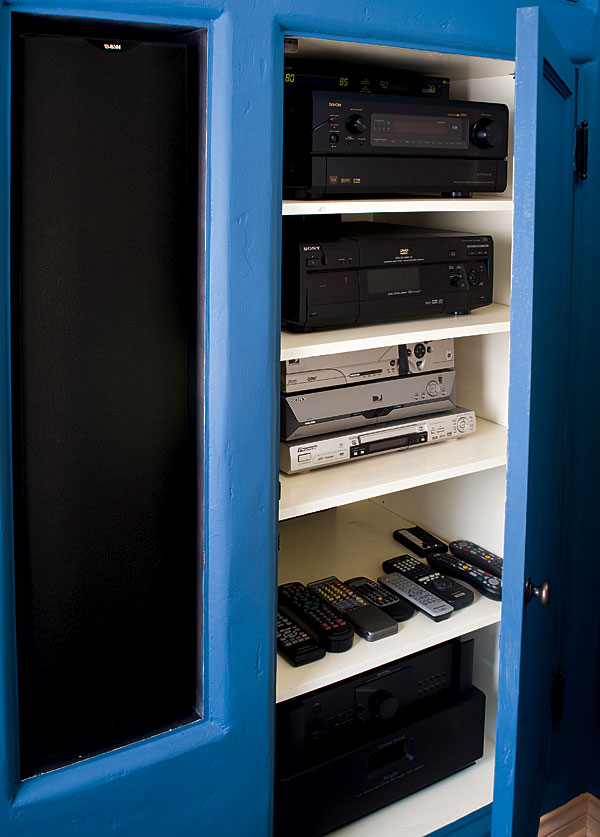 After less than a year in the house, both men admit they wouldn't give up their home theater—or the networked aspects of the home. "It would be hard to live without the theater now, and we love having music constantly flowing throughout the house." Chris says that the interactive aspects of the home have been a real eye-opener. "I can look up recipes on the monitor in the kitchen and, a second later, be watching a cooking program. I'm living the converged life, and I love it."
For Alex, it's all about the theater. "The room was a lighter color when we bought the house, but we painted it much darker. It really has seemed to improve the picture quality. We just watched the movie 300, and it was unbelievable. The system is fully THX certified, and a movie like that should be played loud!"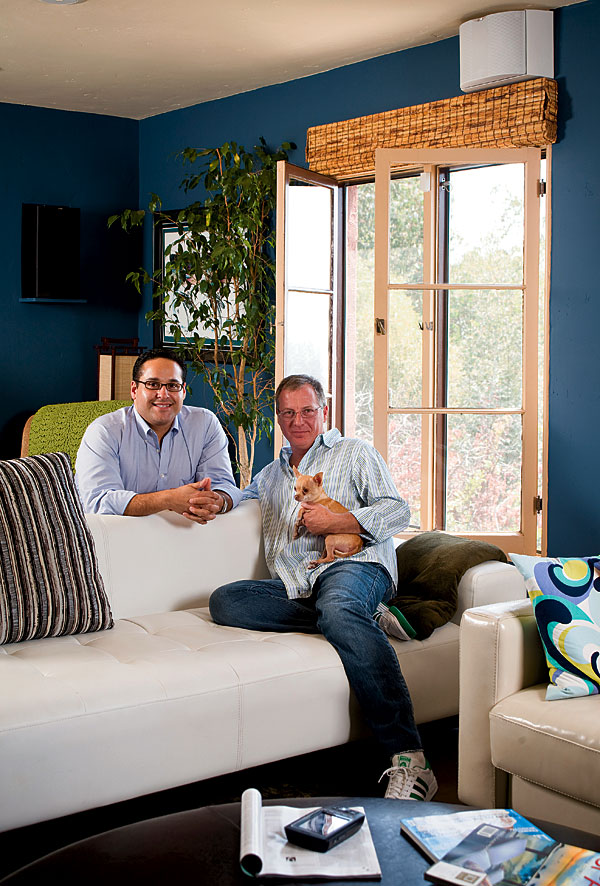 What advice does Alex offer for those trying to sell a home in this tough market? "Additional benefits like a home theater and home networking and distributed audio will obviously help. And be willing to sell the system as part of the home. People love to walk into a house that is turnkey so they won't have to go out and buy more gear. Leave behind a detailed, easy-to-use manual pointing out key system benefits. If a professional custom electronics integrator installed your theater, leave all of his contact info in the manual. And lastly, think of how much fun you are going to have designing your new home theater system for your new home."
Alex's Tips For Selling Your Home in a Tough Real-Estate Market:
• Highlight architectural details and update as necessary without losing period touches.
• Green, solar, conservation, recycling of water: Let these words be your mantra.
• Think high tech. Today's buyers want to work from home, and they need the infrastructure to do it. Cat-5 wiring and networking is a good start.
• Home theaters, wholehouse automated control of music, lighting, drapery, safety. I've seen potential buyers wowed just by speakers around a pool.