Hisense Unveils New Mini-LED TVs, 8K DLP Projector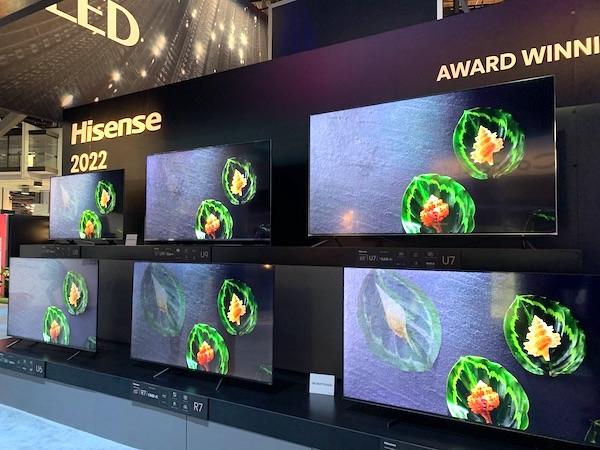 Hisense had its full 2022 lineup of Quantum Dot-driven ULED TVs on display at CES, including the company's first Mini-LED-backlit models. With multiple series for viewers to choose from at different price points, the company has covered its bases. The full Hisense premium TV lineup features the Google TV interface, and its top two lines also feature Nextgen TV (ATSC 3.0) tuners. The company also showcased its TriChroma projector offerings for 2022 and beyond, headed up by a DLP model capable of 8K display.
U9H Series Available only in a 75-inch screen size, the U9H is Hisense's top Mini-LED-backlit ULED TV for 2022. This model is capable of 2,000 nits peak brightness according to the company, and it provides more than 1,280 full-array local dimming zones. Features include Dolby Vision and Dolby Vision IQ HDR plus a Nextgen TV tuner. On the gaming front, the U9H offers Auto Low Latency Mode, Game Mode Pro, Variable Refresh Rate, and FreeSync via its HDMI 2.1 ports. The 75-inch U9H model will be available late summer for $3,199.
U8H Series Hisense's step-down U8H series TVs will be sold in 75-, 65-, and 55-inch screen sizes with prices starting at $1,099. U8H series TVs also feature a Mini-LED backlight, and they are spec'd to deliver up to 1,500 nits peak brightness. Each model features a Nextgen TV tuner along with the same HDMI 2.1 connections and gaming features found in the step-up U9H series. Additional features include Dolby Vision, Dolby Vision IQ, and HDR10+ HDR, IMAX enhanced support, and Filmmaker Mode. U8H series TVs will be available starting in mid-summer.
U7H and U6H Series The affordably priced U7H and U6H series both feature standard LED backlights and are available in screen sizes ranging from 50 to 75 inches. These budget models also provide some of the same features found in the upper-end lines, including Quantum Dots, Dolby Vision/IQ, HDR10+, and Filmmaker Mode.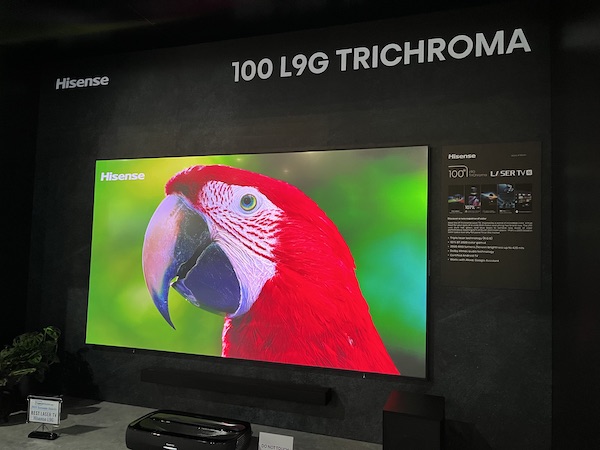 L9G TriChroma Laser TV Hisense was also showing off its L9G TriChroma Laser TV line, which first arrived in late 2021. These models are available with bundled 120-inch ($5,500) and 100-inch ($6,000) screens. Both are spec'd to deliver up to 3000 lumens peak brightness, while the three-color (red, green, blue) laser light engine allows for 100% BT.2020 color space coverage, according to the company. Hisense hinted that a 90-inch version would be available later in 2022, and it was also showing 80 and 75-inch versions scheduled to ship in 2023.
PX1-PRO TriChroma Laser Cinema A surprise find at the Hisense booth was the company's PX1-Pro, a TriChroma laser DLP front projector that uses a 4K-native DMD with pixel-shifting to display images at 8K resolution. This model is spec'd for 4,000 Lumens brightness along with the same 100% BT.2020 color space coverage as the company's other TriChroma projectors. No pricing or ship date information was given for the PX1-Pro.