High-Tech Hotel Page 2
The stunning 70-seat screening room is the hotel's crown jewel, offering a director's console and sound system that any movie mogul would envy. Equipped with 35mm film projectors and a 9 x 17-foot screen, the room allows the director to communicate with the booth via an AMX touchscreen remote so he can stop, start, fast forward, or back up the movie. The JBL 5.1-channel sound system includes a subwoofer and front-channel speakers right behind the screen as well as surround speakers placed on the side walls.
This high-tech vibe flows throughout the Bryant Park. Nestled near the screening room is the Cellar Bar, an English castle-meets-Star Trek rendezvous that engagingly mixes Gothic (medieval chandeliers) and New Wave (neon pastel lighting behind the bar that subtly changes color). A prominent DJ booth in the center of the room is perfect for parties, and the music can be piped into individual rooms or floors, or the entire hotel. And the Cellar Bar's JBL speakers have been cleverly covered with cloth to match the brick ceiling.
In the gym, you can watch TV on one of three Sharp LCD TVs while jogging on a treadmill. If you want, you can override the music being piped in from the central audio system and play your own CDs or music mixes through the gym and spa's four-zone system.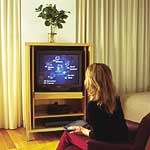 Room with a View The Bryant Park has 129 rooms, 20 suites, a penthouse, a loft, and 11 terraces that overlook the park. The penthouse, not surprisingly, features the best entertainment gear of any of the rooms - a Nakamichi MB-10 five-disc MusicBank CD changer and RE-10 AM/FM stereo receiver situated in the armoire controlled by an AMX touch-screen remote. There are four JBL ceiling speakers in the living-room area and two in the bathroom.
But the other rooms, including the one I stayed in, also offer premium gadgetry. For instance, my entertainment armoire included a Bose Wave Radio/CD player. It also held the interface for the General Dynamics' Intrigue system, which runs off a broadband network and, among other things, offers fast Internet access for $14.95 per day. The Intrigue system allows you to access entertainment options either through the TV in the room or your own laptop computer. In fact, the systems for all three hotels in the chain - which also includes Miami's Shore Club and the Andrew on Long Island - are operated from one server located 17 blocks south of the Bryant Park in Manhattan.
---
LATEST VIDEO