High-Tech Hotel
Arrive at a high-tech hotel, and you're in for a refreshing experience. Imagine being greeted curbside by a bellman bearing a PDA who registers you in just moments, eliminating what can be a frustrating trip to the front desk. In more and more hotels, new technology is making agonizingly long check-in lines and the risk of getting stuck with a lousy room nuisances of the past.
Even better, a growing number of hotels are serving up high-speed Internet access and A/V entertainment systems not much different from the kind you probably have at home. We're not talking about bread-and-butter basics like a radio/alarm clock and HBO, either. These systems let you digitally download movies, surf the Net, and listen to your favorite CDs - activities many of us no longer consider luxuries when we're away from home.
Home entertainment in a hotel room is a logical convergence, isn't it? As Jeremy Rock, founder of the RockIt Group, a Los Angeles-based hotel technology firm, told me, many more resorts and hotels are capitalizing on high-tech hospitality: "Everyone is striving to imitate what they have in their homes and offices in their hotel rooms. It starts with the luxury hotels, because they want to differentiate themselves, but no matter where people stay, they want it to feel like a home away from home."
Several years ago, the upscale Ritz-Carlton chain began adding "technology butlers" - people who help guests operate both the hotel's and the guests' own gadgets - and now they can be found at each of its 43 hotels. "It's not just the business traveler looking for assistance with a laptop or how to get on the Internet," says Stephanie Platt, the Ritz-Carlton's VP of communications. "Families are, too. A father may want to check his stocks and his kids may want to check their e-mail while on vacation, plus many more people now take their laptops out by the pool."
So hotels are getting not just hipper, but smarter. And while most of these perks are found primarily in luxury and boutique hotels like New York City's Bryant Park - the hotel I checked out for this story - more familiar chains like Marriott, Starwood's W hotels, and even those ubiquitous Hiltons and Holiday Inns are beginning to catch on. Holiday Inn, for instance, is introducing a "smart key" based on Bluetooth wireless technology that lets you use your room key as a debit card, while On Command has introduced a new TV Internet browser in 240,000 hotel rooms owned by chains like Radisson and Ramada.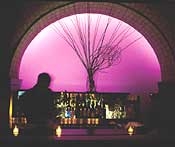 Home Sweet Hotel Located in midtown Manhattan, the Bryant Park Hotel, recently renovated in high postmodern style, was originally a classic early 20th-century skyscraper called the American Radiator Building. (The building's stateliness, by the way, caught the attention of artist Georgia O'Keefe, who made it the subject of one of her most famous paintings.)
Not surprisingly, über-chic hotels like this one attract techno-smart, cinematically savvy, fashion-forward crowds. The roster of those who've stayed here reads like a Who's Who of the music and movie industries. The hotel frequently hosts movie-premiere parties in its deluxe screening room, including recently the one for Baz Luhrmann's Moulin Rouge.
---