High Dynamic Range, HDR10+ Style Page 2
Additionally, key service providers such as Amazon Prime Video, Hulu, and Paramount+ all provide HDR10+ enabled content and YouTube accepts HDR10+ on any content that is uploaded to its site from mobile handsets or content creators and delivers it to compatible players. For more information on HDR10+ adopters and content, you can visit hdr10plus.org. [Click
here
for a list of adopters and
here
for a list of available content.]
S&V: Movies on Blu-ray Disc are important to our readers. It looks like around 90 Blu-ray titles currently support HDR10+. Which studios are distributing these and can we expect to see more titles added this year and moving forward?
Mandel:: 4K UHD Blu-ray titles with HDR10+ are currently distributed by 20th Century Studios, Universal Home Entertainment, and Warner Home Video. You can find more information at hd-report.com.
S&V: Sony, LG, and other top brands are missing from the HDR10+ list of adoptees. Any hopes of getting them and other big holdouts to embrace HDR10+?
Mandel: HDR10+ is already being offered by such leading TV brands as Hisense, Panasonic, Samsung, TCL, and Vizio and we expect to receive additional support from other top brands shortly.
S&V: As you noted earlier, HDR10+ runs a rigorous certification program. Before a TV or other A/V device can display the HDR10+ logo, it must be certified. Can you walk us through the certification process and explain why it's important? Also, how many A/V devices are certified today?
Mandel: Sure. The certification program administered by HDR10+ Technologies LLC for displays consists of tests run by third-party Authorized Test Centers and there are currently nine test centers located around the world. Other certifications that test protocol compliance for set-top boxes (STBs) and other HDR10+ compatible devices are performed by the adopting company and the results are submitted to the LLC.
The Display certification process consist of over a dozen tests that verify a number of performance parameters, including 250 nits or more brightness at a minimum of 85% of P3 gamut and tone mapping for preserving shadow detail in the presence of bright highlights. As of early May, 2022, 5,378 devices had been approved. [A complete list of HDR10+ certified devices can be found at: hdr10plus.org.]
S&V: Last year HDR10+ Adaptive was announced to address the problem of varying ambient light in family rooms and home theaters or media rooms, which range from bright spaces with many windows to dark spaces with no windows and some type of light control. How does Adaptive work and why is it important?
Mandel: HDR10+ Adaptive is very important when watching HDR content, given how the range of darks and brights are greatly expanded in comparison with legacy content. Some programs may not appear at their best when viewed anywhere other than a dark room, so an HDR10+ Adaptive display utilizes statistical metadata that works in conjunction with its ambient light compensation feature. The display uses this information, along with the display's light-sensor measurements, to deliver a more optimum viewing experience.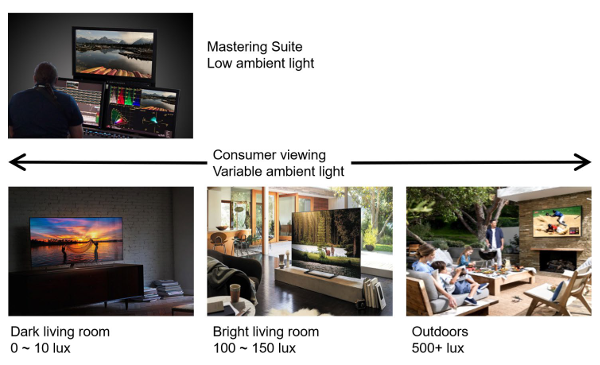 S&V: A recent press release talked about the implementation of HDR10+ on a cloud streaming platform called VOS360. Can you explain the significance of this, including its relevance to consumers and how it relates to over-the-air NextGen (ATSC 3.0) broadcasts?
Mandel: In November the ATEME multinational standards group announced support for HDR10+ in their Titan hardware encoders. At the National Association of Broadcasters (NAB) convention this year Harmonic also announced that they would incorporate HDR10+ in both their hardware (XOS) and Cloud (VOS360) encoders. As a result, NextGen TV (ATSC 3.0) broadcasters now have multiple options to automatically create and include HDR10+ in their broadcasts. We look forward to more announcements like this in the near future and we hope that this encourages further adoption of HDR by broadcasters.
S&V: HDR10+ Gaming was announced a few months ago at CES 2022. The press release says the format utilizes Source Side Tone Mapping (SSTM) for "more accurate game output to compatible displays" and includes automated HDR calibration. Can you explain the relevance of these and other features? What do they bring to gaming that is not already there?
Mandel: The video game industry has made it very clear that they want to accurately render game output that's optimized each consumer's screen. This has led to many cases where a device (or even the game itself) needs to include additional calibration controls that allows players to fine tune the game output. And this, in turn, can create a scenario where the game ends up generating HDR that's not matched to the screen, which in turn causes a variety of artifacts.
HDR10+ Gaming was created and launched to allow the display's performance to be automatically matched to the source device, whether it's a PC or game console, so the game can be enjoyed at a level of performance the display was designed for. With HDR10+ Gaming, the TV provides certified performance capability when connected to an HDMI device, enabling the source to deliver HDR automatically without any manual calibration required.
S&V: How has the gaming industry responded so far?
Mandel: There is growing interest in the gaming community to have certified display performance available to them. We are currently working with a number of stakeholders to develop the type of engine and title support that's necessary to accomplish this. Stay tuned for more details.
S&V: Is there anything else you'd like to share?
Mandel: I urge Sound & Vision readers to learn more about the HDR10+ ecosystem and enjoy the viewing experience!