Here Active Listening In-Ear Monitors
PRICE
$199
AT A GLANCE
Plus
Lets you become an instant live mixmaster
Easy to mix in real time
Comfortable and nonintrusive over many hours of consecutive use/wear
Minus
Could use a few more genre- and venue-specific presets
THE VERDICT
The Here Active Listening System ensures you can control exactly what you hear in any performance venue so you'll never be subjected to substandard live mixes again.
How many times have you attended a live concert and thought, "I could mix the show better than that"? Well, now you can, thanks to the Here Active Listening System in-ear monitors from Doppler Labs. For someone like me who attends upwards of 100 or more live events in any given year in venues of all shapes and sizes all across the continent, these Here in-ears could very well be an aural godsend—if they deliver as promised.
The Here in-ears utilize Doppler Labs' TrueEQ technology for a five-band EQ setting that enables users to raise and/or lower the bass, mids, and highs of the sounds around them, whether it be at a loud rock show or a proper classical performance. The Heres source audio waves from tiny microphones within the buds themselves as well as the mic inside your smartphone, adjusting as needed with a less-than-30-millisecond delay.
Not only that, there are 15 Tune In filter presets with self-explanatory names like 60s Sizzle, Carnegie Hall, Small Studio, and the artist-customized Tiesto Mode. Plus, the Tune Out Beta filter lets you silence nine specific scenarios like Bus, Office, and Restaurant. I'm happy to report the Crowd option came in uber-handy whenever I wanted to muffle audience chatter before shows and during set breaks. (I have a feeling I'll be using that function a lot more in the future.)
Setup was fairly straightforward. After connecting the USB to the charging case, the wireless Here buds charged up in just a few short hours. I placed the supplied Medium size protective cups on each earbud for a tight fit, downloaded the Here app to my iPhone 6s, and watched the buds sync quickly.
With the app set, iPhone in hand, and Here buds snug in my ears, I was now ready to do some serious live mixing. First, I took the Heres with me on the road to Waetjen Auditorium at Cleveland State University, where Tommy Shaw of Styx was doing a solo performance with the 115-member Contemporary Youth Orchestra (CYO). It was the perfect out-of-the-case test to see if the Heres would let me find the balance between broad orchestral swoops and flourishes and acoustic and electric guitars, mandolin, and vocals—and they let me do so with aplomb, especially during the recast slow build of "Crystal Ball" and culminating with ace violinist Lavinia Pavlish's friendly duel with Shaw's electric guitar riffery during the apex of the galloping set energizer, "Renegade."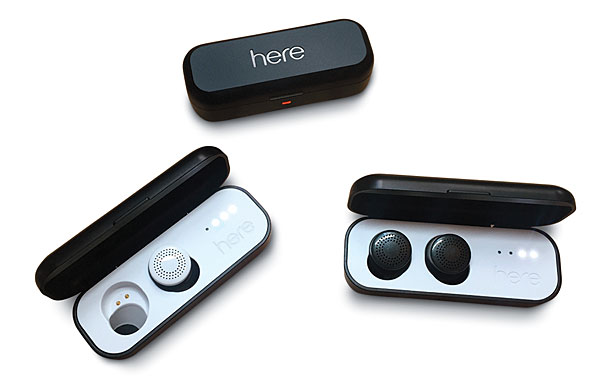 Back east, I next deployed the Heres in one of the best-mixed rooms I've been in—The Iridium, a small jazz club in midtown Manhattan that was once the live home to the late Les Paul. The Iridium was the right setting to see and mix a pure acoustic duo, former Triumph guitarist/vocalist Rik Emmett and his longtime guitar partner Dave Dunlop. The Heres gave me even more distinction between the two players and their complementary but individual styles on songs like "Fight the Good Fight," but the clear highlight was dialing in the sweet spot to showcase Emmett's solo jazz chops on the set closer, "Suitcase Blues."
Next, it was outdoor venue time, as I had two concurrent weekend shows at the notorious PNC—that is, the PNC Bank Arts Center in Holmdel, New Jersey. PNC's open-air sound is often hit or miss when you're seated under the bowl-dome, but the Heres let me tame the wild beast for the contrast between Peter Frampton's classic Brit-rock opening set and Lynyrd Skynyrd's more down-home kind of fist-in-the-air headlining set, especially with the repeated volume swells during the high-flying denouement of "Free Bird."
The following weekend at PNC, Bad Company opened for a sometimes scattered but always entertaining Joe Walsh, and Bad Co bossman Paul Rodgers' vocals were as strong as they were when the band began over 40 years ago. I dabbled with 60s Sizzle and 8- Track during the choruses of the audience-pleasing "Shooting Star," but I was most impressed with the mesh I got for Rodgers' own acoustic-guitar leads and vocals on the super-deep cut "Crazy Circles," a personal favorite.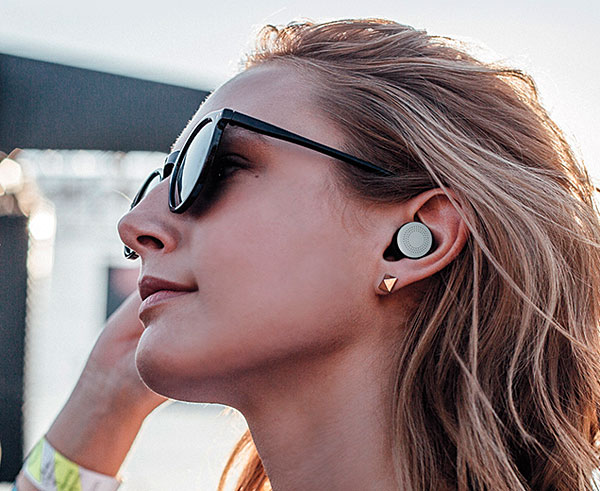 Finally, I had one more venue to test—an arena. And why not do so at the world's most famous one, Madison Square Garden in New York? Often, arena mixes lean on volume over clarity, leading to a loudness battle your ears inevitably lose. Undeterred, I hunkered down for The Cure's nearly three-hour set at MSG, and I dialed in a mid/high balance between the rhythmic guitar leads from Cure founder Robert Smith and the always creative lead lines from Reeves Gabrels, most noticeably with his wah-wah pedal action on "Never Enough." I was also able to bring out Roger O'Donnell's deft keyboard touches on "Lovesong" and "Close to Me."
And that's the key to Here in a nutshell: achieving balance. Live mixing is a tricky thing for actual live engineers, but once you get the hang of Here's flexible EQ options, you'll create the best front-of-house mix at every show you attend, no matter the inherent challenges of both venue and artist. At this point, I can't imagine attending any show going forward without them in my ears. Hear hear, Here.
Editor's Note: The Here buds, currently available on wait-list only, will be replaced in the fall with the Here One and offer additional features.